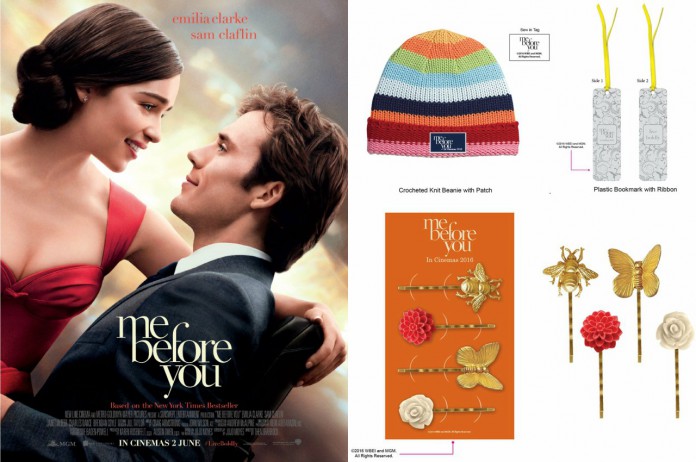 Win Movie Premiums from romantic film 'ME BEFORE YOU' adapted from the novel by Jojo Moyes starring Emilia Clarke and Sam Claflin out June 2, 2016.
Simply answer two movie questions below to enroll:
ME BEFORE YOU is based on the best-selling young adult romance novel of the same name, written by this British journalist/writer. Name the journalist/novelist.
ME BEFORE YOU marks the feature film directorial debut of this acclaimed British theater director. Name the director.
Send your answers and details (full name, NRIC, mobile number, email and correspondence address) to editor@pamper.my by 11.59p.m. on May 17, 2016.
1 x First Prize
1 x ME BEFORE YOU  Set of 4 Bobby Pins on Card
1 x ME BEFORE YOU  Crocheted Knit Beanie with Patch
1 x ME BEFORE YOU  Plastic Bookmark with Ribbon
1 x Second Prize
1 x ME BEFORE YOU  Crocheted Knit Beanie with Patch
1 x Third Prize
1 x ME BEFORE YOU  Plastic Bookmark with Ribbon
Terms & conditions:
Closing date: 11.59p.m. on May 17, 2016 (Tuesday)
Only one (1) submission from each contestant will be entertained.
Contestants are to include their personal particulars including their name, NRIC number, address, email, and contact number in their contest entry.
Contest is open to Malaysian residents only.
Any incomplete submissions received will be rendered null and void.
All the decisions made by Pamper.My are final.
All winners will be notified by email, through the contact details provided in their entry.
Winners will have to bring their I.C. with them when collecting their prizes.
Prizes may not be exchanged for cash and are not transferable to another person and/or party.
Pamper.My reserves the right to amend the contest rules, terms and conditions or terminate the contest at its sole and absolute discretion.
Based on the critically acclaimed, bestselling novel by Jojo Moyes, New Line Cinema's and Metro-Goldwyn-Mayer Pictures' "ME BEFORE YOU" stars Emilia Clarke ("Game of Thrones") and Sam Claflin ("The Hunger Games" series), under the direction of Thea Sharrock, making her feature film directorial debut.
Oftentimes you find love where you least expect it.  Sometimes it takes you where you never expected to go…
Louisa "Lou" Clark (Clarke) lives in a quaint town in the English countryside.  With no clear direction in her life, the quirky and creative 26-year-old goes from one job to the next in order to help her tight-knit family make ends meet.   Her normally cheery outlook is put to the test, however, when she faces her newest career challenge.  Taking a job at the local "castle," she becomes caregiver and companion to Will Traynor (Claflin), a wealthy young banker who became wheelchair bound in an accident two years prior, and whose whole world changed dramatically in the blink of an eye.  No longer the adventurous soul he once was, the now cynical Will has all but given up.  That is until Lou determines to show him that life is worth living.  Embarking together on a series of adventures, both Lou and Will get more than they bargained for, and find their lives—and hearts—changing in ways neither one could have imagined.
The film also stars Oscar nominee Janet McTeer ("Albert Nobbs," "Tumbleweeds"), Charles Dance ("The Imitation Game"), Brendan Coyle ("Downton Abbey"), Stephen Peacocke ("Hercules"), Matthew Lewis (the "Harry Potter" films), Jenna Coleman ("Dr. Who"), Samantha Spiro ("From Hell"), Vanessa Kirby ("About Time").
Sharrock directs from a screenplay by Jojo Moyes, based on her book.  The film is being produced by Karen Rosenfelt ("The Twilight Saga" films, "Max") and Alison Owen ("Saving Mr. Banks," "Suffragette"), and executive produced by Sue Baden-Powell ("Elysium," "Pride and Prejudice and Zombies").
The behind-the-scenes creative team includes Oscar-nominated director of photography Remi Adefarasin ("Elizabeth"), production designer Andrew McAlpine ("An Education"), editor John Wilson ("Downton Abbey") and costume designer Jill Taylor ("My Week with Marilyn").  The music is by composer Craig Armstrong ("The Great Gatsby").
"ME BEFORE YOU" is a presentation of New Line Cinema and Metro-Goldwyn-Mayer Pictures.  Set for release beginning June 3, 2016, it will be distributed by Warner Bros. Pictures, a Warner Bros. Entertainment company, and Metro-Goldwyn-Mayer Pictures in select territories.
For more information, visit Facebook.com/WarnerBrosMalaysia
#MeBeforeYouMY #‎LiveBoldly