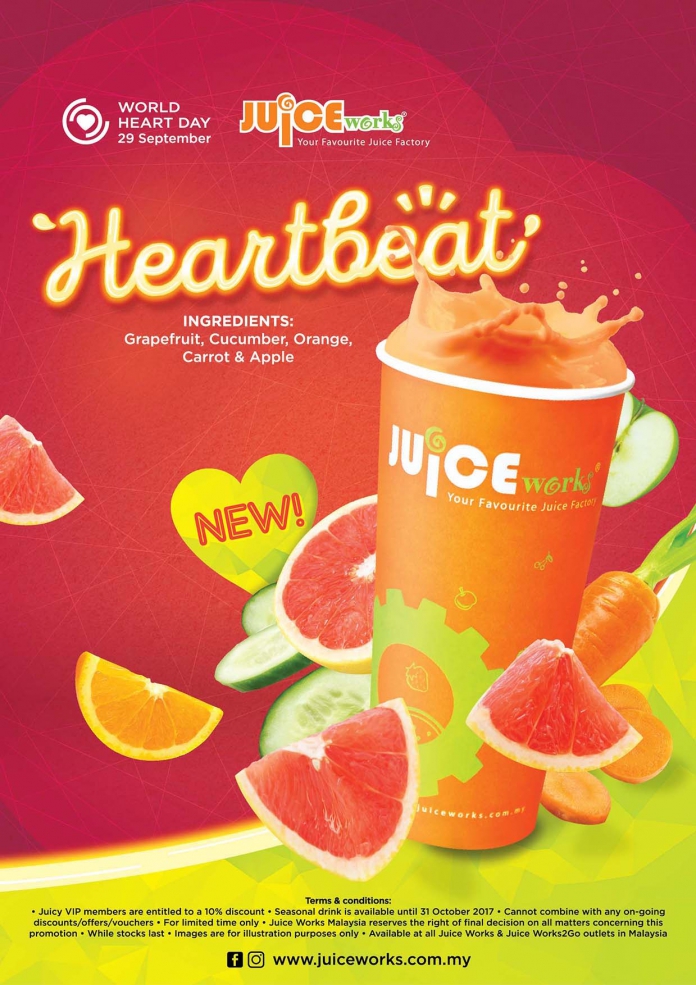 In conjunction with the World Heart Day on September 29 each year, Juice Works is introducing 'Heartbeat', a seasonal drink that is filled with all the natural goodness Mother Nature provides to help us combat against this silent killer.
The 'Heartbeat' seasonal drink is made up of the potent juices of grapefruit, cucumber, orange, carrot and apple, which offer the following benefits:
Grapefruit – the powerful nutrient combination of fibre, lycopene, vitamin C, potassium and choline in grapefruit helps to maintain a healthy heart. One research found that a diet supplemented with fresh red grapefruit positively influences blood lipid levels, especially triglycerides;
Cucumber – Low in calorie and high in fibre and water content, cucumber is also rich in potassium to help lower blood pressure. It also contains polyphenols called lignans, which can potentially reduce the risk of certain cancers and cardiovascular diseases. Another bonus: it is rich in vitamin K, which is essential for bone health;
Orange – Researchers have reported that this cheerful fruit has an antioxidant called hesperidin, which improves blood vessel function and helps lower a person's risk of heart disease. Hesperidin is a plant-based compound called flavonoid, which is said to improve the health of the delicate cells that line blood vessels;
Carrot – Carrots are a very good source of both antioxidant alpha and beta carotene, which are converted in the body to retinol (vitamin A), which is good for skin, lungs, immune system and heart health. They also contain the antioxidant lutein, which is vital for eye health; and
Apple – Studies have shown that eating apples daily can help lower the bad cholesterol called LDL in the body and two other markers associated with plaques and inflammation in artery walls. It seems apples do live up to that old adage of helping to keep the doctor away when eaten daily.
Heartbeat is now available at every Juice Works and Juice Works2Go outlets until October 31, 2017. If you're a Juicy VIP member, you get 10% off the retail price!
Read also: Have You Tried Juice Works' New Green Dinosaur Drink? Only Available Until Aug 31