"Innisfree is a natural brand that shares the benefits of nature from the pristine island of Jeju allowing for vibrant beauty and pursues an eco-friendly green life to preserve the balance of nature."

WHAT IS IT?
A moisturizing serum with organic Jeju green tea and green tea seeds that hydrate your skin from deep within!
CLAIMS:
1. More moisture and freshness with 100% green tea. Rich in amino acids and minerals, green tea from Jeju's own green tea leaves hydrates your skin.
2. Dual Moisture-Rising Technology™ derived from green tea and green tea seed oil
The fresh green tea deeply hydrates your skin and the green tea seed oil creates a strong moisture barrier to keep your skin moisturized longer.
3. The first thing to apply after a face wash! As the first skincare product you use, it helps hold moisture in your skin and prevents moisture loss.

Here is my review after one month of using the Innisfree Green Tea Seed Serum…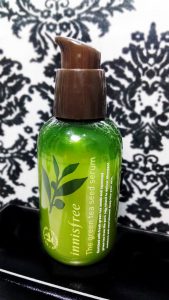 FIRST IMPRESSION:
The minimalistic and eco-friendly aesthetic really had my attention when I first see it. The product comes in a translucent green bottle, completed with a smooth-working pump. (Note that the entire packaging is made out of recyclable materials!)
Aside from looking good, the bottle is compact, durable and sanitary, making it greatly convenient to bring with you on your travel adventures.
THE SERUM: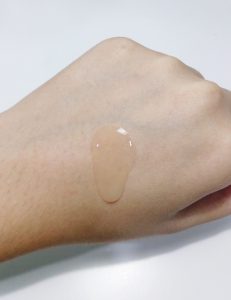 The serum itself is whitish in colour with a runny consistency. It has a gentle green tea aroma, which I like a lot because it is not overwhelming but instead, refreshing. Despite its watery texture, just a single pump is sufficient for my entire face!
I have combination skin and have used the product twice a day. In the morning after washing, I applied a pump of the serum by dabbing it over my face and letting it absorb, followed by my toning process. Then, I proceed with my usual make-up routine which includes moisturizer and sunscreen.
At night after washing and scrubbing, I had on the serum, followed by toner and moisturizer. I do this so that the products can work their magic while I'm asleep and my face wouldn't feel dry and powdery when I wake.
FINDINGS:
Please note that I used only this product and mixed it with my current skincare range. Innisfree has a larger collection for this particular range. Results may vary if these products are used together.
– Absorbs quickly
– Lightweight and refreshing. It makes my skin look and feel fresh. After it is absorbed, it does not leave a sticky or greasy feeling behind. There isn't a slightest hint of discomfort on my face.
– Gentle Refreshing Scent. The green tea-citrus aroma is mild and agreeable as it is made with high percentages of natural extracts.
– Works well with other products. The Green Tea Seed Serum played very nicely with my make-up and sunscreen throughout the day without caking. It actually helped prevent it.
– Moisturise. The serum penetrates deep in your skin and works its way from within. My skin is more radiant and my pores are visibly smaller.
CONS: Isn't a standalone. It is a serum, so it is no surprise that the serum may not be a sufficient moisturizer for those with dry skin.
CONCLUSION:
The Innisfree Green Tea Seed Serum is my first experience with the brand and I have to say, it has been very pleasant. It worked wonderfully as a pre-serum. I would most definitely implement it into my nighttime routine since I find it works best for me that way.
I would recommend this as a quick moisture boost. On its own, the Innisfree Green Tea Seed Serum fulfilled its claims in moisturizing. It is, however, difficult to pin-point exactly how effective it is unless used with the complete collection.