Samsung Galaxy Studio has been opened in Jalan Bukit Bintang, Kuala Lumpur to give Samsung fans in Malaysia the chance to explore and experience hands-on the latest Samsung devices, including the newly-launched Galaxy Note8, Gear VR with Controller and the new Gear 360. The Galaxy Studio in Kuala Lumpur will open its doors for 3 months to offer fans and visitors a one-stop experience of mobile connectivity.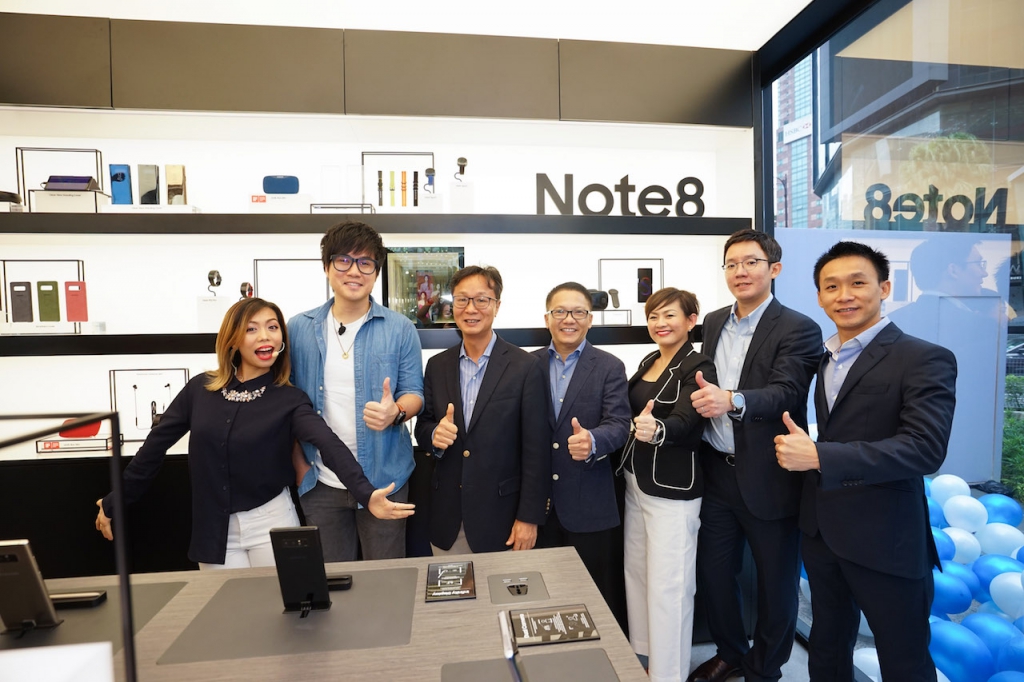 An Expanding Network
Located in some of the most iconic places around the world, the Galaxy Studios have attracted almost 900,000 visitors in locations such as the Westfield Parramatta in Sydney, Stockholm Central Station, the Dubai Mall, Hong Kong's Excelsior Plaza and, today in the golden triangle of Malaysia's capital Kuala Lumpur.
Hands-On with the Galaxy Note8
The main highlights of the Galaxy Studio include experiences surrounding the Galaxy Note8 and its improved S Pen. At the launch, visitors can explore key features of the Galaxy Note8 by placing the device on an interactive smart table. The smart table comes with a display that automatically recognizes the smartphone and demonstrates its main features. The table connects with the Galaxy Note8 via Wi-Fi and acts as a second screen, giving viewers an immersive view of the bezel-less Infinity Display and a showcase of crisp photos made possible by Galaxy Note8's two 12MP rear cameras with Dual Optical Image Stabilisation (OIS), and its Live Focus feature. Visitors can also see Bixby, Samsung's intelligent interface, in action as it interprets information from users' surroundings and shares tips from where to grab a cup of coffee to how to get to the nearest gym. The table also features Samsung Connect, a smart home network that connects the Galaxy Note8 with other devices to simplify day-to-day tasks, and showcases content from the Gear 360 and Gear VR.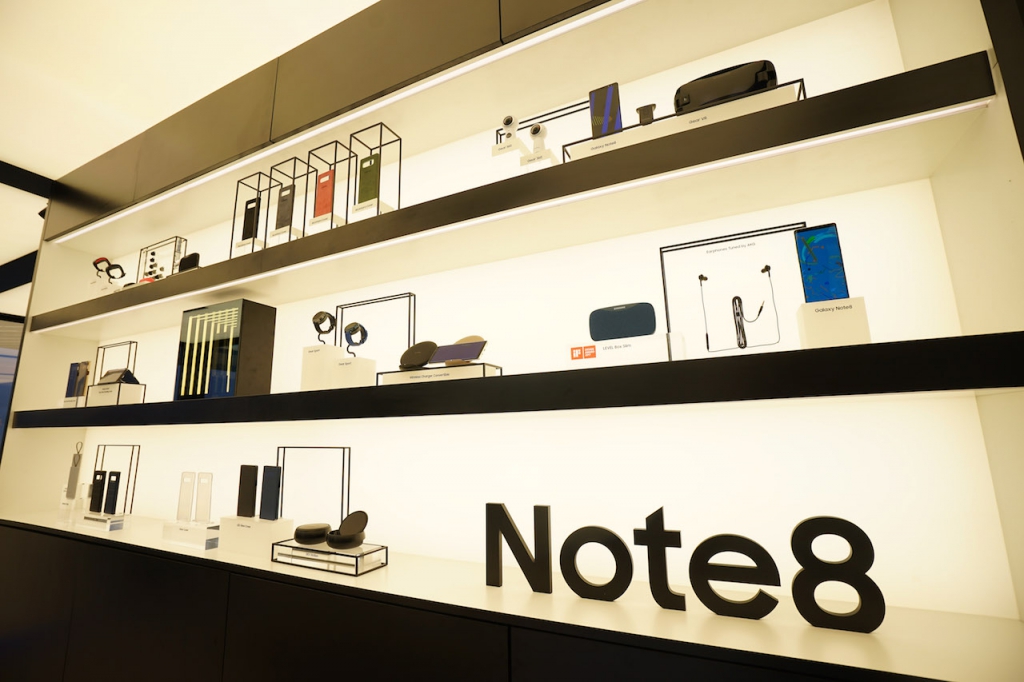 Another segment of attraction featured in the Galaxy Studio is the Liquid Canvas experience that showcases the benefits of the phone's and S-Pen's IP68 water and dust resistant protection. Here, visitors can recreate their selfies underwater in ink, oil or liquid dye as the Galaxy Note8 is moved over a 'Liquid Canvas.' Visitors can express their creativity further at the S Pen Gallery. They can decorate and doodle on their own selfies, pop-art style, on a podium before having them featured on Samsung Frame TV as another work of art to liven up the studio.
Mesmerizing 360-Degree Experiences
Samsung is also proud to bring in its unique 360 Snow Globe booth that can only be experienced at select Galaxy Studios in the world. It is a cylindrical room filled with artificial snow where visitors can witness first-hand the amazing capabilities of the Gear 360, Samsung's 4K resolution-capable 360-degree camera. All visitors have to do is step into the 360 Snow Globe and once when the 'snow' is activated, the Gear 360 captures their experience in 360 degrees and they can share it afterwards with their friends and family.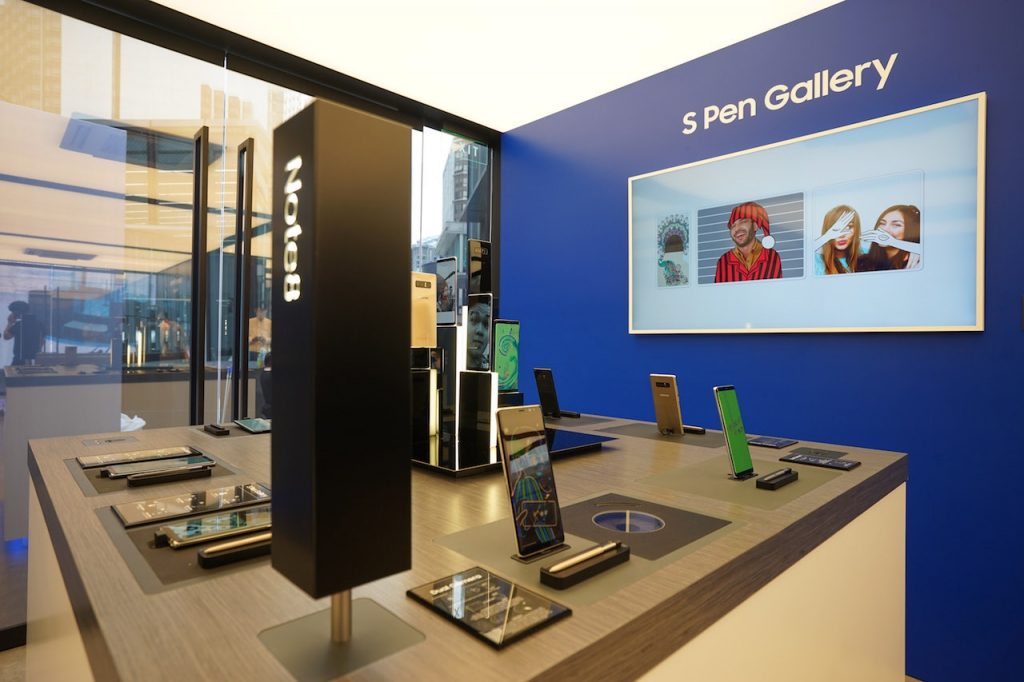 Gear Up and Get Ready to Sway
Virtual Reality (VR) Coaster may not be available just yet in local theme parks but visitors can give it a go at the Galaxy Studio with the 4D Sway chair powered by the Gear VR with Controller. The 4D Sway chair will take visitors into an adrenaline-filled space battle with Galactic Attack VR Coaster 4D game experience similar to the one in Six Flags Theme Park in Texas, all while sitting strapped in a chair. It's an experience not to be missed!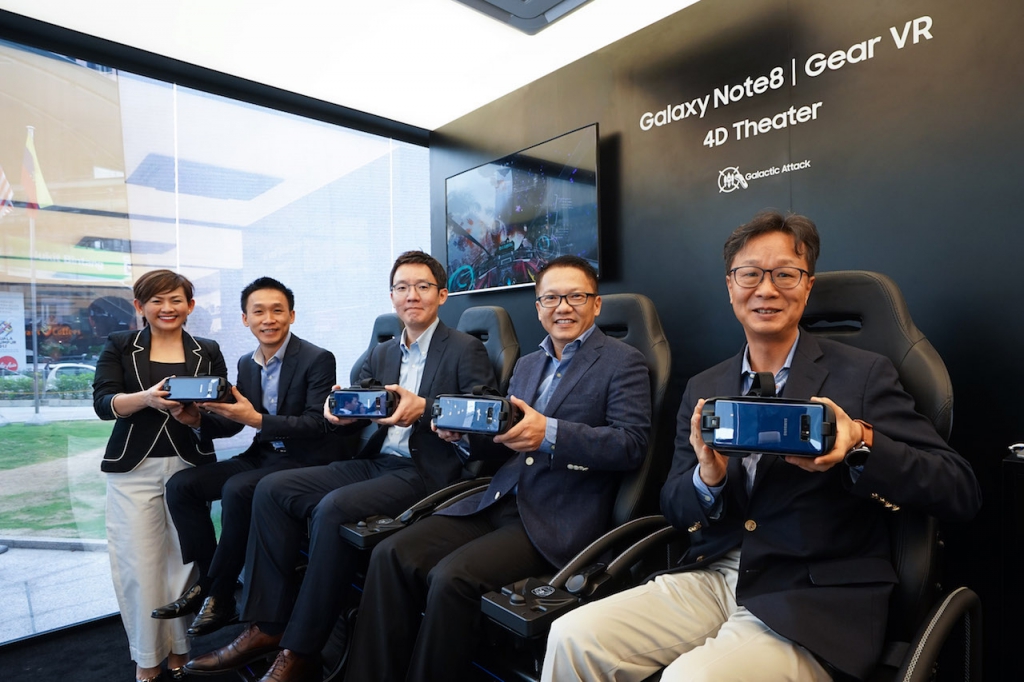 Fun and Fitness
Not all of the Galaxy Studios are entirely about play. At the Galaxy Fitness stations, visitors can just come by to work up a sweat. They can strap on the Gear Sport and play a virtual game of cycling. The built-in kinetic sensors can detect the players' movements for a fun and interactive experience, as well as tracking their activity and heart rate. Are you game? Find out how your fitness level fares for free at the Galaxy Studio!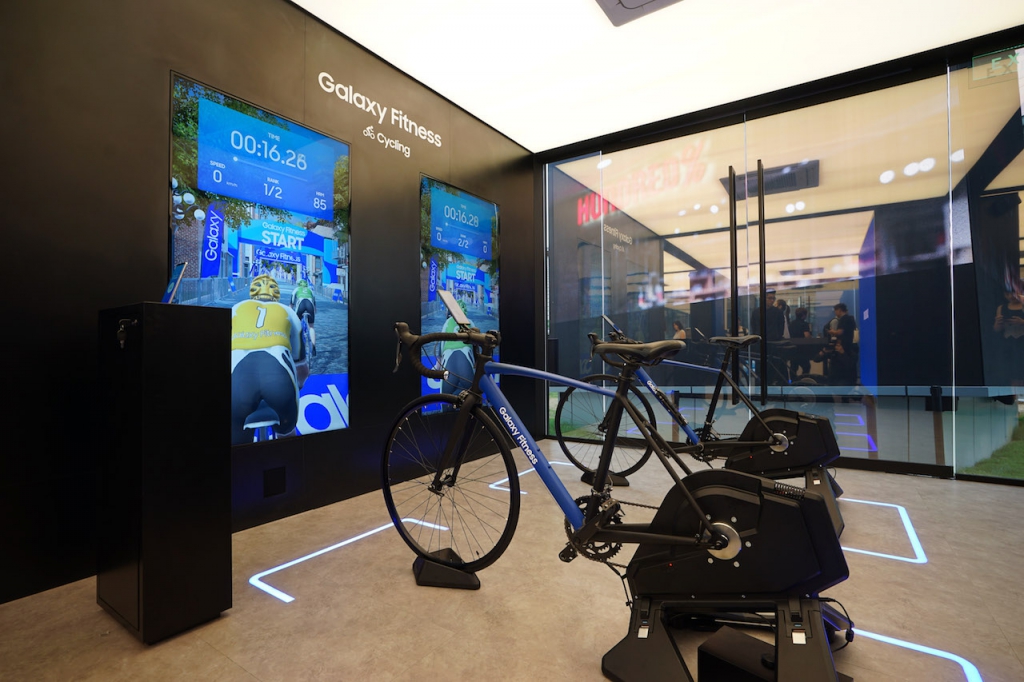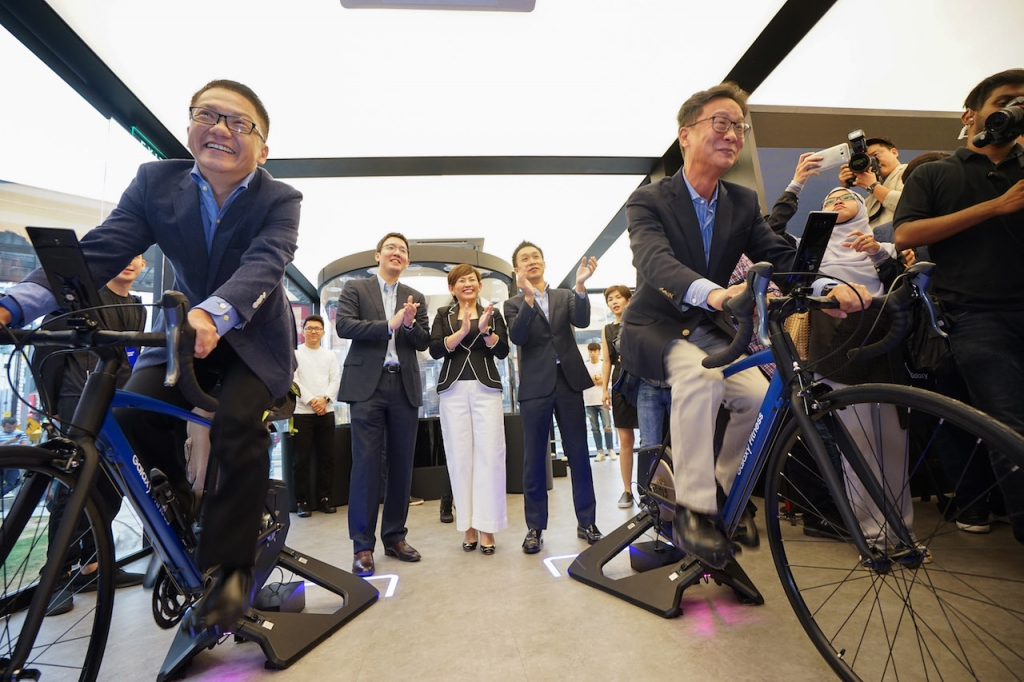 Hands-On and Highlights
For visitors who would like to get up-close and personal with featured Samsung products and find out more about latest Samsung features and promotions, they can do so at the Hands-On Table and the Highlights Table. At the Hands-On Table, dedicated customer solutions personnel will be more than happy to explain in detail to visitors to any product information and enquiries. Highlight Table is the go-to section within Galaxy Studio should visitors want to familiarise themselves with product features and have dedicated customer solutions personnel assisting them with their experience.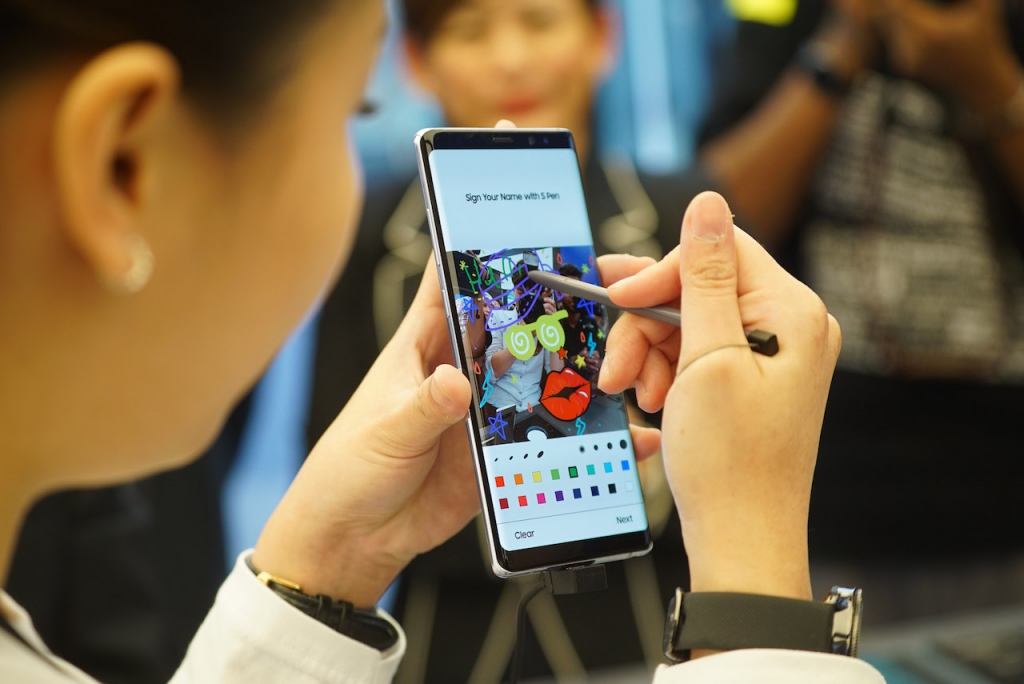 The Galaxy Studio is open to all starting from 27th October 2017 until 31st January 2018, from 10am to 10pm. From 27th to 29th October 2017, customers who purchase the Galaxy Note8 at the Galaxy Studio will each receive a free Gear VR. Stay tuned, as there are many more activities and promotions lined up at the Galaxy Studio in the coming months.
For more information on the Galaxy Studio, visit samsung.com/my/smartphones/galaxy-note8/.
Read also: Samsung Galaxy Note8 Landed in Malaysia, Retails at RM3,999