OPPO has launched their latest OPPO F7 together with their product ambassadors, Malaysian megastar Neelofa and Taiwanese singer-actress Hebe Tien at Kuala Lumpur yesterday.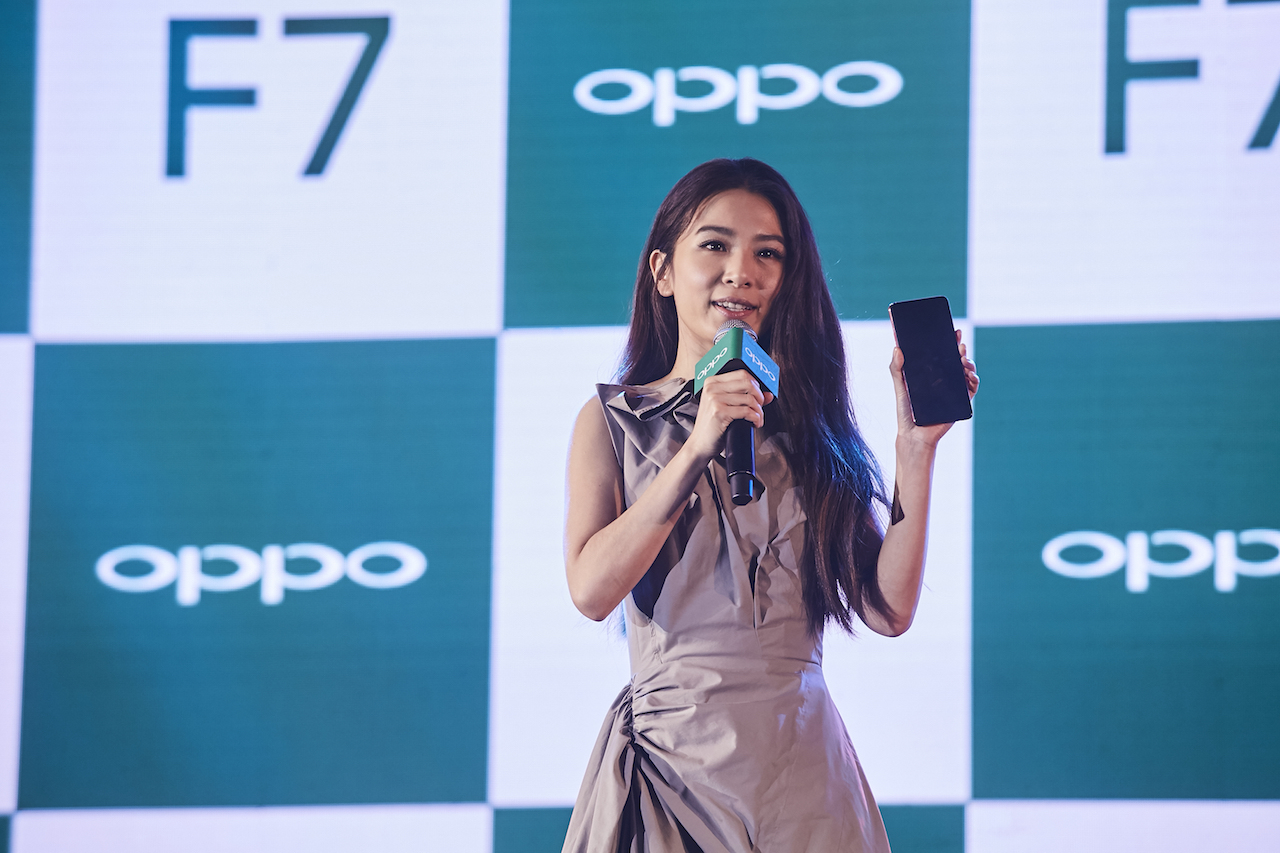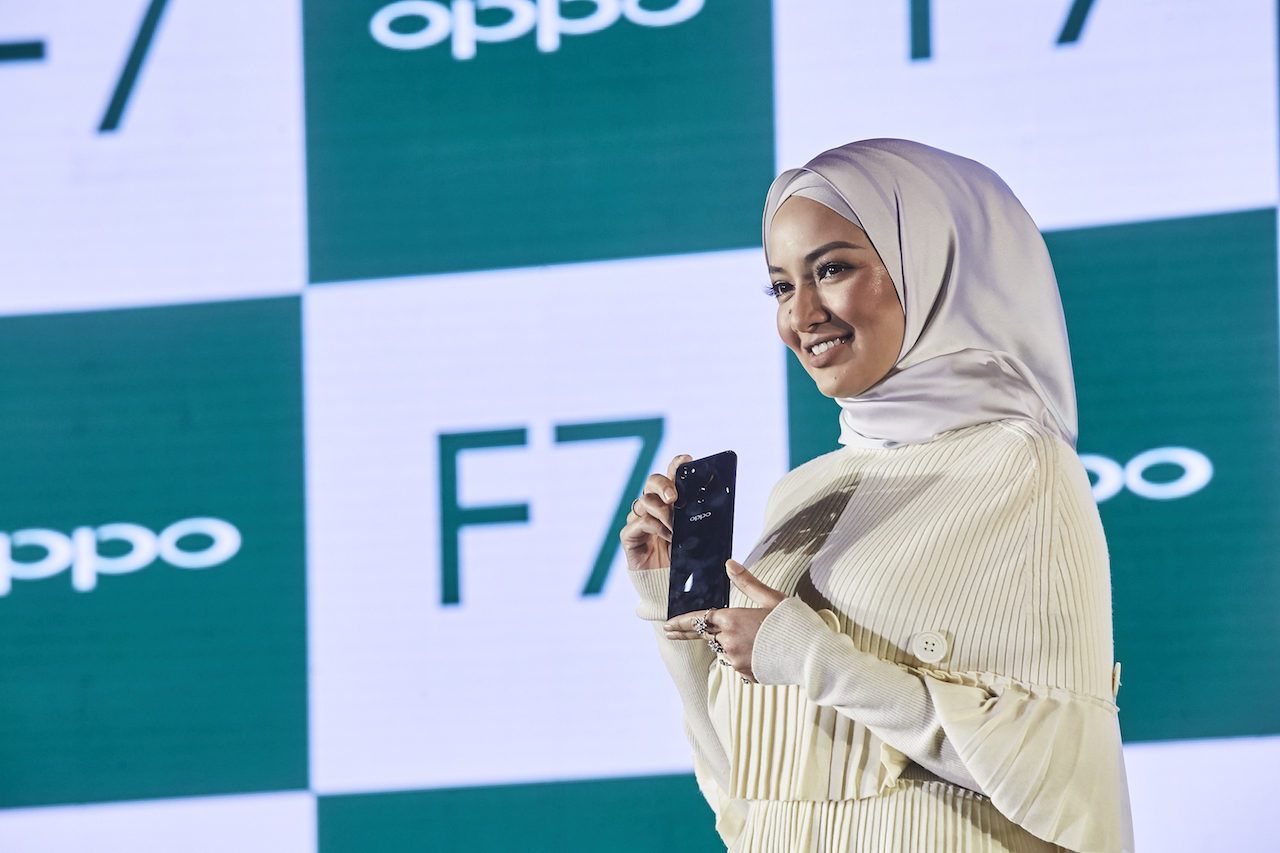 The F7 utilizes improved AI technology for selfie photography in addition to many more AI-powered operational features. Together with the Super Full Screen and upgraded multi-tasking software, the F7 offers consumers a better user experience.
25MP X Real-Time HDR Sensor
The F7 features a high-resolution 25MP front camera with real-time High Dynamic Range (HDR) sensor. Images taken with the F7 will have a lot more "information" – a higher range of details, luminance and color levels when shot in bright sunlight or the shade, similar to images taken with a good quality digital camera. Thus, the user has a lot more control – regardless of whether photos are taken in bright or low light environments. The HDR images, together with AI Beauty 2.0 with its ability to make improved age and gender beautification effects, will give selfie fans a much-enriched experience.
AI Beauty 2.0 Technology enhances "Your Beauty Expert"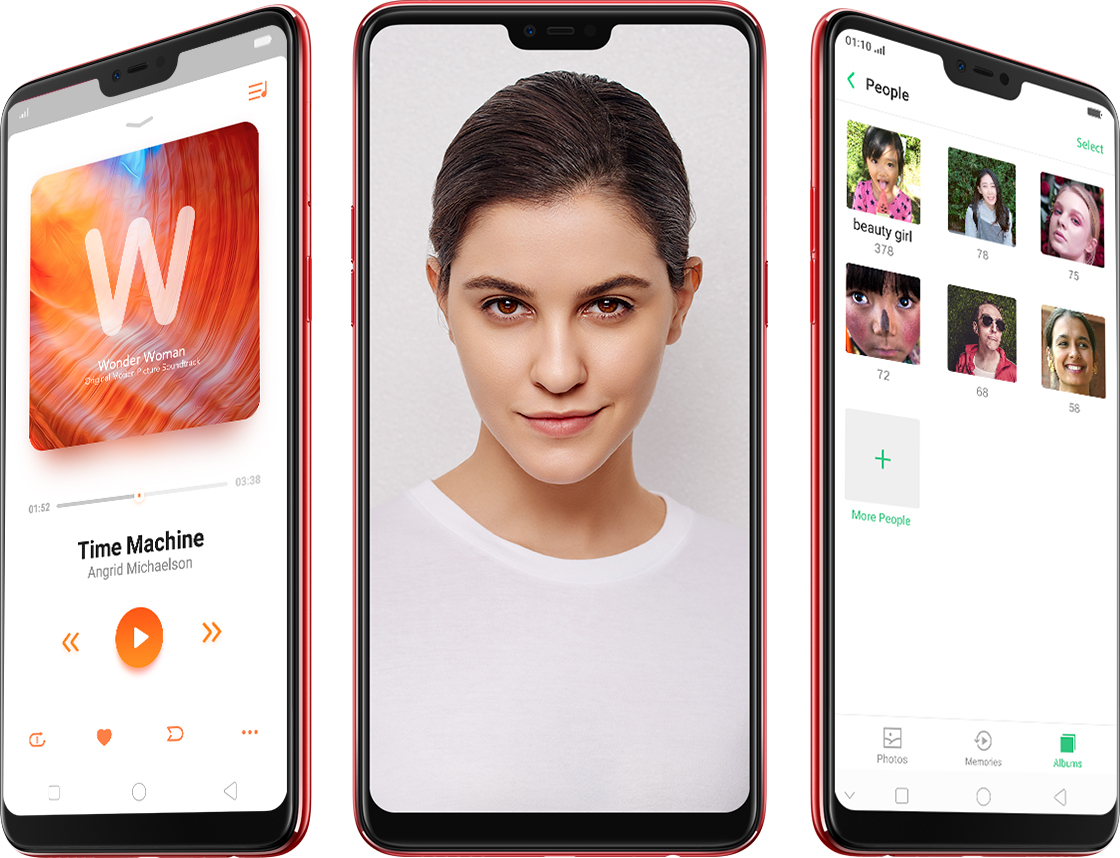 OPPO first introduced the F5 with A.I. Beauty Recognition technology, making selfies more real, natural and personalized. The latest F7 will have second-generation A.I. Beauty 2.0 technology that pushes the envelope on selfie photography even further. New advances include more accurate facial recognition capability, better beautification effects for gender and age; Self-learning capabilities based on user preferences plus added fun features.
The A.I. Beauty 2.0 technology scans 296 facial recognition points, a 20% improvement from the first-generation technology, allowing for a more precise and accurate facial recognition capability. Now, a person's age, gender, skin color and skin type differences are detected – including for up to four individual subjects – in much greater detail.
A.I. learning identifies your beautification preferences, based on the most common edits made to photo album images, and automatically creates similar adjustments to new photos. So next time you take a selfie and want that perfect skin tone, exotic eye shape or other fun facial feature, F7 knows precisely what to do.
New features are also built into the F7 making it much more attractive and fun. Vivid Mode gives the user the opportunity to play with more color saturation of a selfie, enhancing the color of clothes and backgrounds, for example. Selfies can be touched up, much like taking a cover shot for a glossy magazine. While the AR (Augmented Reality) Stickers function allows you to have fun with selfies, adding cute animal or movie star like features, ready for social media sharing.
Super Full Screen 2.0 with 19:9 Aspect Ratio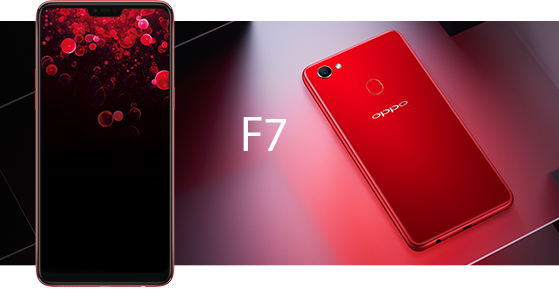 The F7 comes with an improved 2280 x 1080 resolution, 6.2-inch FHD+ Super Full Screen gives a much more colorful, vivid and immersive visual experience. The F7 is also one of the first smartphones with a customized 19:9 aspect ratio, giving the user a larger area of effect for popular role-playing and strategy games. It achieves this amazing visual feat by incorporating a notch, featuring the front camera, brand-new antenna and light sensor, neatly integrated into the screen.
The App-in-App allows the user to pick up an incoming call while continuing gaming or watching a movie. The Full Screen Multitasking on the F7 is the first in the industry lets the user use gestures to navigate between apps.
Fresh Industrial Design to Appeal to Young Users
The finish of the F7 sets new standards in precision and materials engineering, with every detail carefully considered by OPPO designers. Users have three different color choices to suit their personality – Solar Red and Moonlight Silver, and special Diamond Black edition.
The special edition 128GB model comes in Sunrise Red – using a unique glass body that shimmers like gemstones, reflecting different colors with each glance from the user.
Also, inspired by its namesake gemstone, the F7 Diamond Black model is a symbol of elegance and technological perfection. Meticulous care and artisanal skills, as used in cutting and polishing diamonds, is applied to every device. A multi-layered metallic and glass back cover replicates a diamond-like glow and light refraction, with triangular-cut patterns that shimmer bright and dark shades when seen from different angles. From the edge to the center of the phone, rainbow colors shine and glimmer, a design and color never seen before. The F7 Diamond Black will also have 128GB memory, among the largest available on an OPPO device.
The F7 Diamond Black model will be exclusively available at selected OPPO stores.
The latest ColorOS 5.0 and Powerful Hardware
The F7 runs on the latest 64-bit 4GB Octa-core processor, with a much refined operating system. Based on Android 8.1, ColorOS 5.0 has AI built into the software for better systems management.
The ColorOS 5.0 AI power manager allocates processing power accordingly to the right app, making sure the phone runs at its best. As such, F7 runs 80 percent faster than its F5 predecessor when running multiple apps together. Additionally, it also allocates power usage appropriately, extending the average daily usage of battery life.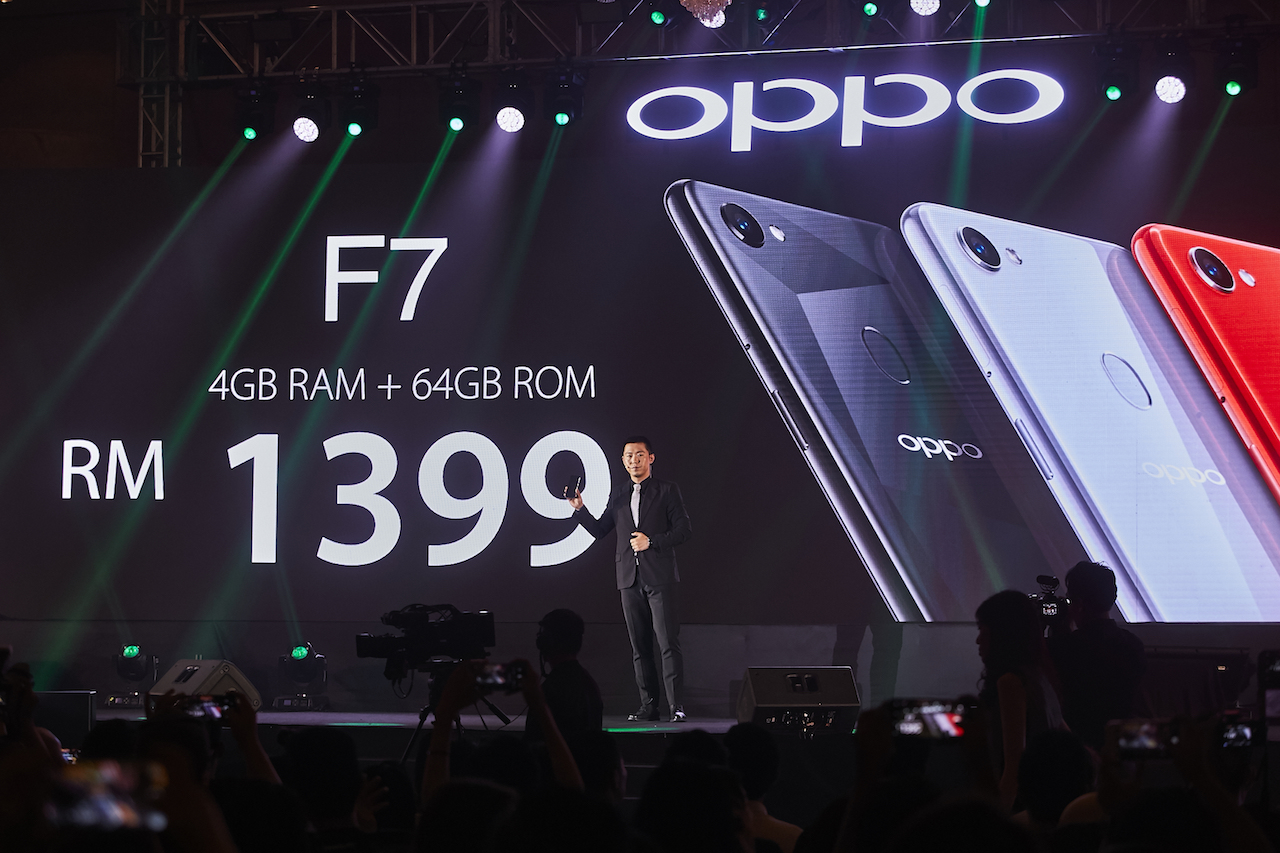 At the price of RM1,399 OPPO F7's pre-order activity has been held from 16th April to 18th April 2018. Users who placed orders during this period were gifted a bundle of free gifts worth RM299. The first sale roadshow will take place on 21st April 2018 in Sunway Pyramid, KL. The special edition 128GB model will also be available later, to give OPPO fans more choices to suit their needs.
More information, visit oppo.com/my/shops/ and facebook.com/malaysiaoppo/.
Read also: OPPO F7 to Launch in Malaysia on April 19 | Hebe Tien and Neelofa Are The New Ambassadors