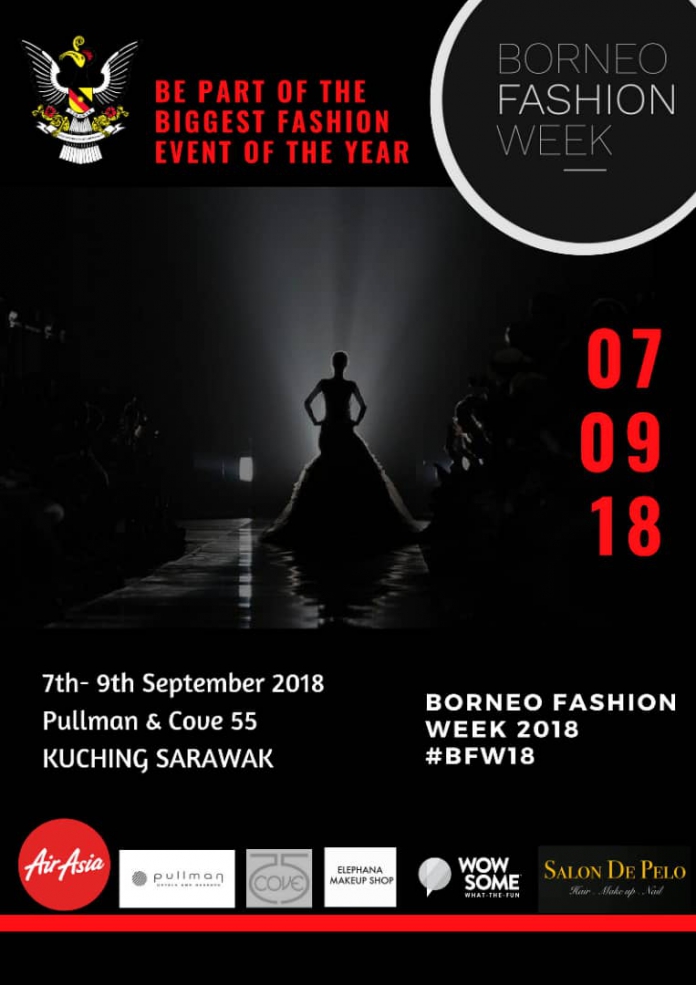 Borneo Fashion Week (BFW) 2018 is set to unveil a stunning fashion showcase, inspired by the bold and beautiful heritage of Borneo, in magnificent Kuching – signifying the fashion week's evolution into its second year.
Themed " bringing Borneo to the world", the BFW 2018 will host ethnic inspired fashion collections from local and international designers, promising spectacular runway shows, with over 30 exhibitors of fashion apparels, accessories, textile, healthcare, ethnic craft and lifestyle products, as well as workshops, a gala dinner, pool side fashion show and after parties – that will run from 7 to 9 September 2018 in the luxurious Pullman Hotel and private boutique resort, Cove 55. Coming together to mark the fashion week's second installment will be a host of renowned fashion designers from Malaysia, Singapore, Thailand, Cambodia and Iran.
BFW 2018, highlighting participating designers, selected based on their diverse and versatile appeal in reflecting the essence of Borneo, and their creations; and six coveted awards:
BFW Emerging Borneo Designer of the Year 2018;
BFW Designer of the Year 2018;
Most Promising Designer 2018;
BFW Designer in the Spotlight;
BFW Model of the Year – Male; and
BFW Model of the Year – Female for 2018
Designers' creations will be judged by a panel of fashion specialists including Limkokwing University. In keeping with the youth engagement direction, BFW 2018 will also introduce the much sought-after award, the Limkokwing Fashion Design Scholarship worth more than RM100,000.
Local designers include Indu Borneo, WYNKA, Latip's Collections, De' Mlya, Yacutha Borneo, Kumang & Co., Keldreena Bremas, Rozie Khan Couture, Fatin Xivera, Bidwin Molumdim, Pretty in White, Najla Shoes, JK Homme, Azhar Zainal,Suhaimiey Sahariey, O.F.F. by Phoebe Ooi, Uvanes Vary, Amanda Brown, Yan's Creation, Asen Clothing, Michael Ooi, Melvin Shah, Ashley@Kapas and Suhara Jewel Art. While international designers include Hayden Ng from Singapore, Pitnapat Yotinratanachai from Thailand, Natacha Van from Cambodia and Faramas from Iran.
BFW 2018 will also see an on-going CSR campaign by Red Velvet Event & Design, an event company based in Kuching who will place a specially designed giant box at BFW2018's official venues, Pullman Kuching and Cove 55, where donors can donate their old clothing and redeem fashion or make up cash vouchers.