For those who plan to embark on a detox diet to rejuvenate body and eliminate toxins this new year, eating leeks can help to rid the body of harmful substances while also contributing to weight loss.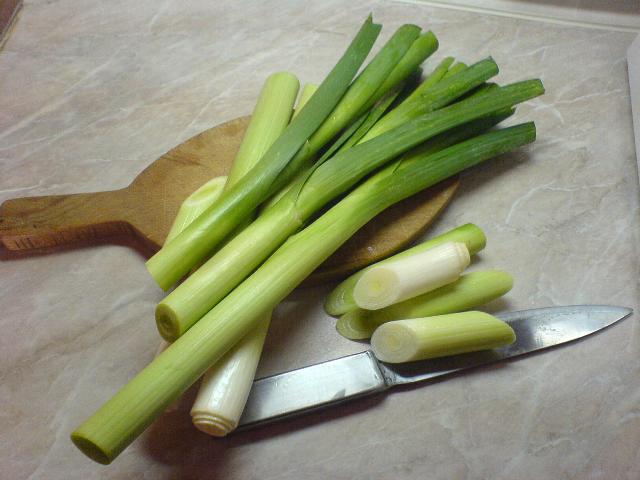 Leeks are ideal for detoxing because they contain potassium, folic acid and vitamin C.
According to the British Leek Growers' Association, leeks are ideal for detoxing because they contain potassium, folic acid and vitamin C. Leeks can also help reduce cholesterol levels and rid the body of uric acid, created after ingesting certain foods. Too much uric acid can cause gout and kidney stones.
As well as the perfect detox, the leek is full of anti-oxidants and rich in iron, vitamin B6, folate and vitamin C to keep winter colds and sore throats at bay. Packed full of health benefits, the leek is also used in traditional medicine to treat a variety of ailments including gastrointestinal problems and insomnia.
Leek Recipes for Detox
Here are some detox recipes prepared by the British Leek Growers' Association
Minted Leek and Pea Soup with Braised Lettuce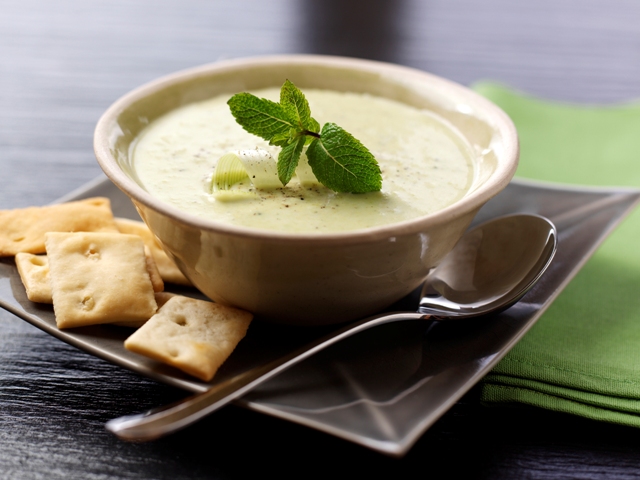 This delicious creamy soup can be eaten warm or served cold.
Makes : 4 servings
Preparation Time: 10 minutes
Cooking Time: 20 minutes
Ingredients
575g/1 1/4lb Medium leeks, trimmed and finely chopped
2 Little gem lettuce hearts, roughly chopped
20 Mint leaves, roughly chopped
15g/ ½ oz Butter
1 x 5ml tsp Light and mild olive oil
1L / 1 ¼ pts Vegetable stock
250g/9oz Frozen peas
Light sprinkling Sea salt and ground black pepper
230g/8oz Quark (virtually fat free soft cheese)
To Garnish Sprig of mint and leek twist
Method
1. Lightly sweat prepared leeks, lettuce and mint with the melted butter and oil until softened.
2. Add the vegetable stock and bring to a gentle simmer for 5 minutes. Add the peas and seasoning and cook for a further 5 minutes. Season to taste.
3. Blend until smooth with the quark. Return to the pan and warm until just warmed through but do not allow to boil.
4. Serve garnished with mint and leek.
Nutritional Information
Energy: 170 Kcal, Carbohydrate: 15g, Fat: 5g (Approximate values per serving)
Warm Puy Lentil and Beetroot Salad with Balsamic Leeks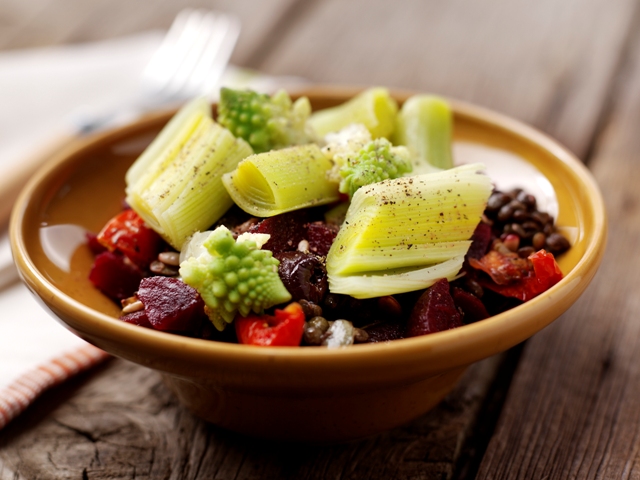 A great low fat detox dish packed full of lively flavour and zing! Use the best available balsamic vinegar to give a smooth syrupy flavour to the salad so there's no need to add oil.
Makes: 4 servings
Preparation Time: 30 minutes
Cooking Time: 5 minutes
Ingredients
110g/ 4oz Puy Lentils, rinsed
300ml/ ½ pt Vegetable stock
150g/ 5oz Cooked beetroot, diced
50g/2oz Sun blush semi dried tomatoes, roughly chopped
25g/1oz Pitted black olives
Sprinkling
2 x 15ml tbsp Ground sea salt and black pepper
Balsamic vinegar (best available)
275g/10 oz Leeks, halved lengthways and cut into even 2cm lengths
75g/3oz Romanesco or cauliflower florets
Method
1. Simmer the puy lentils with the stock for about 20 minutes or until tender. Drain and combine with the chopped beetroot, tomatoes and olives. Season and drizzle with the balsamic vinegar.
2. Steam leeks and florets for 5 minutes or until just tender. Carefully place onto lentil mixture and drizzle with more balsamic just before serving.
Nutritional Information
Energy: 150 Kcal, Carbohydrate: 23g, Fat: 2g (Approximate values per serving)
Leek, Mussel and Prawn Hotpot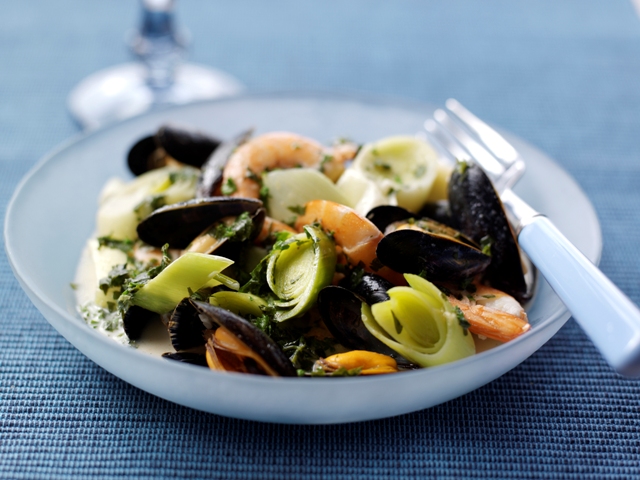 A really delicious robust dish, which is also a healthy option too!
Makes : 2 servings
Preparation Time : 10 minutes
Cooking Time : 10 minutes
Ingredients
2 x 5ml tsp Light and mild olive oil
2 Cloves garlic, crushed
1 x 15ml tbsp Lemon grass paste
350g/ 12oz leeks, trimmed and sliced into 2cm/ ¾ " rounds
500g/17 oz Mussels in shells, rinsed and scrubbed
250g/9oz Shell on prawns
½ L/ ¾ pt Boiling water or fish stock
75g/ 3oz Low fat soft cream cheese
Sprinkling
2 x 15ml tbsp Ground sea salt and black pepper
Fresh chopped parsley
Method
1. Lightly sauté the leeks, garlic and crushed lemon grass in the oil to soften. Add the mussels and prawns and cook over a medium heat for 2 – 3 minutes until the mussels open. Pour over the stock, cover and simmer for 3 minutes.
2. Drain stock and simmer until reduced by half. Stir in the cream cheese, seasonings and parsley along with the leeks and seafood. Heat until just simmering.
3. Serve with crusty bread
Nutritional Information
Energy: 260 Kcal, Carbohydrate: 11g, Fat: 9g (Approximate values per serving)