In this new year, L'OCCITANE wants you to usher in a wonderful beginning with the soothing tenderness of Shea butter for your face and body. Shea Butter is exceptionally rich in Omega-6 and karitene (a powerful moisturiser) which are perfect ingredients to nourish and protect the skin every day.
In recognising the benefits of the Shea butter to our skin, L'OCCITANE has introducing a new Shea skincare range, Shea Face Comforting Oil and Shea Face Soothing Fluid and the limited edition Shea & Honey for Body range which are available in their outlets starting this January.
Shea Face Comforting Oil

For normal to very dry skin (RM172, 30ml)
Two potent allies: shea oil (5%) and marula oil deliver nourishing and antioxidant benefits respectively. Undeniably silky, yet never greasy, this oil gently reveals skin's innermost beauty. The ultra-fine texture absorbs quickly for a dry-touch finish.
Apply 1-3 drops of Comforting Oil to face and neck in the evening as skin regeneration is most active at night.
Shea Face Soothing Fluid

For sensitive skin or skin weakened by external aggressions
100% pure, 0% preservatives (RM188, 40ml)
Fragile skin is prone to tightness, redness and burning or prickling sensations.
A natural complex of protective active ingredients (rose hip and calendula), combined with shea butter (5%), helps to instantly soothe aggravations.
NEW Limited Edition Shea & Honey For Body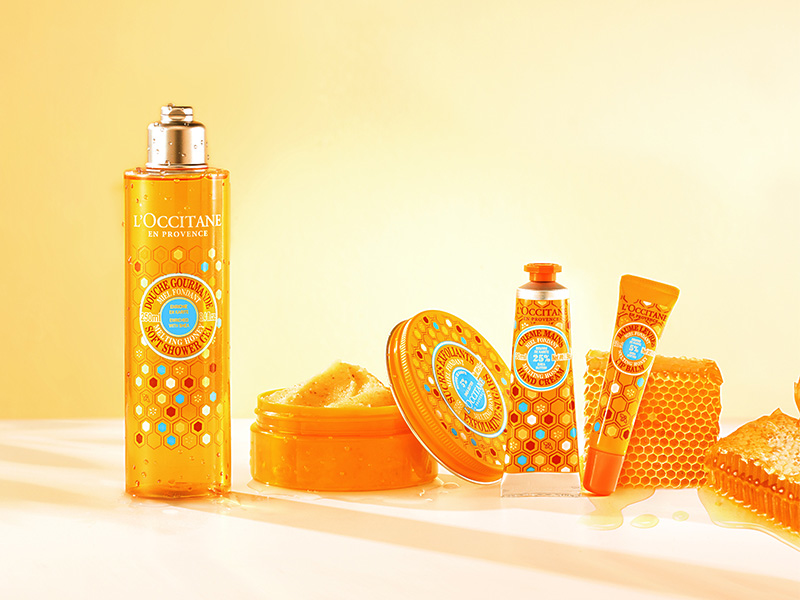 Melting Honey Ultra Soft Cream (RM108, 100ml)
With 10% shea butter, this deliciously light and smooth body cream leaves skin delicately scented with the comforting softness of honey from Provence.
Melting Honey Soft Shower Gel (RM88, 250ml)
Like golden nectar, this exquisite shower gel gently cleanses skin for a supple, comfortable feeling all day long.
Melting Honey Exfoliating Sugars (RM123, 175g)
This delectable balm containing sugar crystals and ground walnut shells melts upon contact with water to softly exfoliate skin. Enriched with 5% shea butter and Provençal honey, skin feels silky smooth and smells wonderful.
Melting Honey Hand Cream (RM41, 30ml)
L'OCCITANE's bestselling Shea Hand Cream gets a makeover with the addition of organic lavender honey to its 25% shea butter formula. The innovative whipped texture helps to instantly nourish, soften and protect hands from external elements.
Melting Honey Lip Balm (RM41, 12ml)
Formulated with 5% shea butter and a dash of softening honey from Provence, lips are immediately soothed and moisturised with this luscious balm that smells simply divine.