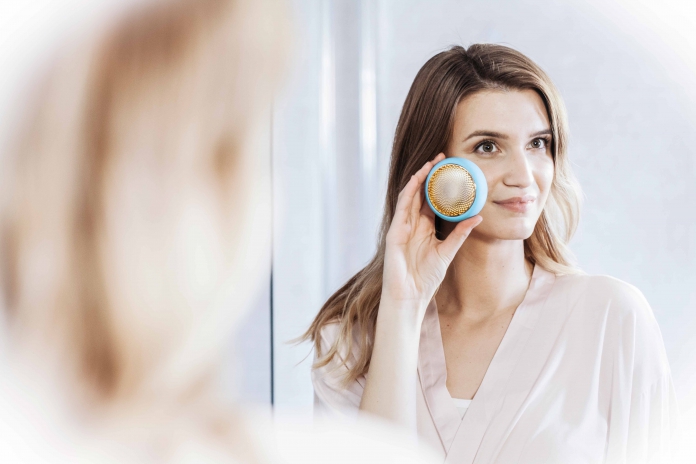 In light of the restricted movement order by our government to prevent the spread of COVID-19 infections, we are advised to stay home and restrict outdoor activities to avoid being exposed to the virus.
Staying at home does not mean that you should miss out on your favourite facial and spa activities. Swedish beauty tech brand, FOREO has the healthy solution to allow you create an amazing DIY home facial spa experience without going out to see your aesthetician.
First, cleanse your skin with FOREO's LUNA 3, followed by the UFO, a smart masking device that allows you to pair and choose from FOREO's range of Farm-to-Face masks, depending on your skin needs. Lastly, use FOREO's newly launched BEAR and BEAR mini, a smart microcurrent facial toning device, to apply serum to your skin and massage until fully absorbed.
Step 1: Cleanse Your Skin with FOREO's LUNA 3
The LUNA 3 (RM920) is a powerful app-controlled skincare device that combines an ultra-soft hygienic cleanse with a variety of targeted firming massage routines. The Luna 3 will allow you to experience an even deeper yet gentle cleanse that blasts away dirt, oil and makeup residue in only one minute.
Read also: The New FOREO Luna 3 + Serum Serum Serum Are Coming To Malaysia On 4th July 2019! Find Out What's The Upgrade Here.
Step 2: Smart Masking with FOREO's UFO
The UFO smart masking device (RM1,251) transforms dull complexion into glowing skin in just 90 seconds using a cutting-edge blend of Swedish beauty tech and Korean mask expertise. The LED light therapy, T-Sonic pulsations, thermo-therapy and cryo-therapy come together for an exquisite spa-level experience that will lift your spirits.
Read also: #PamperWithKye: FOREO UFO Mini Saves My Dry Winter Skin
Step 3: Firm Your Face & Neck with FOREO's BEAR
The newly launched BEAR toning device (RM1,380) is built with superior microcurrent & T-Sonic™ pulsations to offer the most energizing facial you'll ever experience. It's the only microcurrent device in the world that features Anti-Shock SystemTM – an integrated system that guarantees shock-free treatments for maximum safety & comfort. Take a 4-minute 'Total Facial Knockout' routine which helps to tighten and firm the skin at the cheekbones, forehead, neck and jawline for a youthful, contoured complexion.
FOREO recommends using BEAR with a conductive gel-based serum such as FOREO's specially formulated SERUM SERUM SERUM, as the invigorating T-Sonic pulsations enhance the absorption of serum, which effectively and safely transfers microcurrents from the device to the skin. The serum helps you get the most out of your microcurrent treatment while gently massagingthe face to boost the skin's radiance.
These self-operated smart devices expertly blend technological innovation and personalization with years of skincare know-how to deliver highly effective results. It takes few minutes per day to give you beautiful skin from the comfort of your own home.
To discover more about FOREO, visit FOREO website or FOREO's official online store in LAZADA, Zalora, and Sephora or in-store at Sephora Malaysia.
Read also: Tried & Tested: Achieve clean and glowing skin with Luna Mini 3