Located at the ground floor of IOI City Mall, the newly opened Thai restaurant Cafaeyen + is a spin-off and was created by the people behind the seemingly popular Bangkok's by Cafaeyen.
Cafaeyen + is rather a small and cosy restaurant, serving a wide range of Thai beverages and delicacies. The restaurant is decorated with Thailand's street signs and enough tables and chairs to accommodate 30-35 pax in one seating.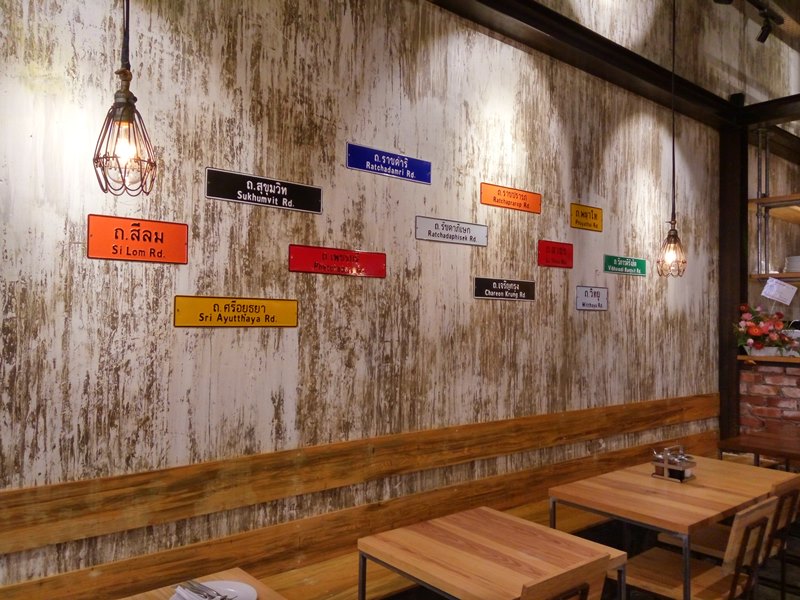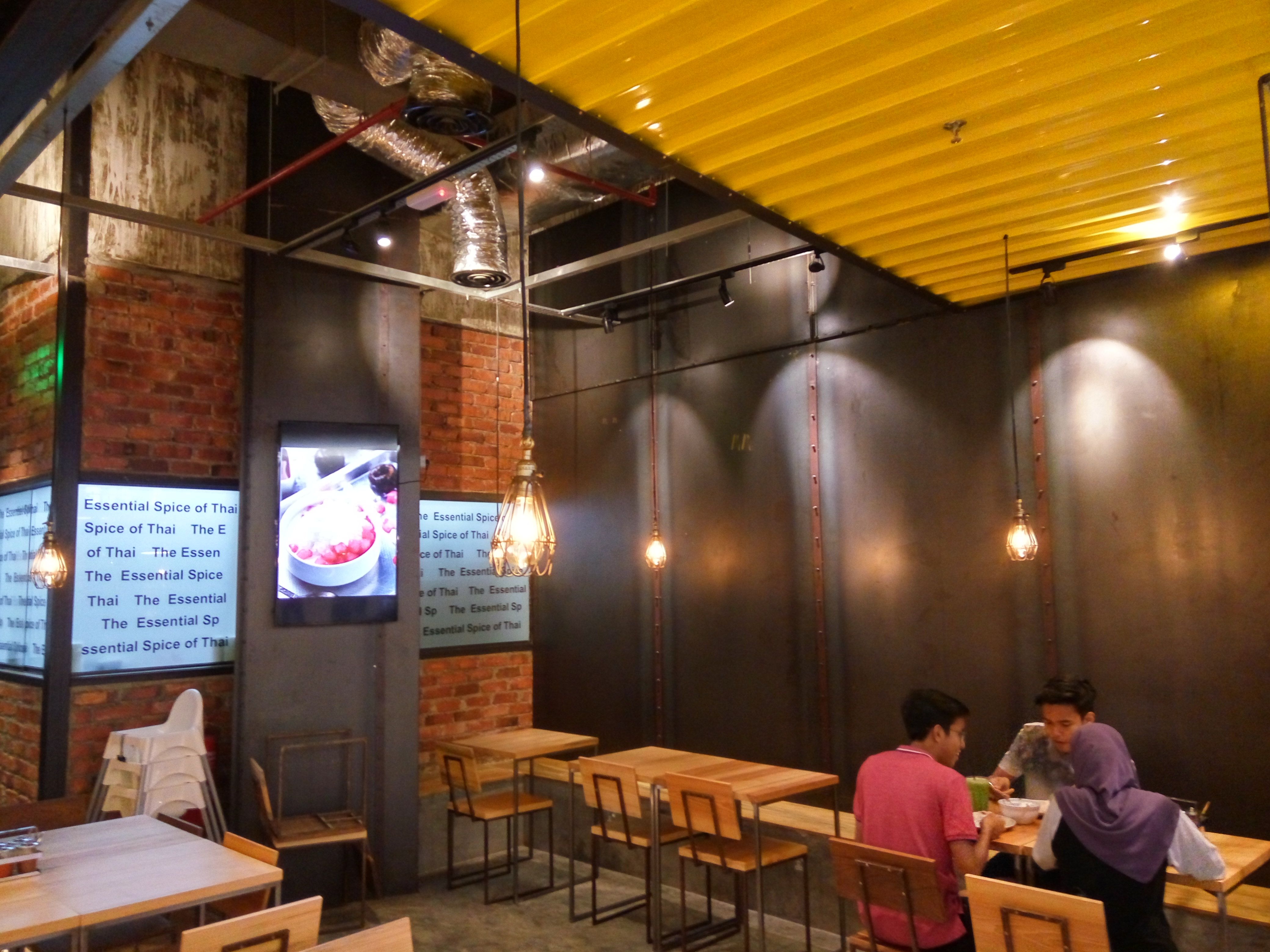 With an aim to channel the appeal of Bangkok's dining culture, Cafaeyen +'s ingredients are all imported from Bangkok, Thailand; from their herbs, chili padi, to the sauce they use. This is to ensure that Cafaeyen + provides the most "real" and authentic Bangkok's Thai food dining experience to their customer.
For starter we tried
Thai Fish Cake (RM 10.90)
. It looked normal at first glance, but the first bite will blow your mind. Combining the fresh flavours of fish with the zing of Thai herbs and spices, this is certainly a must if you are looking for something to cure your hunger pangs while waiting for your main course.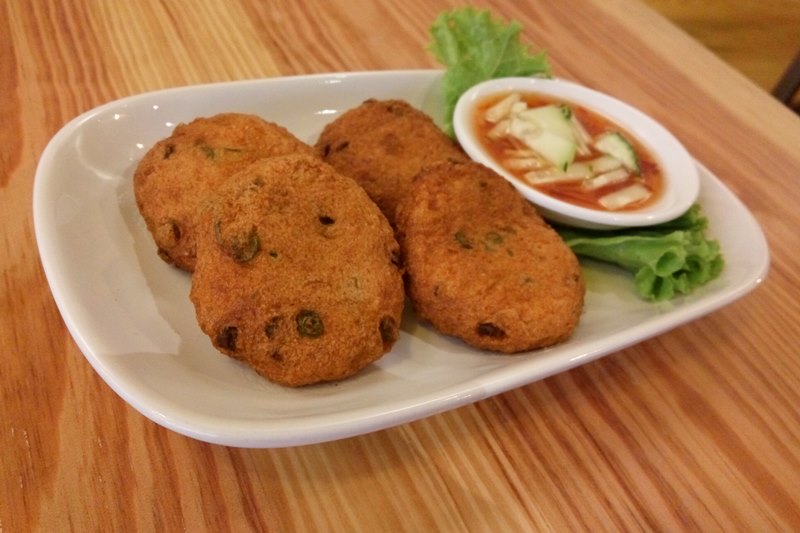 A Thai feast wouldn't be complete without a plate of Pad Thai. Cafaeyen + serves one of the best Pad Thai (RM 12.90) I have tried in the Klang Valley. It came with a plate of wonderfully cooked noodles and generous amount of shrimp and squid. They also offer Baked Glass Noodle with Prawn (RM 12.90) which is served in a pot and two meaty jumbo prawns.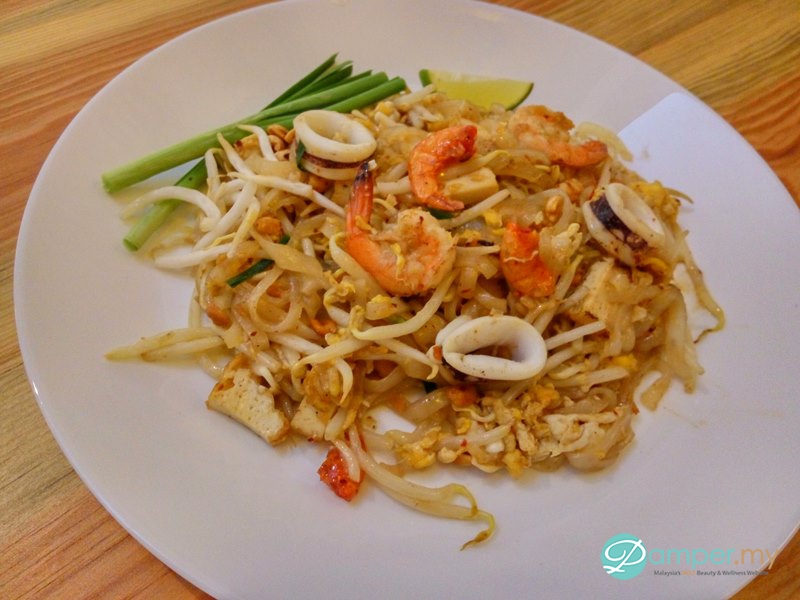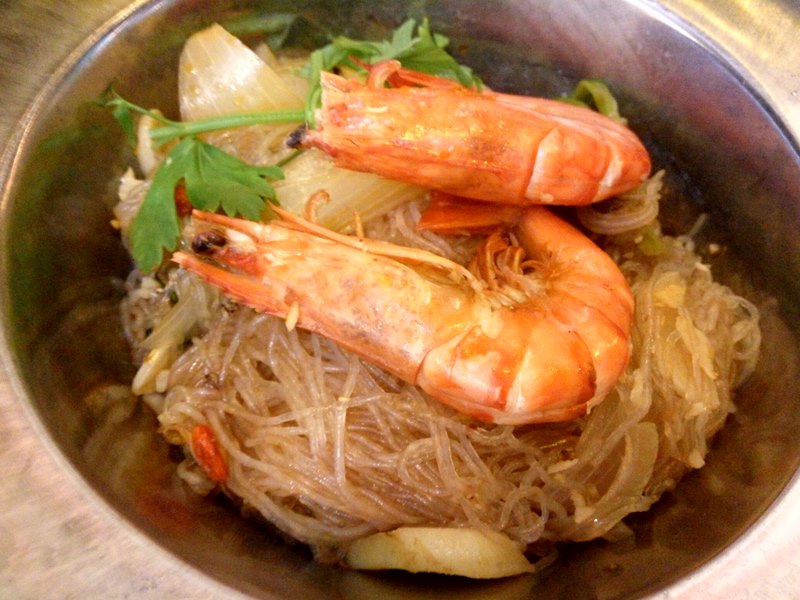 Omelette shrimp rice with seafood Tom Yam soup (RM 19.90) is a great choice for those who love rice. The soup was balanced in flavours, neither too sour nor too sweet, but it can be quite spicy if you are not a spicy food lover.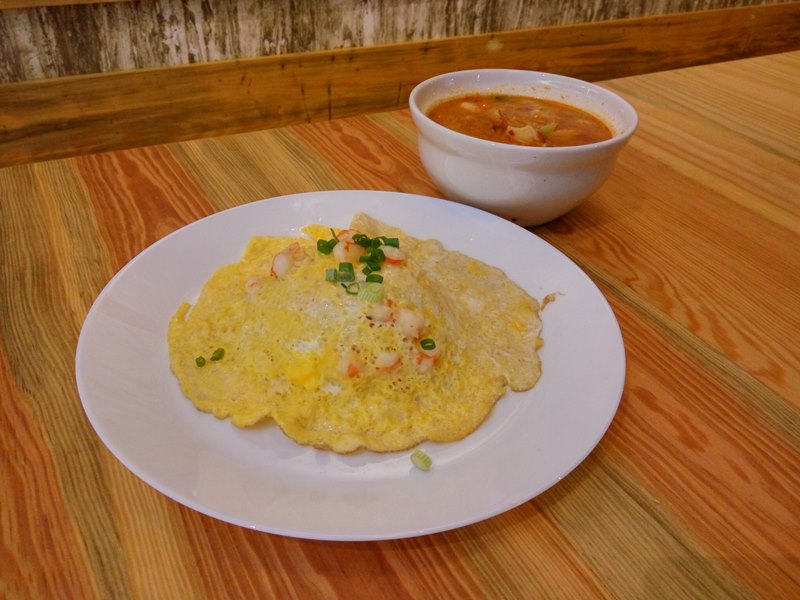 Then there is other Thai signature dish such as Pineapple fried rice (RM 14.90) if you decide to go for staple Thai single dishes.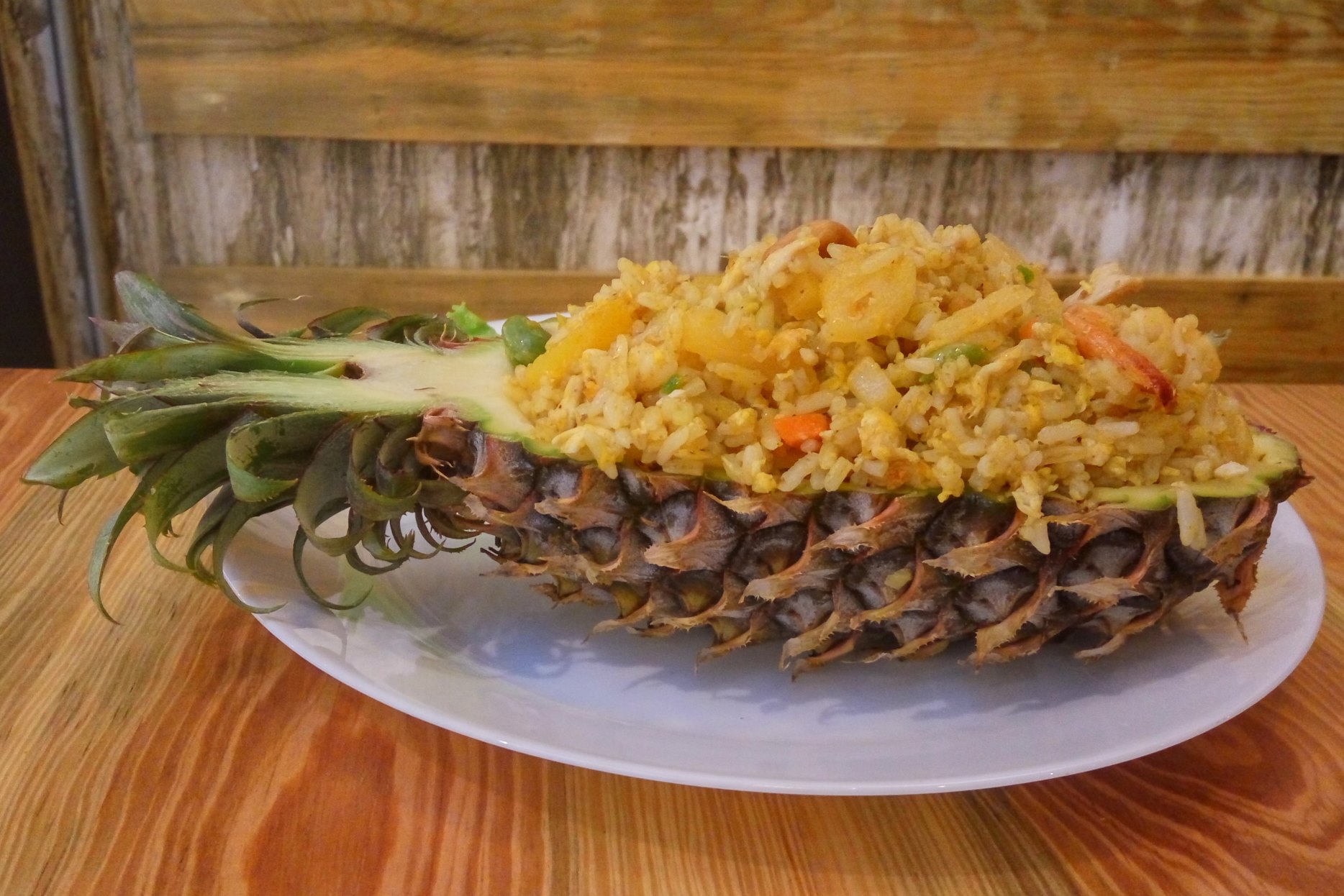 We also order three dishes – stir fried petai  with prawn chili paste (RM 14.90), minced chicken with basil leaf (RM 12.90), and steam squid in lime sauce (RM 14.90) to eat in "tai chau" style. The three dishes was cooked deliciously, however the portions were fairly small for my liking.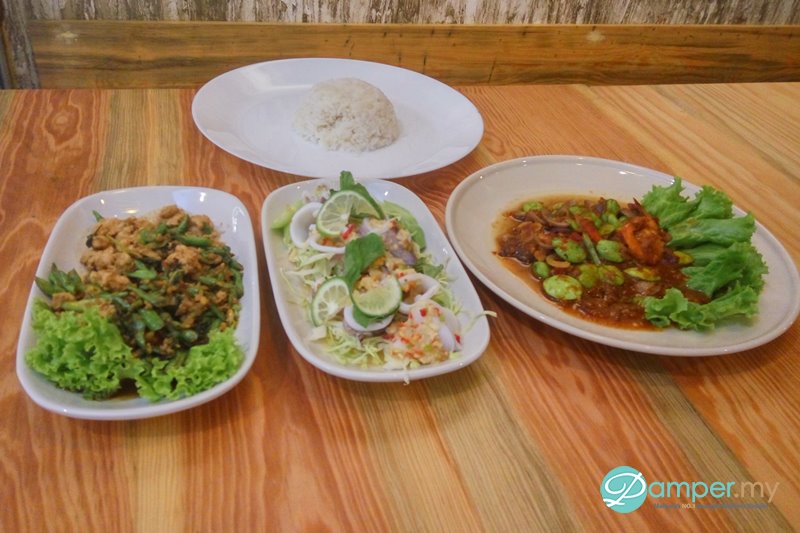 Thai iced milk tea (RM 7.90) and green tea (RM 8.90). Both are perfect thirst quencher after a spicy meal.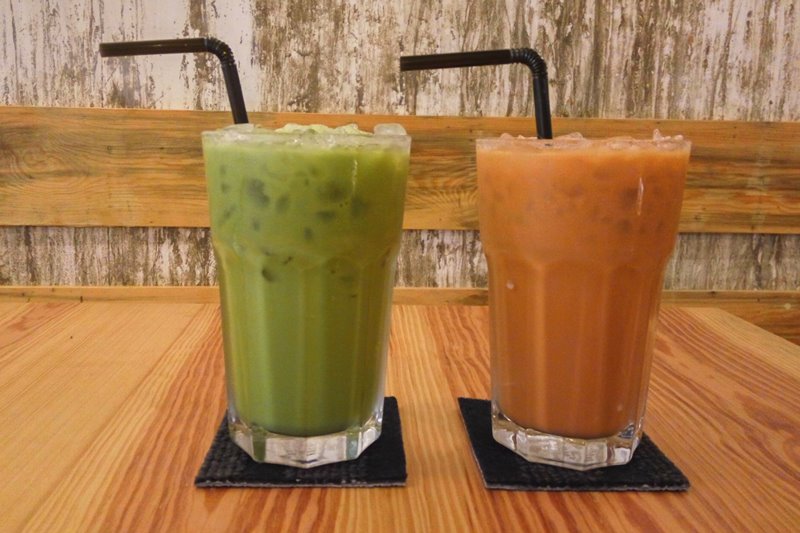 Cafaeyen + serves a good amount of desserts too such as Tub Tim Krob (RM 8.90) and Mango Sticky Rice (RM 16.90). But we decided to go with their special drink – the Fruity Coke (RM 14.90). As its name suggest, the drink comes with coke blend with mix berries. And it is coke after all, hard to go wrong with that.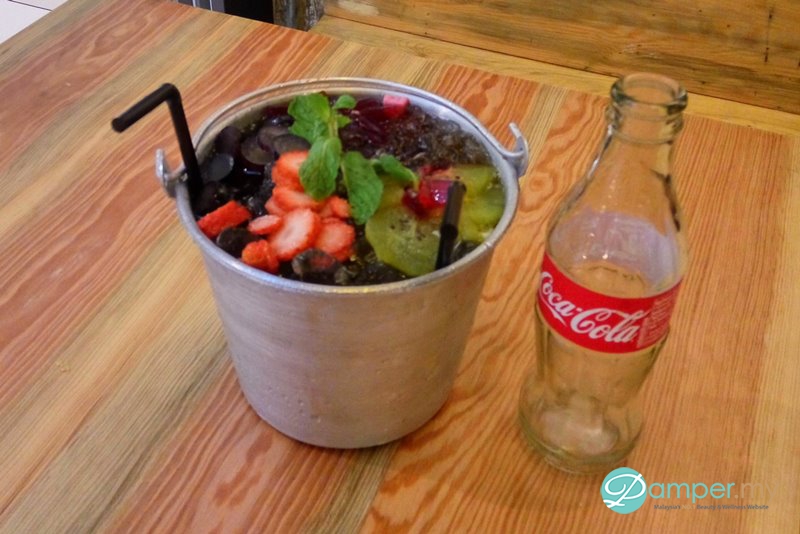 All in, the food is affordable for a Thai restaurant in a shopping mall. If you are in IOI City Mall or anywhere near it, give this place a shot. The restaurant packs up quite fast during lunch hour. Hence if you are planning to give dine here, do take note.
Address: LG-36, IOI City Mall, Lebuh IRC, IOI Resort City, 62502 Putrajaya, Malaysia
Tel: +6012 2900 449
Daily: 10AM–10PM
Read also: #FoodReview: Pho Street, Paradigm Mall