Pure Beauty is an innovative skin care & hair care line from Korea. The brand incorporates the finest natural ingredients into its skin care products for visible long-term results. All their products are dermatological tested and proven to be safe and effective solutions which they promise will leave your skin looking healthier, softer and younger.
Pure Beauty has harnessed the best of nature and technology into a revolutionary skin care line that's specifically tailored for Asian skin.Today we are reviewing Pure Beauty The First Intense Treatment Essence with 95.3% Galactomyces.
First Impressions
As part of their brand promise for Youthful Flawless Skin Solutions Redefined, this latest product from Pure Beauty piqued our interest. It is formulated with enriched fermented yeast concentrate with 95.3% Galactomyces, containing amino acids, vitamins and enzymes for brightening and skin elasticity, and enriched with Bulgarian Rose for hydration purposes. It's free of harmful paraben, lanolin and alcohol too.
Galactomyces are found in other skin care products like SK II essence as well. Koreans have long been using this fermented yeast concentrate in their skin care products and perhaps, this is their secret to dewy flawless skin.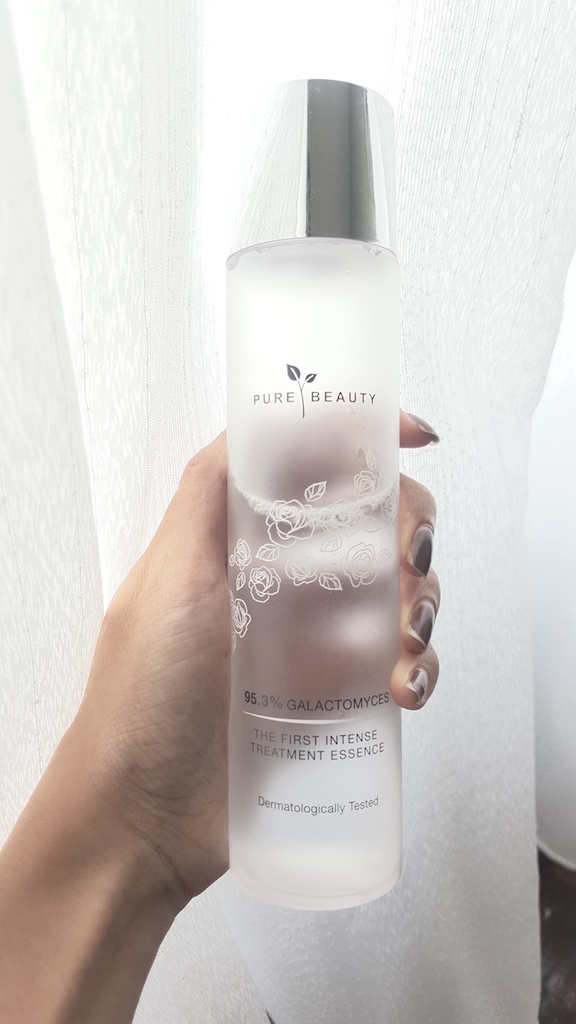 The 150ml is a decent size and upon first glance, it seems like it's just filled with plain water. That's the type of consistency it has upon first glance. The bottle is sleek and easy to hold and its little floral designs make the packaging very pretty.
To use, apply every morning and night after cleansing and toning. Soak a cotton pad and gently pat your face & neck for 1 minute.
Related: Pure Beauty Debuts The First Intense Treatment Essence at Watsons
Why it's great 
Disclaimer: I cleansed my face with Sorabee Balancing Skin Foam Cleanser, followed by the Sorabee Balancing Skin toner, after which I applied the Pure Beauty Essence Treatment, followed by the Sorabee Balancing Skin Lotion. Results may vary between different people.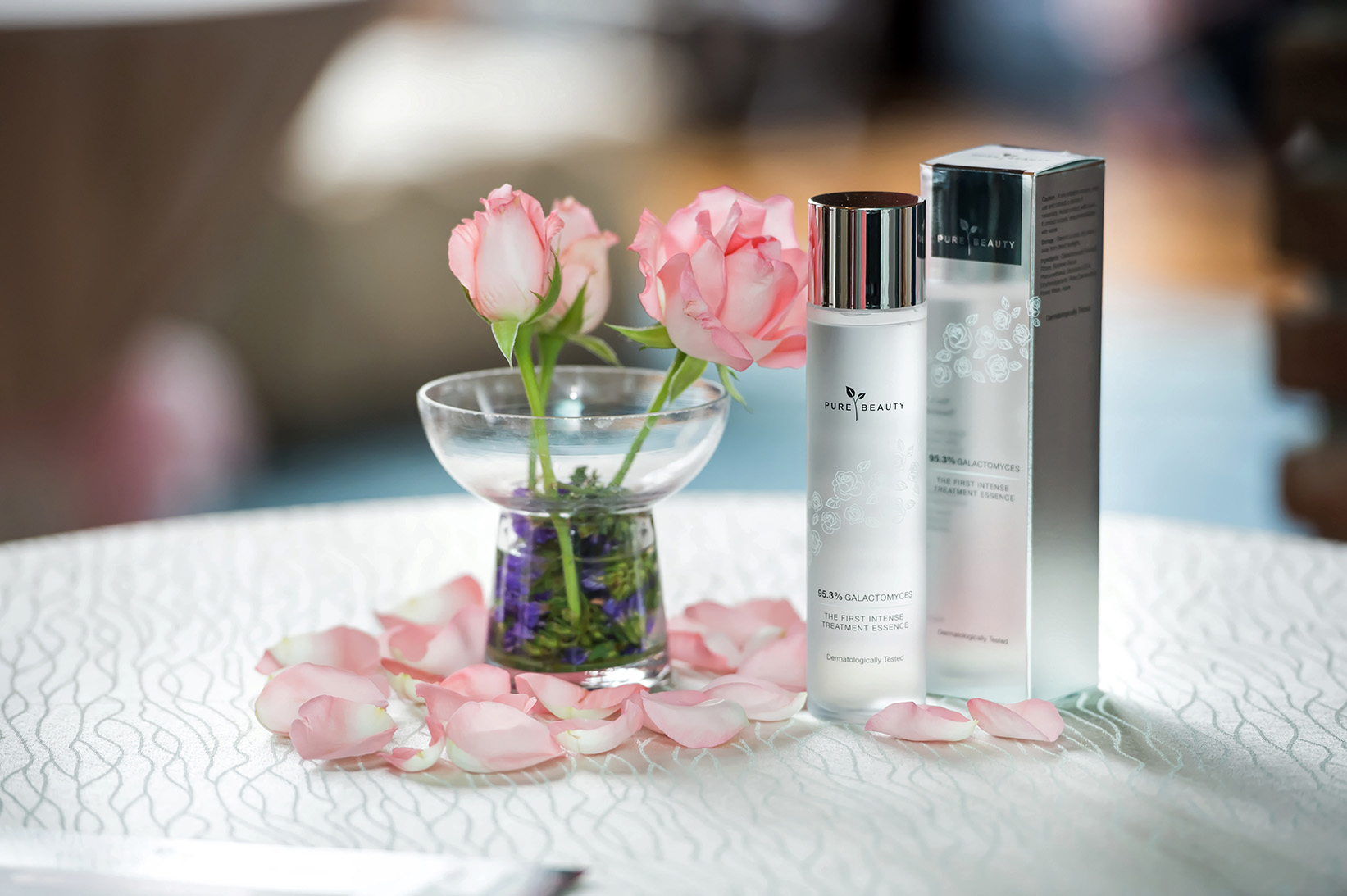 It absorbs incredibly well. This is the first water-like essence I've tried, and it makes sense that you would need to soak a cotton pad first before applying. As you dab the soaked cotton pad (dab, not pull) along your face, for around a minute, you'll start to realise the essence absorbs into your skin quite easily and you're not left with a dripping wet face, or any residue.
Pleasant mild scent. I was initially a little worried because I wasn't sure how fermented yeast enzymes would smell like. Happy to note that there really isn't a scent to it, it's very mild and pleasant.
Clears my skin and refined pores. I used this regularly for about two weeks, and I noticed that I had brighter and clearer skin and the best part of all, my pores had shrunk and are barely visible. If anything, this is the one thing I'm happiest about. I used to have very large pores on my cheeks.
Less redness on cheeks. Because it is free of any harmful elements that can cause irritation, I noticed less redness and flared skin, especially on my cheeks. It helped even out my skin tone.
Refreshing! I enjoyed applying this to my face if only for the fact that it was incredibly refreshing and cooling, especially during our very hot days.
Smooth skin. You'll notice after a while, that your skin feels smoother. It's almost as if there's a layer of powder over it.
Acts as a mask too. Watson sells DIY sheet masks that come folded up in little cute balls. Soak it into some of the essence, and apply to your face as a mask.
Our verdict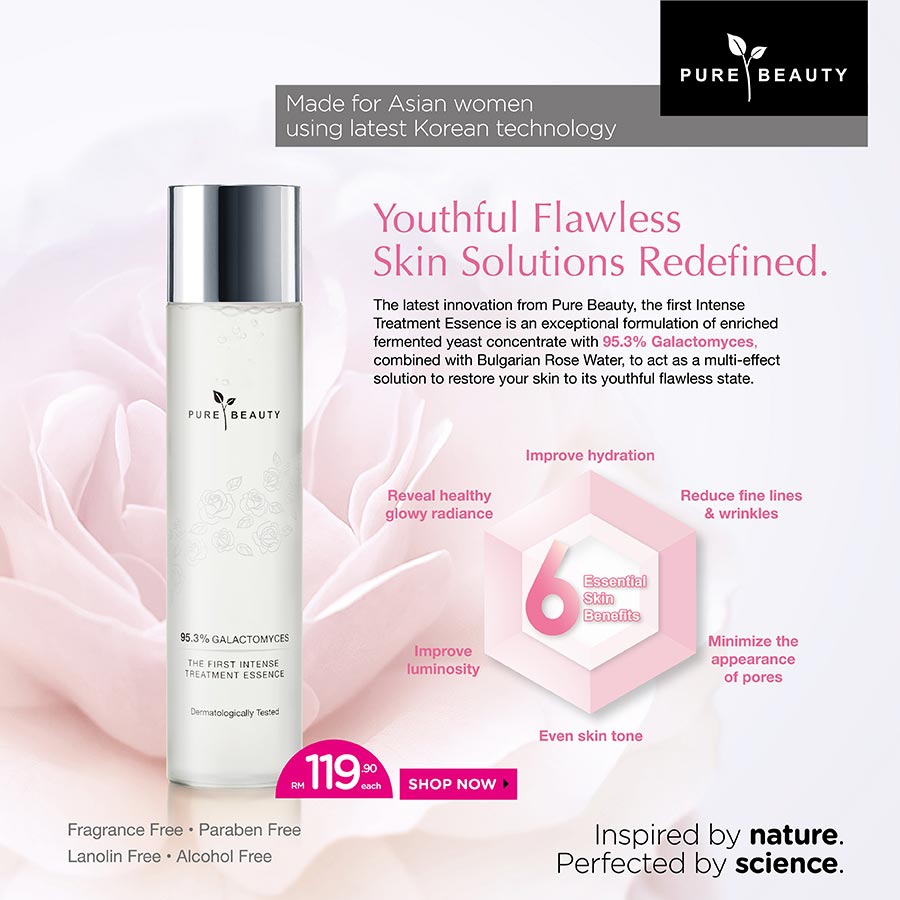 The essences promises six skin benefits:
Improve hydration
Reduce fine lines and wrinkles
Minimise pores
Even skin tone
Improve luminosity
Healthy, glowy radiance
I can say I experienced four of these six benefits, especially happy with my reduced pores.
It retails at RM119.90 and is now available at all Watson Malaysia stores nationwide. Check out its online store and promotions here.