LG Electronics Malaysia showcased its new series of home electronic products themed "Innovation that Goes Beyond" at a launch held at Eastin Hotel Petaling Jaya yesterday. The launch event revealed a wide range of home electronic products equipped with world-recognised and award-winning technologies such as LG SIGNATURE 4K OLED TV, Super UHD TV, Smart InstaView™ Refrigerator and TWINWash™ washing machine. 
LG SIGNATURE 4K OLED TV – The Next Generation of TVs
LG's OLED G7 TV features the Picture-on-Glass design which measures to less than 2mm and produces images that seemingly float in the air. Additionally, the OLED C7 carries a Blade Slim design that works elegantly with the OLED display in ensuring consistent viewing even from the side.
LG's OLED display technology is able to provide viewers with the perfect coloration with the perfect black. Its self-lighting pixels are unlike conventional TVs that requires a back light. These pixels can switch on and off easily, providing a pitch black background to enhance the displayed colored images. This provides a seamless expression that enables an infinite contrast ratio.
LG incorporated both innovation and design as the reflection of consumer trends that leans towards durable and premium quality living. The OLED display technology is LG's pride in presenting the next generation of TV format. This followed from an increased number of OLED display usage in various display screens such as monitors display, digital signage, and smartphones.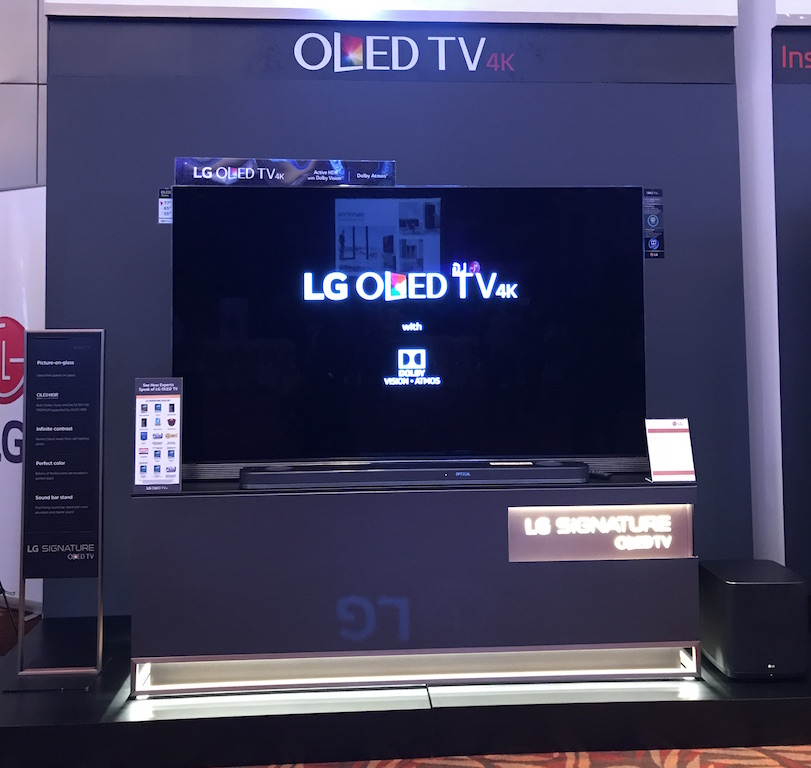 LG OLED and Super UHD TV – Supporting Futureproof TV Content Display
The 2017 LG OLED and SUPER UHD TVs features Active HDR and diverse HDR formats including the HDR10 and Dolby Vision™, rendering greater scenes to improve brightness and contrast ratios. Well-known among the movie-goers, Dolby Vision™ and Dolby Atmos® is a technology widely used in cinemas and production studios globally.
LG's latest Super UHD TV line-up features the Nano Cell technology that gives colour accuracy which is 64 times richer than conventional TV. Consumers can now appreciate consistent colour display at a wider viewing angle of up to 60 degrees from the TV. The Nano Cell technology also absorbs unnecessary light waves that would result in purer and cleaner colours.
LG's Smart InstaView™ – Enhanced Energy Saving Qualities
LG's Smart InstaView™ refrigerator provides improved accessibility with the invention of its special Knock-On transparent Door-in-Door design that enables users to check on items inside without opening the door. This saves cold air loss and encourages energy saving qualities. The Hygiene Fresh+ feature eliminates contaminated air inside the refrigerator, and maintains the daily freshness of food for the whole family. LG's Hygiene Fresh+ acts like an interior air purification system that employs a multi-layer filter to help sterilize and remove bacteria, viruses, mold spores and odors from within the fridge.
Further to this food freshness feature, the LG Smart InstaView™ reduces up to 42 percent less fluctuation to maintain temperature of food, longer lasting freshness. Compared to regular inverter compressors that have a higher fluctuation of +1 degrees, the LG Smart InstaView™ inverter linear compressor lowers the fluctuation by half (+0.5 degrees). This enables food to stay fresher, at a longer period of time.
Refrigerator is an appliance that runs 24-hours throughout the year, consumers seek for product that offers a valued investment durable in the long run – energy saving, durability, and cost-efficient. LG's Inverter Linear Compressor addresses these concerns by generating less internal friction for lower energy consumption, noise and backed with a 10-year warranty.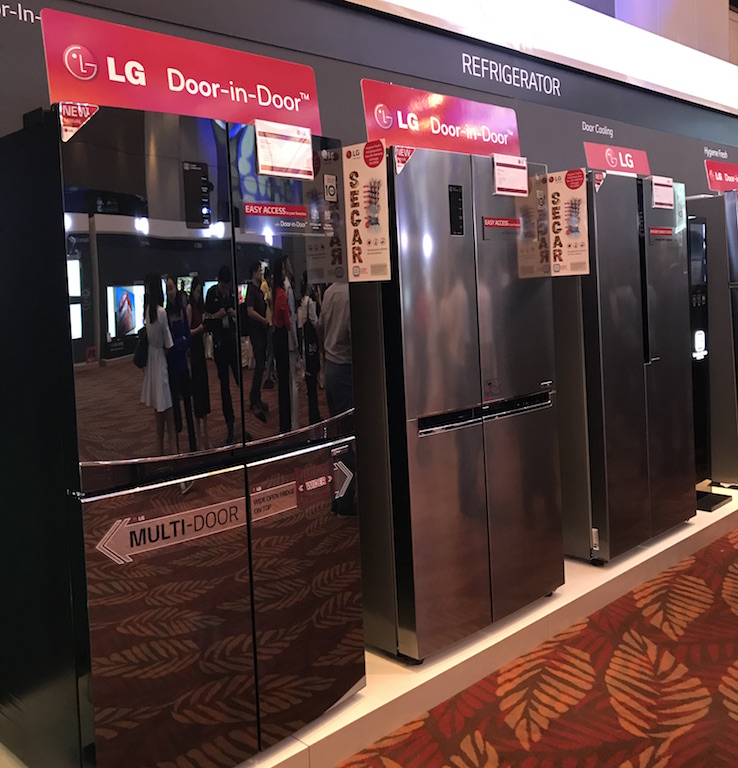 LG TWINWash™ – Doubles the Capacity, Saves Double the Time
The new LG TWINWash™ is not only designed for a bigger capacity compared to the regular washers, but also the ability to host two wash cycles simultaneously. Featuring a large top washer and a smaller pedestal washer, LG's TWINWash™ delivers an incredible performance.
The TWINWash™ System also has the added benefit of allowing users to separate their laundry – delicate from regular clothes, whites only from coloured clothes, heavily soiled from normal wear. This will not only promote hygiene but also extend the lifespan of your laundry.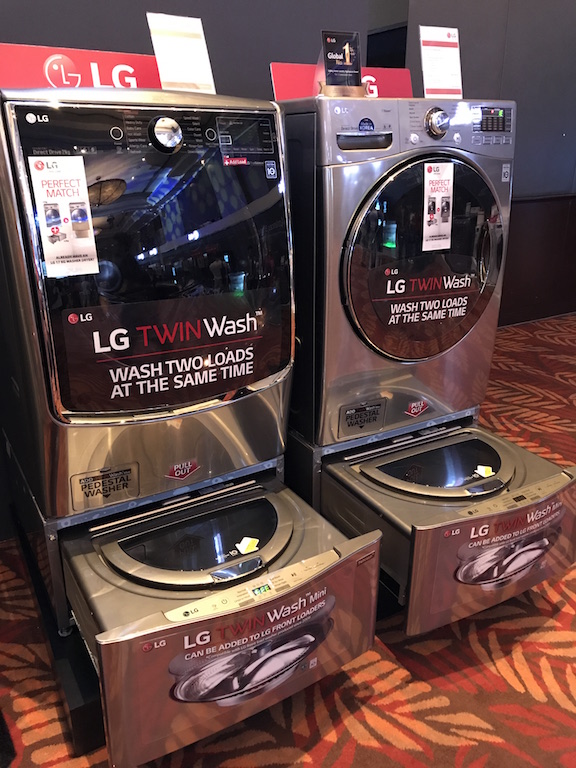 LG Titan – LG TrueSteam™ to Combat Allergens and Bacteria
LG's new Titan washer features its TrueSteam™ technology for a more hygienic clean, the washer effectively removes particles and allergens to keep clothes fresh and wrinkle-free. With a powerful and convenient washing machine, LG provides an effective and worry-free clean to your laundry. Incorporating hot water treatment in the laundry, it helps kill 99.9% bacteria and remove allergen effectively which keep clothes clean and safe for consumers especially for babies' skin that are soft and sensitive.
LG's TrueSteam™ technology has been certified by the British Allergy Foundation (BAF) for removing allergen and asthma friendly in its laundry performance. Besides removing allergens, the TrueSteam is also able to remove detergent residues on clothing that can cause skin allergies.
Now consumers can monitor their laundry remotely and conveniently from any Smartphone device. With LG's Smart ThinQ™ technology, users can receive notifications, download specialized wash cycles online and monitor their wash status. Furthermore, its Smart function enables the machine to download washing cycles suited to generations of laundry materials, which ranges from delicate baby clothes, adolescents rough jeans and elderly adult sweat shirts.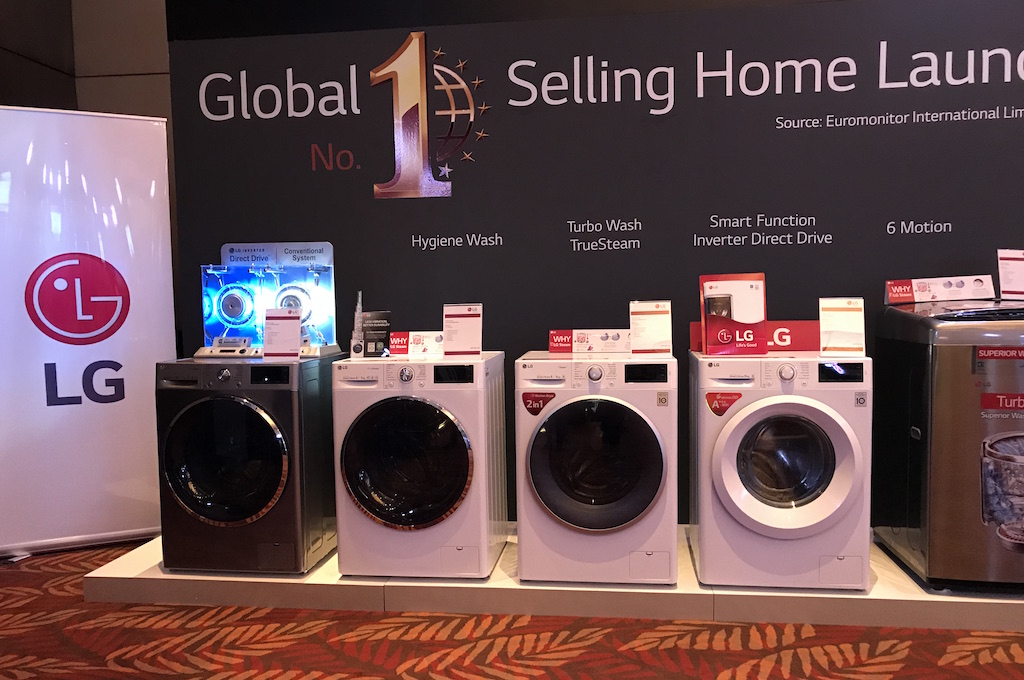 LG DUALCOOL
LG introduces its all-new DUALCOOL air conditioner with Dual Inverter Compressor™ that saves energy up to 70 percent while achieving 40 percent faster cooling at the same time. The DUALCOOL incorporates LG's Mosquito Away technology, installed to repel mosquitoes by using an ultrasonic wave that is proven harmless to human.
LG PuriCare™ 360 Air Purifier
LG PuriCare™ cleans the air, absorbs pollutants and remove allergens from the whole environment with a 360-degree purification concept. Its unique Baby Care Mode is a feature that focuses on ground-level purification, reaching out to areas at the lowest floor point and enables a micro-cleaned floor where infants crawl on.
For more information about LG Electronics, visit lg.com/my.
Read also: BEKO Introduces Innovative Home Appliances for Smart Living in Malaysia