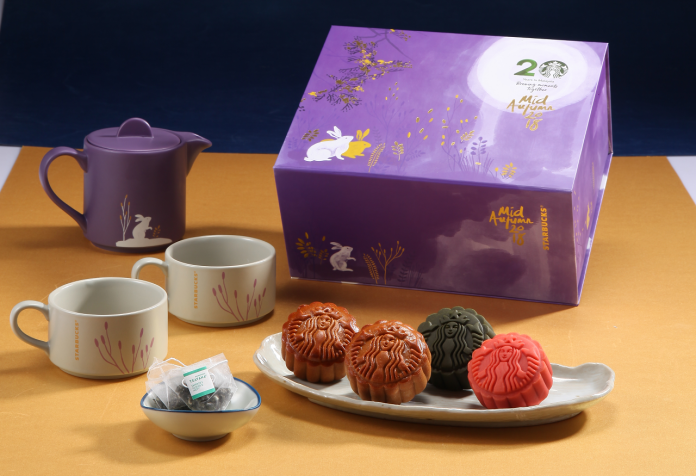 The annual Mid-Autumn Festival is happening this month and every year, we're curious to see what unique designs and flavour Starbucks will bring in for the season.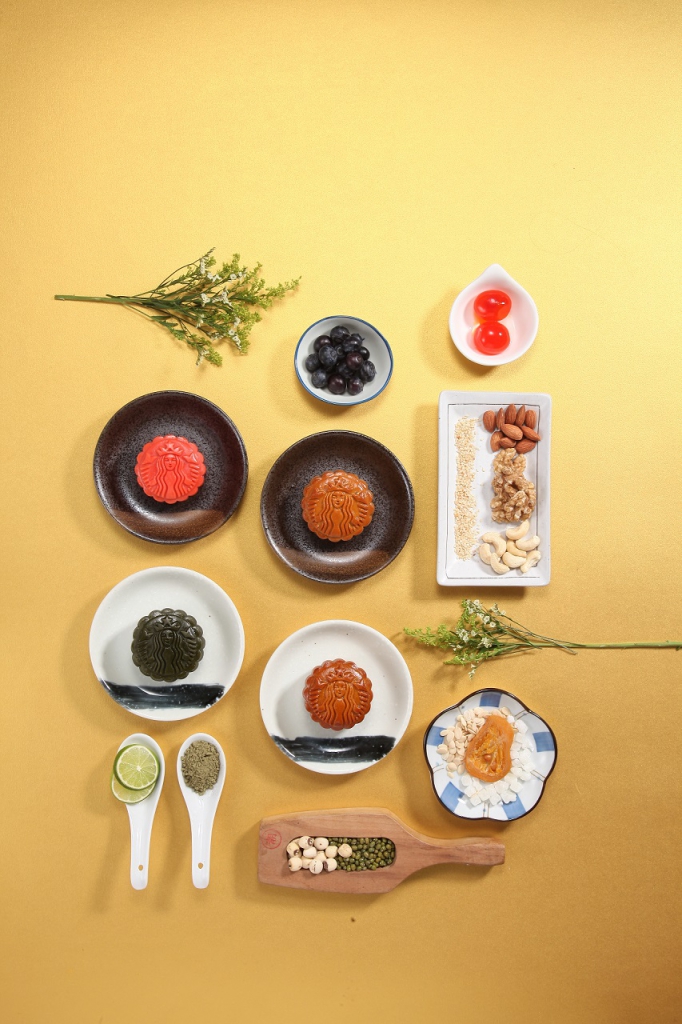 This year, Starbucks designed a new exclusive mooncake gift set that comes with a unique tea-set, two sachets of tea and four moon cakes in very distinct flavors ( 2 new flavours, 2 returning favourites).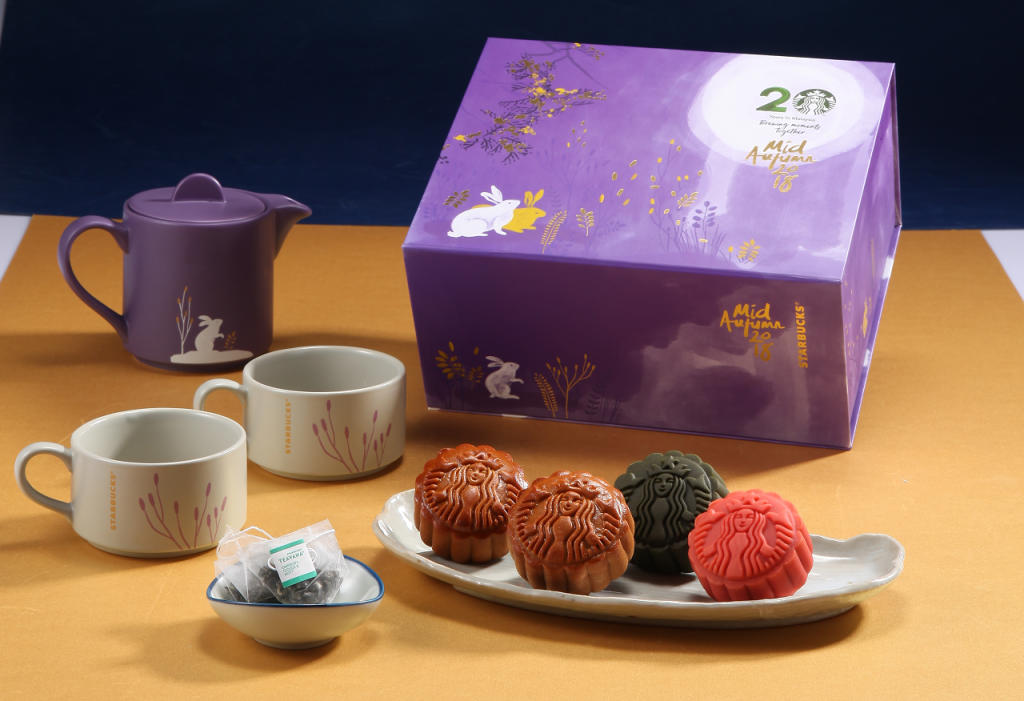 Everyone in the family will be sure to find something that they can enjoy together, including:
New! Low Sugar White Lotus with Yolk – A healthier moon cake option that is made with traditional baked Cantonese mooncake skin, filled with a generous amount of rich salted egg yolk paste and white lotus paste filling.
New! Mixed Nuts –The Mixed Nuts mooncake uses traditional baked Cantonese mooncake skin with a filling of mixed nuts and dried fruit, which gives it a creamy and nutty texture that is full of goodness and crunch with every bite.
Returning Favorite! Green Tea Key Lime – This mooncake is made using premium green tea with lotus and key lime to create a juicy center filling. This unique creation is wrapped with an aromatic Matcha pastry – a perfect combination of Japanese flair with a hint of refreshing citrus.
Returning favorite! Roselle Blueberry – The much loved Roselle flavored lotus paste is back with its classic blueberry center filling. This creation is wrapped in a luscious red
Roselle pastry bursting with fragrance and taste.
Inside the gift set is also a limited-edition teapot and two mugs that are stackable on one another.
The teapot is in the symbolic purple shade of the Mid-Autumn festival, and its design also features the moon rabbit, which in famous Chinese folklore is said to represent longevity and prosperity. Also included are two sachets of Teavana Emperor's Cloud & Mist – a gentle smoky, softly sweet green tea that is cultivated at 3,500 feet, shrouded in ethereal clouds and mist.
Starbucks has also launched a new merchandise series that is inspired by the fullest and roundest moon of the year. With designs featuring the enchanting night sky, full moon and stars over a harvest wheat field. Incorporations of rabbits into the design round out the collection, signaling good fortune for the upcoming year.
The Starbucks Mooncake Gift Set 2018 and Mid-Autumn Festival Merchandise Collection will be available at all Starbucks stores in Malaysia starting 28 August. The Mooncake Gift Set is priced at RM148, but for those looking to purchase the set between 28 August and 11 September will receive an early-bird price of RM128 if they make payment with their Starbucks Card or mobile app.
Customers can additionally complete their gifting experience with a specially crafted mooncake felt bag that they can redeem with the activation or reload of RM150 of the Starbucks Card, at any Starbucks stores nationwide while stocks last.
Follow Starbucks Malaysia on Facebook and Instagram for the latest updates.
Read also: Limited 2018 Rico Rinaldi x Starbucks Designer Collection Available from August 31