Dolce Rosa Excelsa – an enchanting new scent of the floral Dolce Garden inspired by the multifaceted Rose flower
Following the floral tradition initiated by Dolce, it captures the boldness and the pure spirit of the multifaceted Rose flower, with the essence of fresh petals in bloom. The Rose is an ancient symbol of love, beauty and romance, with a delicate yet powerful presence, combining innocence and sensuality. Iconic, timeless and unique, the Rose is a recurrent motif seen throughout Dolce&Gabbana's runway collections and inspired the creation of this new scent, Dolce Rosa Excelsa.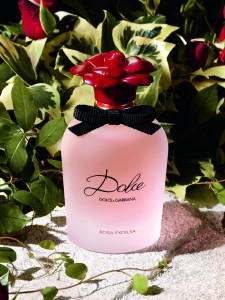 Complementing the unique White Amaryllis signature of Dolce, Dolce Rosa Excelsa introduces a new and distinctive Rose heart. This Floral, fresh floral scent opens with a brightly-coloured, sweet-smelling explosion of Neroli leaves and Papaya flower. These notes dissipate into a floral bouquet of White Water Lily and White Daffodil.
The precious heart of Dolce Rosa Excelsa seduces with two delicate and noble Rose notes. Used for the first time in perfumery, the African Dog Rose premieres in this exquisite fragrance creation. With its purity and softness, the African Dog Rose adds a charming richness to the crisp petal signature of Dolce.
This rare note is combined with the enveloping femininity of the Turkish Rose Absolute, highly-prized in perfumery for its olfactive intensity. With its deep pink flower, the Turkish Rose Absolute unveils a sensual and elegant character when paired for the first time ever with the African Dog Rose. This floral heart is counterbalanced by the background of warm Musky notes. Along with the complex accents of Cashmeran and Sandalwood it leaves a sensual trail of light woods, earthy tones and piquant spices in the base.
African Dog Rose
Dolce Rosa Excelsa represents the African Dog Rose's perfumery debut and is the latest olfactory discovery by Dolce&Gabbana Fragrances. Found growing in the rich and fertile flora of South Africa, the African Dog Rose comes from a charming coastal flowering tree. When it flowers in the springtime, its brilliant white petals and yellow anthers attract beautiful blood red butterflies. Combined with the rich Turkish Rose Absolute it completes a bold, but young and very modern Rose signature.
The luminous purity and softness of the African Dog Rose was captured using Headspace Technology, a revolutionary and sustainable process harnessing the essence of a flower. By capturing the precise fragrance of the flower in full bloom, the scent can be perfectly replicated without the need to cut and grind its petals to extract its essential oils.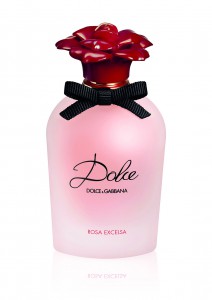 The Dolce Rosa Excelsa bottle recalls the unique shape of Dolce and Dolce Floral Drops: thick glass, curved lines and a solid bottom, the cap is sculpted in the shape of a flower with deep crimson red petals. The scent's pale pink elixir is presented in frosted glass, and finished with the feminine Dolce signature to express the delicate elegance of this complex new fragrance.
Dolce&Gabbana Dolce Rosa Excelsa is available in three (3) sizes as follows:
Eau de Parfum 30ml – RM269
Eau de Parfum 50ml – RM359
Eau de Parfum 75ml – RM475