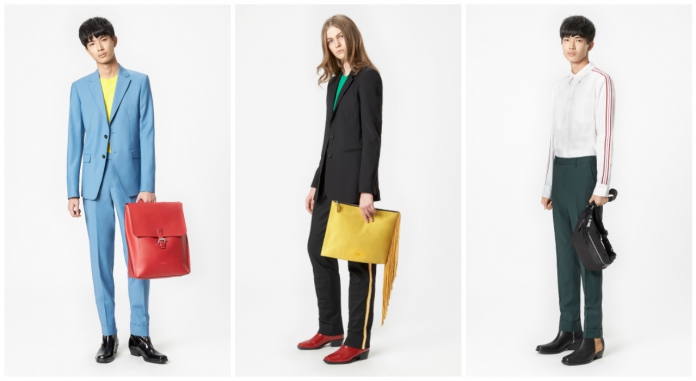 At CK Calvin Klein, Spring 2018 takes it shape around timeless, bold and subversive sphere in which retro fabrics are cut and lined playfully to the rhythm of the '90s chic alongside modern sportswear that's ready to put you on the spotlight.
In men's collection, the refined trench has the clean, modern feel of a classic cotton overcoat, transformed for today's tastes with the brand's signature bi-stretch, double-weave cotton. Nostalgia reigns this season with '90s minimalism exuded in street-infused sportswear, dry, textual nylons, and padded white metal cottons. Bigger is better with voluminous poly outerwear that oozes luxury with compact sateen construction and fits that mold to the figure, for a practical-yet-alluring look.
Mixing and matching is key for the season, with layering options including classic American mini-gingham paneled knits and plaids blown up in scale for shirts. The line features cotton tees in offbeat stripes and daring yarn-dye for wardrobe additions that pop. The line brings '90s Manchester track style to the forefront with shiny nylon bombers and color-block nylon popovers.
Tropical wool suiting in boyish silhouettes adds an androgynous attitude to the work day womenswear and oxford shirting fits right in with unexpected and voluminous proportions. To soften the wardrobe, delicate feminine shapes reveal subtle hints of skin in classic polka dot motifs with dotted organza burnouts and embroideries.
The offering includes four interpretations of the classic cotton trench, including an option with boyish, boxy lines to maintain this season's androgynous feel. Leather pieces include ultra-suede fringe dangling from clean shapes for an unexpected contrast of texture and color.
Read also: Kardashian And Jenner Sisters Front Calvin Klein Campaign