Good news to all Borneo beauties who wish to be a part of the most prestigious beauty pageant in the world as the Miss Universe Malaysia Organization (MUMO) will be holding a closed-door, walk-in audition in search of the new Miss Universe Malaysia 2018 as follows: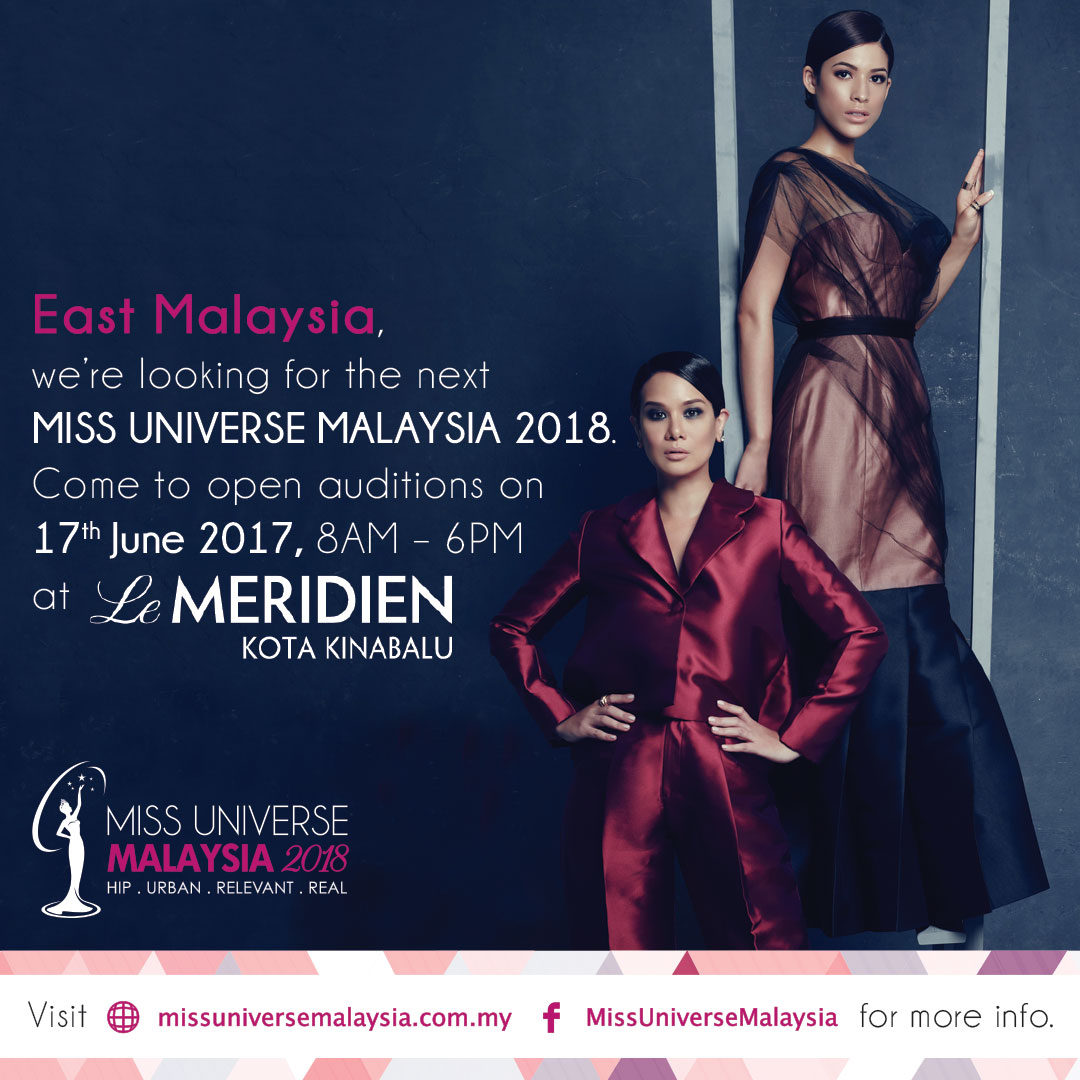 Miss Universe Malaysia 2018 Walk-in audition in Sabah
Date: 17 June 2017 (Saturday)
Time: 8am to 6pm
Venue: Le Meridien Kota Kinabalu
The walk-in audition is open to non-Muslim, Malaysian female citizens who have never been married, never been divorced, or have never had a child. She must be at least 18 years and under 26 years before 1 January 2018 in the year she wishes to compete, at least 168cm, and able to communicate in any of these languages: English, Bahasa Malaysia, Mandarin or Tamil.
Applicants will need to personify all the values and attributes of being a Miss Universe Malaysia, which includes confidence, strong work ethics, commitment, professionalism, talent, grace and beauty. They must also appear well-groomed with make-up and high heels, and bring along their original MyKad and a photocopy, along with three photos showing their face, a full- length shot and a mid-length shot.
For those beauties in Peninsular Malaysia who are interested to try out, they can register their interest in joining the competition by visiting the Miss Universe Malaysia roadshow as follows:
Miss Universe Malaysia 2018 Roadshow in Kuala Lumpur
Date: 8 July 2017  (Saturday)
Time: 10am to 9pm
Venue: Level 4, Pavilion Elite Kuala Lumpur
For applicants who are not able to attend either events, they can also register online at missuniversemalaysia.com.my/registration to enter the competition, and follow the Miss Universe Malaysia Organization's social media platforms for the latest updates.
The crowned winner will have an opportunity of a lifetime to travel abroad and represent Malaysia at the Miss Universe pageant to be held in 2018. Additionally, she will also receive a cash prize of RM50,000 and sponsored prizes worth over RM150,000.
Read also: Miss Universe Malaysia 2017 : The Top 18 Is Revealed!