Good news to all fans of Josh Kua, the talented and charming Malaysian-born Australian Violinist, as fans can catch his tantalising and soulful violin performances live at his first concert in Malaysia – Josh Kua [ RELENTLESS . 信捷 ] Concert Malaysia 2016, on April 16 & 17, 2016 at Pentas 1, KLPAC Kuala Lumpur.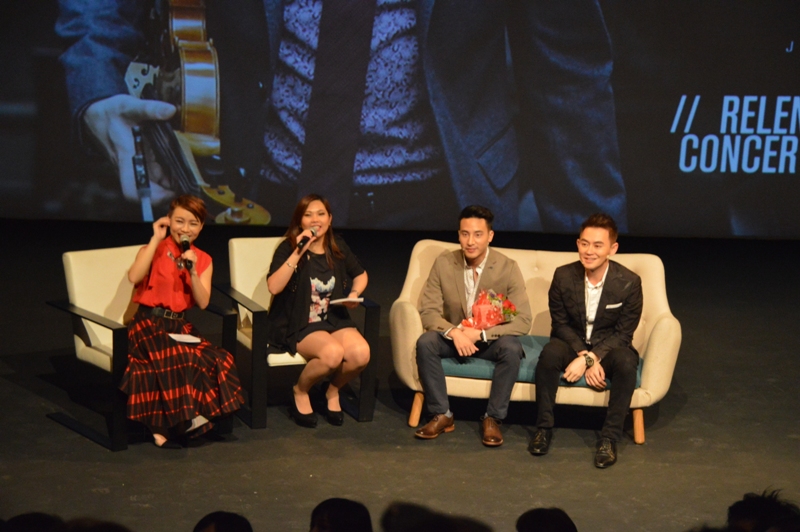 For those who have not heard of this dude, check out below his live violin performance during the concert's press conference yesterday, we assure you will enjoy or even fall in love with his performance the moment you watch it!
Josh Kua: Upcoming Star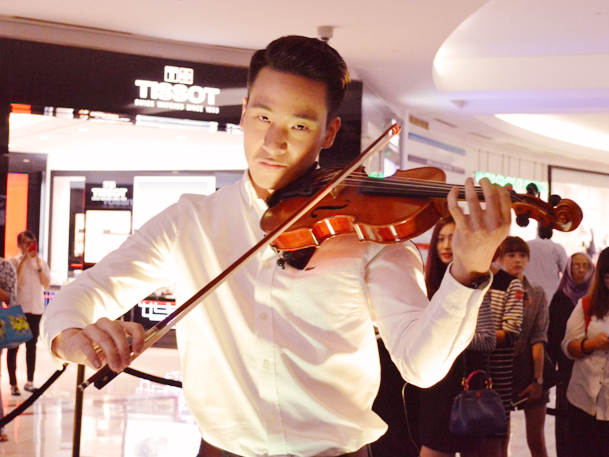 Driven by passion, Josh's ability to create and perform music from the heart has captivated and touched audiences around the world. Having performed internationally on stages across Australia, China, Singapore, Malaysia, Indonesia, Thailand and The Philippines, Josh Kua is a gifted International Violinist with experience in all facets of media. Josh will be releasing his own EP including original pieces as well as a Photo Book soon.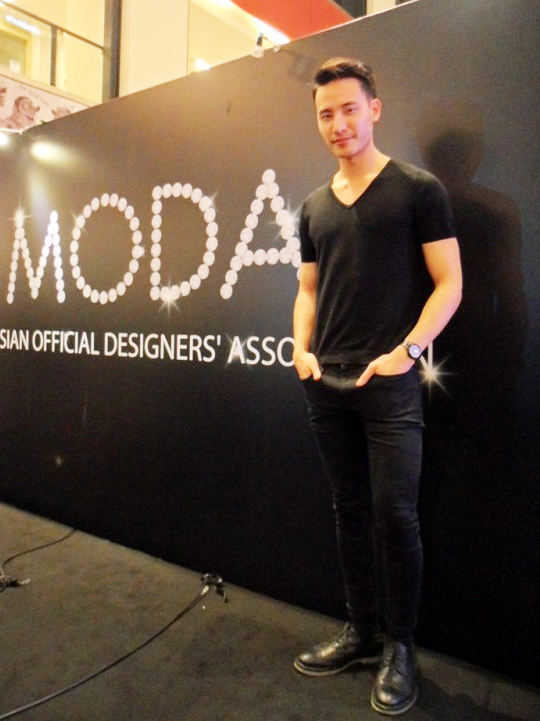 Josh is an upcoming star in the entertainment and fashion industries too. His talent and charm has propelled him into the world of fashion and luxury brands where he has been invited to perform at exclusive events by Van Cleef & Arpels, Patek Philippe, Forevermark, Omega, Swarovski, and Ted Baker, just to name a few.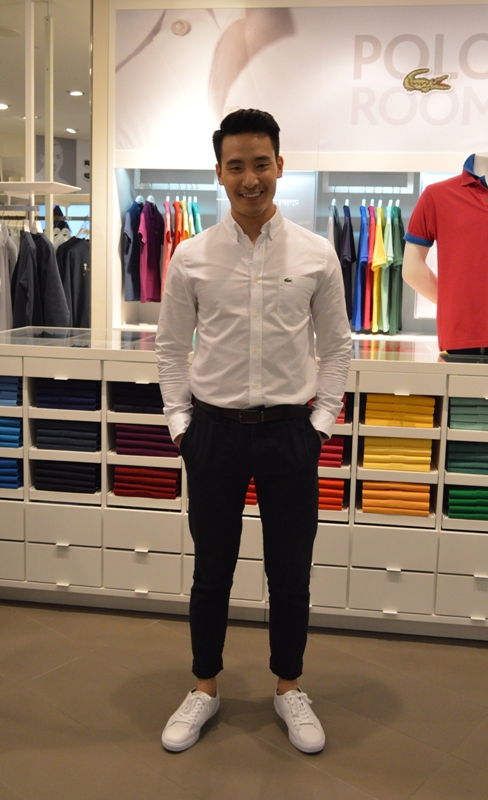 Aside his acclaim as a violinist, Josh is an accomplished model, having secured big campaigns for brands such as Nivea for Men Thailand and Coca Cola China. He has also graced various magazines including Harpers BAZAAR and Men's Uno. In case talent and looks aren't enough, Josh also holds degrees in both Law (LLB) and Commerce (BCom) from Monash University.
Josh Kua [ RELENTLESS . 信捷 ] Concert Malaysia 2016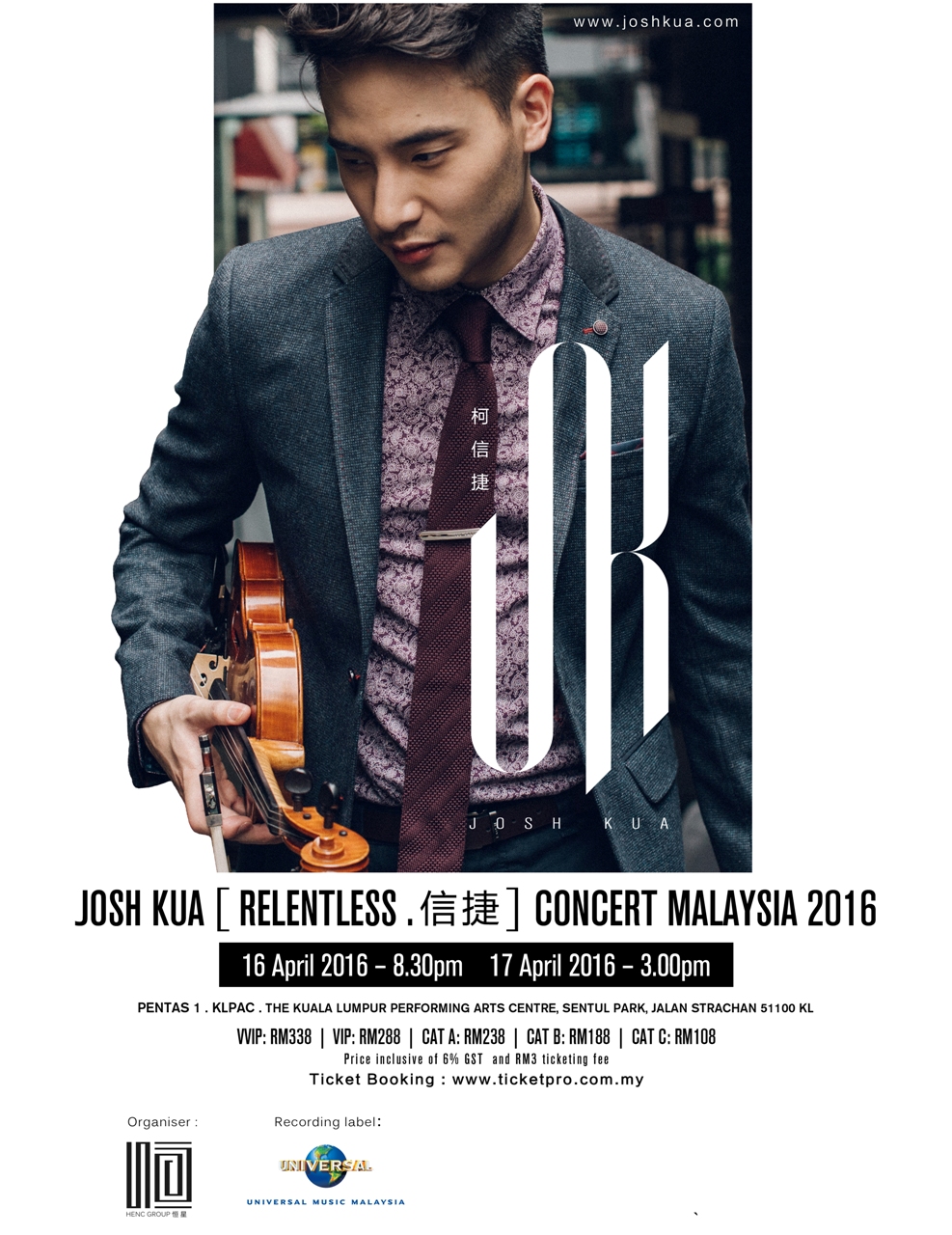 Josh's very own and first concert will showcase a series of tantalizing violin performances, as well as collaborations between Josh and guest artists in a unique merging of art forms including dance, beatbox, singing, and story telling.
Themes that will unfold throughout the Concert include finding self-identity, overcoming challenges, love, sacrifice, family and friendship. This Concert is designed to cater to a diverse audience of different ages, tastes, and cultural backgrounds. The interaction of different art forms in conjunction with the concert themes will create a new way to appreciate music and art for everyone.
Organising by HENC ENTERTAINMENT, Josh Kua [ RELENTLESS . 信捷 ] Concert Malaysia 2016 tickets will be available starting from 20th Jan 2016. Tickets are priced at RM338 (VVIP), RM288 (VIP), RM238 (CAT A), RM188 (CAT B), and RM108 (CAT C). For more information on tickets, please call Ticket Pro +603 78807999 or log on to www.ticketpro.com.my.
To get more update of Josh Kua, please visit:
Website : www.joshkua.com & www.hencgroup.com
Facebook : www.facebook.com/joshkua.page
Youtube : www.youtube.com/joshuakua
Instagram : www.instagram.com/joshkua
Weibo : www.weibo.com/joshkuapage