As we all know, kiwi is one of the best fruits with the most nutritious vitamin C – a powerful antioxidant which is essential for a healthy immune system, assisting the body to stay resilient against common illnesses, which are easily contracted and passed on to those with a weak immune system.
The most common way to eat kiwi is to simply slice in half, and then scoop out the flesh with a spoon. If you are looking for interesting ways to include kiwi fruit in your meals, here are some simple recipes by the world's largest marketer of kiwifruit – Zespri, to help you get started!
Starters
1. Zespri® SunGold Kiwifruit, Prawn and Coriander Tartare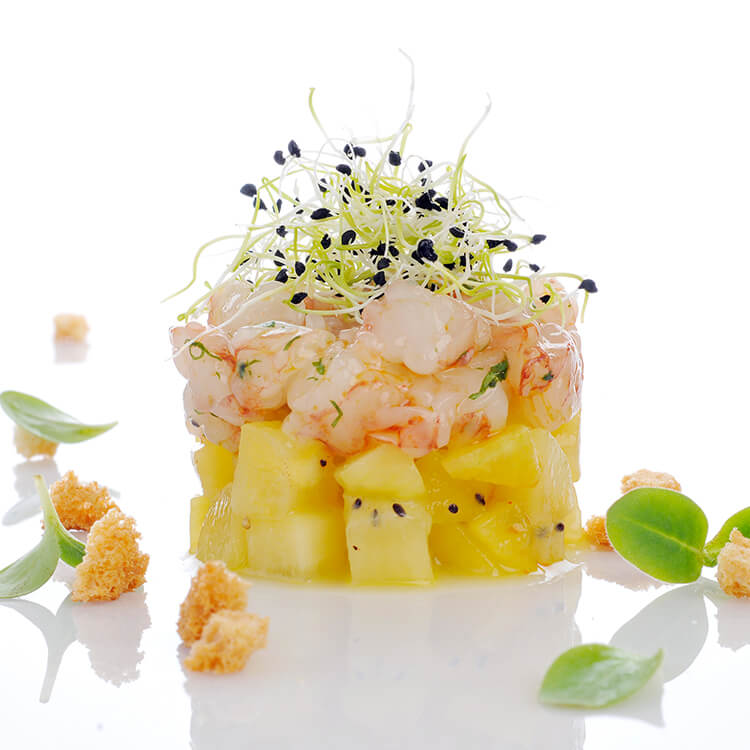 Ingredients: 240g fresh, peeled prawns, 4 Zespri® SunGold Kiwifruit, 1 lime, 1 tablespoon chopped, fresh coriander, Salt, Pepper, Extra virgin olive oil, 4 small slices of bread, fried in olive oil, Garlic shoots and Micro herbs.
Method:
Take the peeled prawns and use a sharp knife to make a small incision along the back of each prawn and pull out the intestines. Wash the prawns with cold water, drain and dry well.
Finely chop the prawns and mix in a bowl with the juice from the lime, a tablespoonful of olive oil and the chopped, fresh coriander. Season with salt and pepper, mix again and set aside for a few minutes so that the prawns cook lightly in the lime juice.
In the meantime, peel the kiwifruit and dice into small, even cubes. Mix them in a bowl with another tablespoonful of the extra virgin olive oil.
Place a metal ring on a plate and fill with a layer of kiwifruit and then another of prawns until you almost reach the top of the ring. Gently press down on the stack and remove the ring.
Garnish with a pinch of the garlic shoots, crumbled pieces of the fried bread and a few edible micro herbs.
2. Spicy Glass Noodle Salad with Zespri® Kiwifruit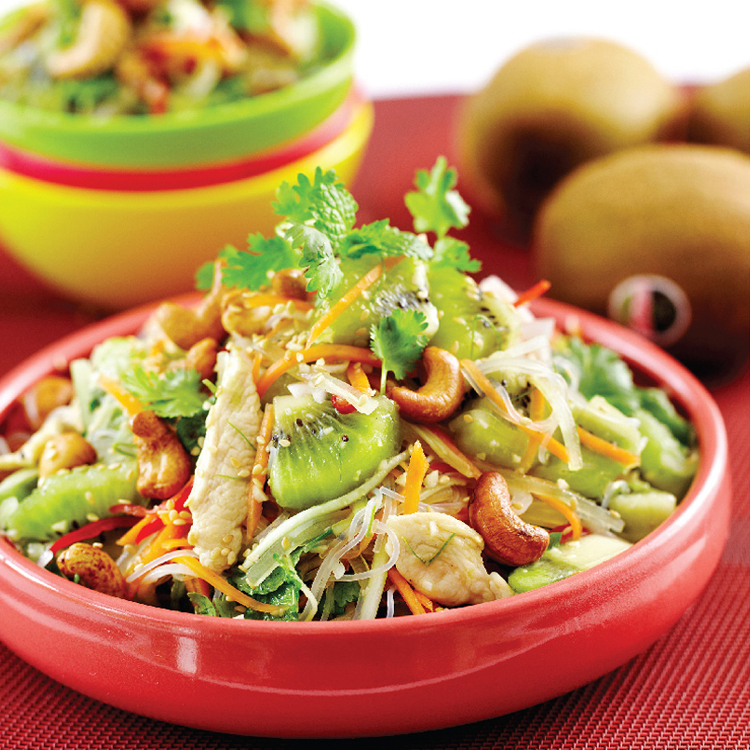 Ingredients:
For Salad:

3 Zespri Green Kiwifruit (peeled, quartered lengthwise and sliced 1cm thick)
20g glass noodles, blanched for 1 minute and drained
1 cucumber (200g) peeled, seeded and shredded
1 small carrot (100g), finely shredded
1 small onion (60g) halved lengthwise and thinly sliced
1 torch ginger bud, finely sliced
3 kaffir lime leaves, finely sliced
2cm young root ginger, finely shredded
½ cup mint leaves
½ cup coriander leaves

For Dressing

3 tablespoon calamansi lime juice
3 tablespoon fish sauce
3 tablespoon sugar
2 cloves garlic, finely chopped
1 – 2 red bird chillies, finely sliced

For Chicken

2 tablespoon oil
200g skinned chicken breast, thinly sliced across the grain
¼ tsp roughly ground black pepper

For Topping

1 tablespoon toasted sesame seeds
40g cashews, lightly toasted
Method:
Combine dressing ingredients together in a small bowl, stirring well until sugar dissolves. Set aside.
To cook chicken, heat oil in a wok or frying pan over high heat and sear chicken slices quickly until firm (2 – 3 minutes). Season with black pepper, take pan off the heat and transfer chicken together with any cooking juices, into a small bowl. Drizzle about 2 tablespoons of the salad dressing over chicken and set aside to cool.
Place quarter lengthwise kiwifruit slices with the other salad ingredients (glass noodles, vegetables and herbs) in a large mixing bowl. Cover and refrigerate until ready to serve.
Add marinated chicken to prepared ingredients and add all the remaining dressing. Toss lightly to combine and transfer salad into serving plate. Sprinkle with sesame seeds and cashews and serve immediately.
Main Courses
3. Zespri® Green Kiwifruit Korma Curry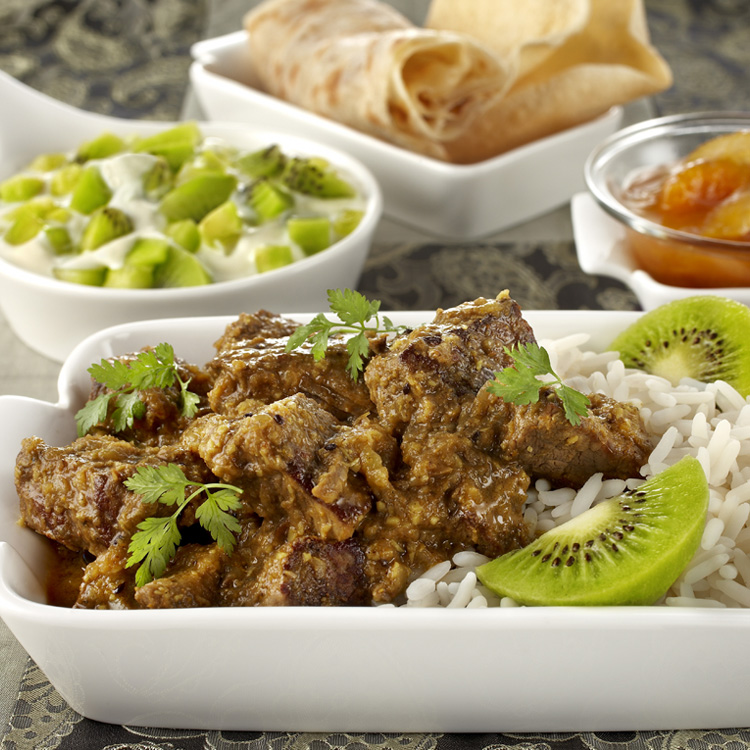 Ingredients:
For Curry:

2 Zespri® Green Kiwifruit, peeled and pureed
1 tablespoon oil
1 kg rump steak, cubed
1 x 375g jar or pouch Korma Indian Simmer Sauce*

For Yoghurt Accompaniment

1 Zespri® Green Kiwifruit, peeled and finely cubed
½ cup natural yoghurt
¼ cup finely cubed cucumber

For Serve Ingredients 

1 cup basmati rice
¼ cup cashew nuts
Chervil to garnish

For Home Made Korma Simmer Sauce*:

2 medium white onions, peeled and diced
3 cloves
1 bay leaf
1 cup water
1 tablespoon flaked almonds
¼ cup cashew nuts
3 tablespoon desiccated coconut
½ cup hot water
¼ tsp white pepper
1 – 1½ tsp salt (or to taste)
¾ tsp Garam Masala**
1½ tsp tumeric
½ tsp ground cardamom
½ tsp ground cumin
⅓ cup oil
2 tablespoon tomato paste
2 tablespoon brown sugar
3 tsp brown vinegar
1 tablespoon lemon juice
1 x 2.5 cm piece fresh ginger, peeled and chopped
4 cloves garlic, peeled and chopped
1 x 2.5 cm red chilli, halved and seeds removed
Methods:
Heat half the oil in a heavy based saucepan or wok.
Brown half of the steak. Remove and repeat the process.
Return all to the hot pan and add Zespri® Green Kiwifruit puree.
Increase heat and cook for 2-3 minutes, stirring all the time.
Add Korma Indian Simmer Sauce*, stir and reduce heat. Cover and simmer 30-40 minutes or until meat is cooked. Do not over cook.
In the meantime, prepare above Accompaniment. Combine the three ingredients.
In the meantime cook rice and drain. Serve immediately with the accompaniments in separate bowls.
Home Made Korma Simmer Sauce
Combine first four ingredients in a small saucepan. Cook, covered until the onion is soft. Remove cloves and bay leaf and set aside to infuse.
Combine the next four ingredients and set aside.
Combine all the remaining ingredients and add to small saucepan.
Add the soaked nuts and coconut.
Return to a low heat and cook for 8 – 10 minutes, stirring all the time. Remove and allow to cool.
Pour into a blender and puree until smooth.
Cover and refrigerate (or deep freeze until required).
4. Salmon Steak with Zespri® SunGold Kiwifruit Salsa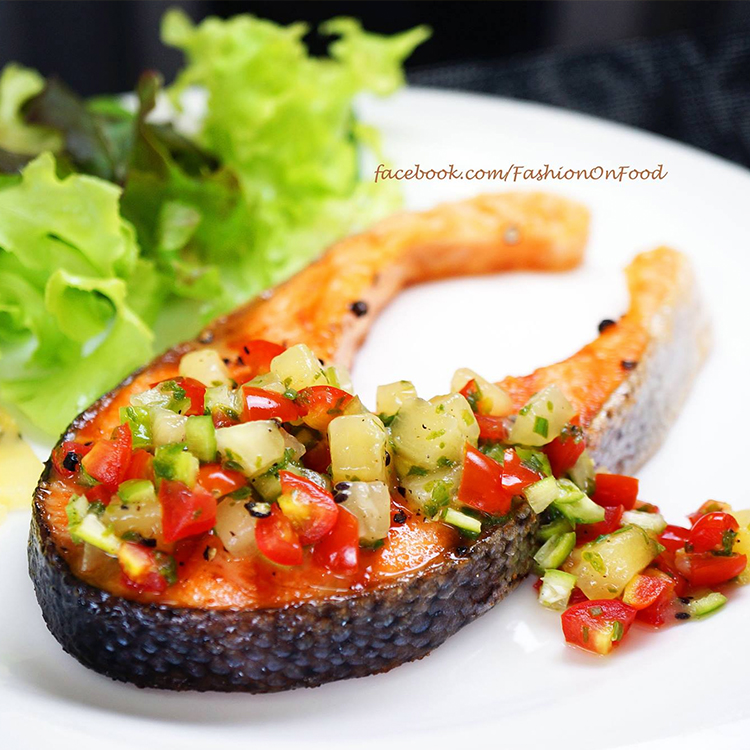 Ingredients: Salmon steak, Diced Zespri SunGold Kiwifruit, Diced tomatoes, Diced big green chile, Salt, Lime, Minced Thai parsley and spring Onion and Black pepper.
Methods:
Rub salmon with olive oil on both sides. Grill salmon on the frying pan. Sprinkle with some salt and pepper on both sides. Grill until it feels firm and let it cool down.
Steps for salsa sauce – mix Zespri SunGold Kiwifruit, tomatoes, big green chilies, minced coriander and spring onion into a mixing bowl. Season with salt, lime and black pepper. Add any ingredients to match your taste and preference, then top with salsa sauce. Ready to serve.
Dessert
5. Zespri® Kiwifruit & Lychee Fruit Salad with Jelly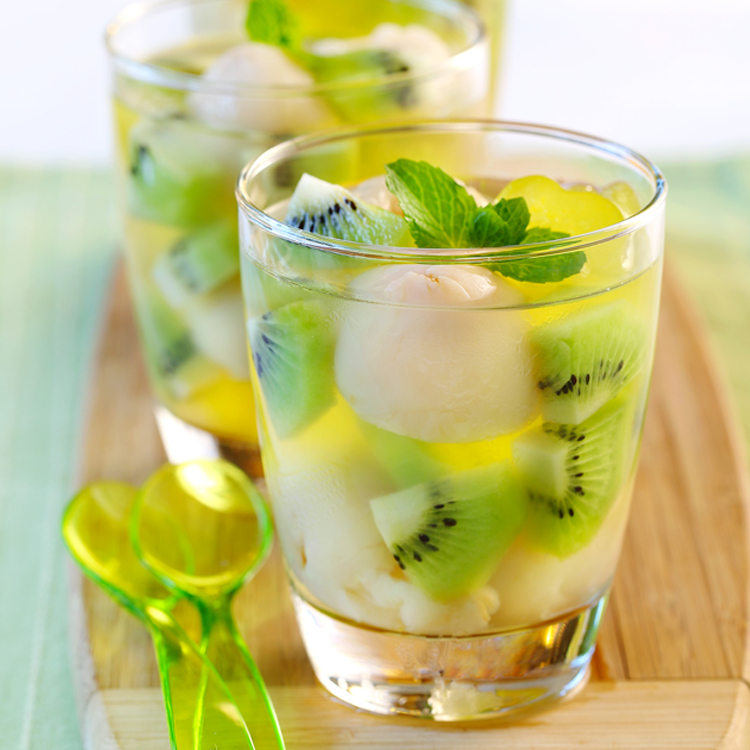 Ingredients: 3 Zespri Green Kiwifruit and 1 can lychees in syrup, well chilled;
Konyakku Jelly Ingredients: 1 packet konyakku jelly granules, 250 g sugar (to taste), 900ml water, 60 ml freshly squeezed lemon juice and Grated rind of 1 lemon.
Methods:
Boil water in a medium size saucepan.
Combine konyakku jelly granules and sugar in a small bowl. Stir this into the water and simmer until granules are completely dissolved.
Take pan off the heat and stir in lemon juice and grated rind. Pour jelly into a shallow dish and leave to set. Chill well and cut jelly into 2 cm cubes.
Close to serving time, peel kiwifruit, cut into quarters lengthwise and slice 1 cm thick. Combine with the lychees in syrup and jelly. Serve well chilled.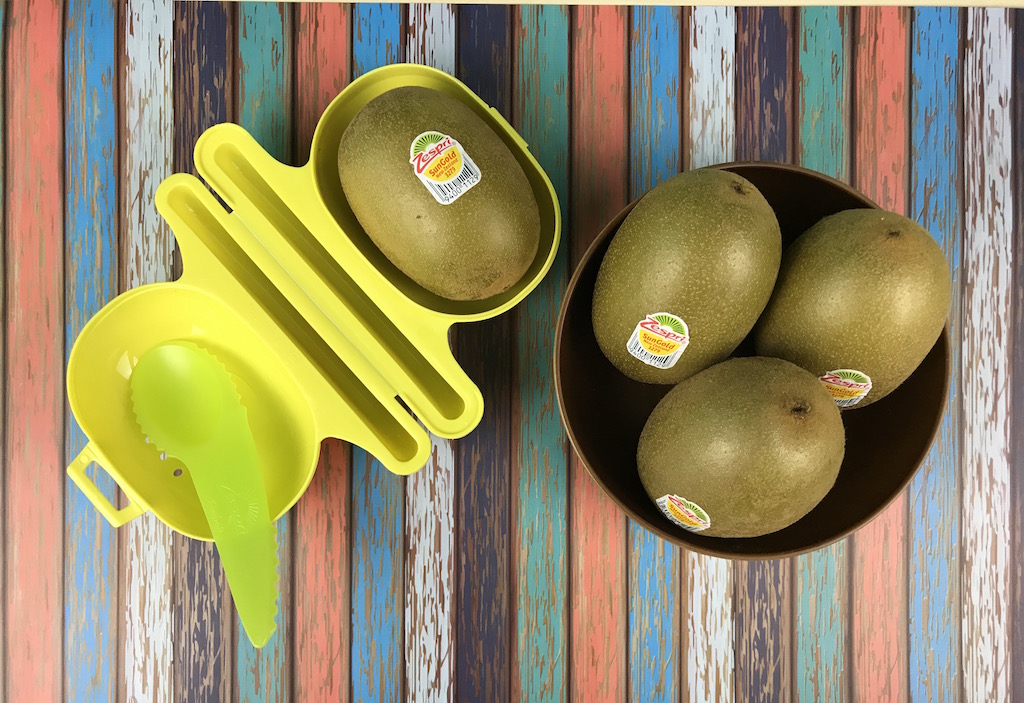 Zespri® is presenting a limited-edition kiwifruit holder with spice (funky Zespri® spoon-knife) for every purchase of a Zespri® SunGold Kiwifruit promotional pack of six, from 24 May 2017 onwards while stocks last.
Read also: 16 Effortless-Ways to Incorporate Fruits and Vegetables into Your Daily Diets