In conjunction with the arrival of Ramadan, British Airways has hand-picked a list of halal restaurants in London for travelers from Malaysia to break fast during the fasting month. Travelers will be spoilt for choices from Mediterranean cuisine to Italian pizza to Northern India curries – a taste from around the globe.
1. The Meat Co.
Renowned for its high quality cuts of meat, The Meat Co. located at London's Westfield Shopping Centre offers fine dining experience for meat lovers. Modern and chic, the restaurant makes a lasting impression by the meticulous efforts it undertakes to ensure a pure Halal experience. Be it chicken, lamb or even Halal Wagyu, you will not be disappointed at The Meat Co.
Address: Unit 1026, Westfield London Shopping Centre, Ariel Way, London W12 7GA, UK
Tel:+44 20 8749 5914
2. Gokyuzu Restaurant
An established family-run restaurant serving authentic Mediterranean and Turkish cuisine, Gokyuzu is considered a real gem in the city. Located centrally in London's "Little Turkey", the restaurant offers generous helpings of flatbread, dips and freshly-chopped salads. Their mixed grill sharing platters of lamb, chicken, rice and salad are sufficient for an entire family.
Address: 26-27 Grand Parade, Green Lanes, London, N4 1LG
Tel:+44 20 8211 8406
Address: Southend Rd, Chingford London, E4 8TA
Phone:+44 20 8527 4927
3. Gyms Kitchen
After a long day of fasting, eating healthy is very important. Gyms Kitchen serves wellness Halal meals for the health conscious. Calories, fat, carbs and protein count are listed beside every food item on the menu. The restaurant even has on-site nutritionists to help with your selection. Its signature lamb chops have been voted the best by TimeOut London. Their grilled halloumi and king prawns are a must-try too. If you are too tired for a restaurant meal, you can call for delivery as well.
Address: 388-392 High Road, Leyton, E10 6QE
Tel: +44 20 8988 6362
4. Zayna Restaurant
Located not far from the Marble Arch Underground Station, Zayna Restaurant serves Pakistani and Northern Indian cuisine using free-range Halal meat marinated overnight to seal in the delicate flavours. Try out their main dishes such as lamb in yogurt, mukhun murgh, chicken and lamb curry, your appetites will be completely satisfied. To top it off, the restaurant has attentive and helpful staff as well as stylishly interiors – it would be a fast breaking meal to remember.
Address: 25 New Quebec Street, London, W1H 7SF
Tel: +044 20 7723 2229
5. Rasa Sayang
Hankering for a taste of home? Head for Rasa Sayang where you can sink your teeth into all the familiar flavours of Malaysia. Established by a Malaysian from Ipoh, this is one of the few restaurants in Chinatown that serves tasty Halal Malaysian dishes. Don't miss out their beef rendang, chicken satay, and char kuey teow. Of course, there's also the sambal that you've missed! For those with sweet tooth, there is ondeh-ondeh and ais kacang to satisfy your cravings.
Address: 5 Macclesfield Street London, W1D 6AY
Tel: +44 20 7734 1382
6. Anima D'Italia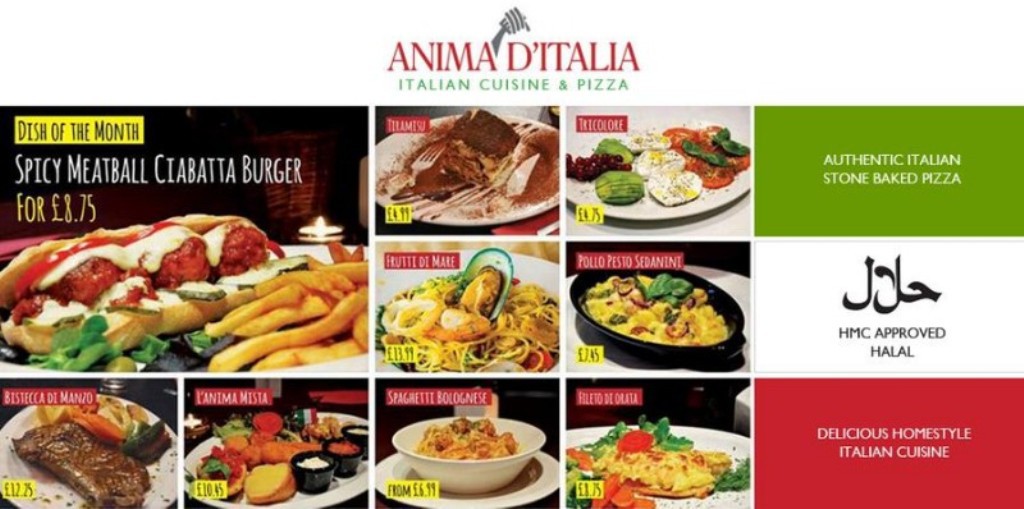 Anima D'Italia literally means "Soul of Italy" and if Italian food is one of your favourites, this is the restaurant for you to break fast. The restaurant has been voted by some as the best Halal Italian restaurant in London. Anima D'Italia offers an extensive break fast menu during Ramadhan.
Address: 114 Mile End Rd, London E1 4UN, United Kingdom
Tel:+44 20 7790 6000