TWG Tea is set to illuminate this year's festive occasion by transforming icy snowflakes into steaming hot drops of delightful tea concoctions and gorgeous accessories. The luxury tea brand has just unveiled their 2016 Holiday Collection by bringing snowflakes into steaming hot drops of delightful tea concoctions and gorgeous accessories.
First in the range are the Red Christmas Teabag Gift Box. The gift box is being re-edited in a limited edition matte red gift box highlighted with burnished gold imagery of snowy sleigh rides, it contains a holiday favourite, the Red Christmas Tea – a theine-free red tea blend of citrus fruits and spices. This gift box promises a wonderful assembly of rich flavours to be appreciated and enjoyed amongst family and friends. Contains 15 teabags.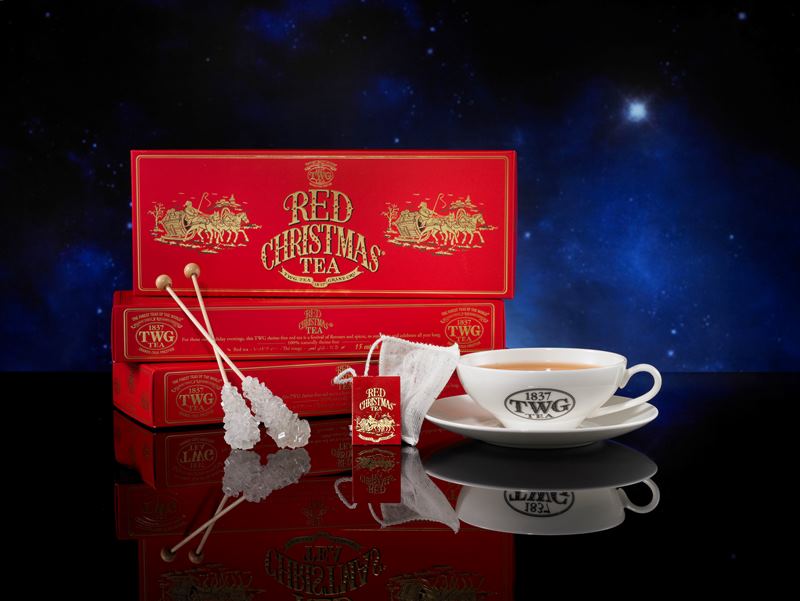 Next in the range is the Christmas Jewel Caviar Tin Tea. Holding a precious surprise, the box reveals a sparkling Christmas Jewel Caviar Tin Tea, encased in an artfully designed locket as an invitation to a world of enchantments. A glistening gem, this sumptuous blend of green teas is accented by festive spices, sweet orange and rare pearls of tea. A glorious tea fit for a king. Contains 100g of tea.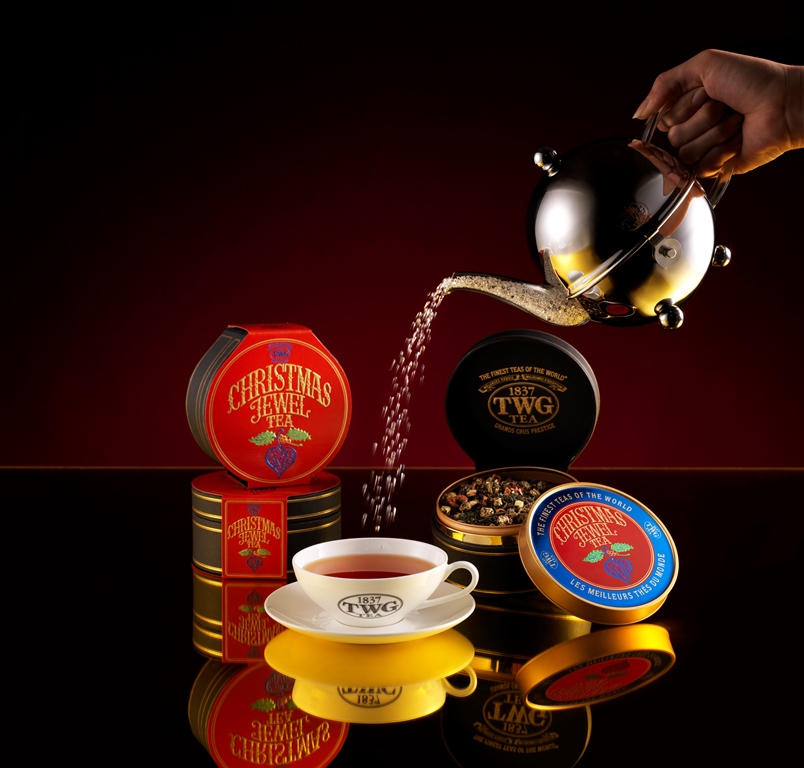 Fine tea, elegant tableware set in an exquisite salon. TWG Tea Salon & Boutique also provides you with a wonderfully merry ambience and charming venue for an intimate gathering with your loved ones during the festivities.
TWG Tea Festive Set Menu
Add a touch of enchantment to your festive spread with the TWG Tea exquisite three course set menu.
Start off with a choice of the Cured Salmon Timbale, a delightful tower of Smoky Russian Tea-cured salmon, creamy avocado and sweet mango and pomegranate or the flavourful Winter Squash Soup, roasted and blended to perfection with a hint of ginger and red pepper purée. For the main, select from a variety of delectable options ranging from the Chicken Supreme, Herb Crusted Lamb Cutlet to the Black Cod with Dashi Broth.
Complete the feasting this season with a specially crafted tea-infused Christmas Log Cake and an accompanying tea of choice from TWG Tea's vast array of fine harvest teas and exclusive tea blends.
The TWG Tea Festive Set Menu is priced at the following per pax: Main Course & Tea, RM68; Full Set Menu, RM98. Don't miss out on this luxurious experience for your taste buds
Available throughout the merry month of December at TWG Tea Pavilion KL, TWG Tea The Gardens Mall and TWG Tea Gurney Paragon.
For more information about TWG Tea, visit www.TWGTea.com
Read also: Juice Works Launches "Berry Christmas" In Conjunction Of World Diabetes Day