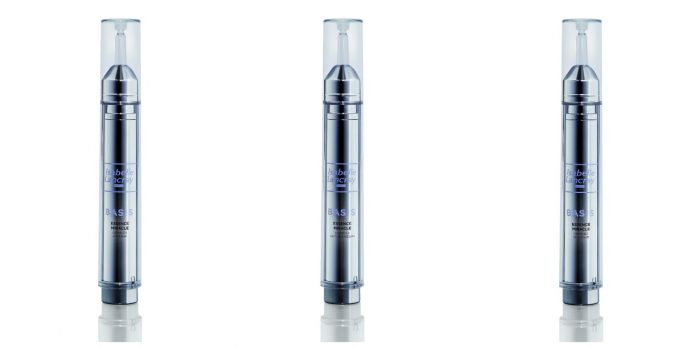 As we grow older, our skin concerns become more complex. We began to micro-manage our skin such as setting out to correct dry skin, wrinkles, pigmentation, uneven skin tone, dullness and lack of luminosity and the list goes on.
Isabelle Lancray has launched their latest skincare range, the Basis Essence Miracle, that proclaims the overriding key to anti-aging is bringing back the health of your skin. A healthy and fresh appearance is the desire of every well-groomed woman and man. This range is developed to expertly energize the skin daily, awakening to a fresh complexion like the morning dew, slightly flushed like baby skin, and fine and silky to the touch.
The Basis Essence Miracle range comprises three essences in cutting-edge sciences that deliver active ingredients to reform skin health, with an essence each formulated for a specific skin type.
"Basis Essence Miracle Complex Anti Age" promotes skin health for the mature skin
"Basis Essence Miracle Complex Anti Rougeurs" cares for the sensitive skin that is prone to redness and irritations
"Basis Essence Miracle Complex Vitamineé" cares for the dry skin.
Rutin is a fucose-rich polysaccharide. The Smart Crystals technology found in the "Basis Essence Miracle Complex Anti Rougeurs" involve the nanocrystals of Rutin to activate the collagen synthesis and reduce redness. This also creates stronger tissue and protect against oxidation. Dermal penetration is higher by 20 times via this technology, compared to the raw Rutin powder material.
Here are some of the active ingredients found in Isabelle Lancray's Basis Essence Miracle Complex:
Gynostemma pentaphyllum, also called jiaogulan (literal translation – stranded blue plant) is a dioecious, herbaceous climbing vine of the family Cucurbitaceae (cucumber or gourd family) indigenous to the southern reaches of China, northern Vietnam, southern Korea, and Japan. The Female Ginseng is best known as an herbal medicine reputed to have powerful antioxidant and adaptogenic effects purported to increase longevity. Pharmacological research has indicated a number of therapeutic qualities of the Female Ginseng, such as lowering cholesterol and high blood pressure, and strengthening immunity.
The beautiful rock rose shrub is proliferated by flowers at the time of blossom. The ability of rock rose plants to thrive in many Mediterranean habitats is a result from two important ecological properties: mycorrhizal ability and rapid renewal after wildfire. The rock rose also strengthens the antioxidant defense system of mature skin.
High proportion of Omega 6 and phystosterol from the pomegranate are used to protect against toxins from external environmental influences, increase the longevity of the fibroblasts, improve the cell communication and to enhance cellular defense.
The stimulation of the hyaluronic acid synthesis delivers hydration and improves viscoelasticity. It also supports elastin synthesis with antioxidant effect which is both moisturizing and protective.
A biotechnological agent which stimulates the hyaluronic acid synthesis in the epidermis and ensure the diffusion of nutrients into skin to maintain skin rejuvenation.
Multivitamins cocktail (Vitamin B1, B2, B3, B6)
This B-Complex multivitamin is biotechnology-derived and has a hyaluron-like structure. The structure improves the smoothness and resilience of the skin. B-Complex vitamins promote healthy skin by counteracting damage caused by free-radicals – molecules that breakdown healthy cells and contribute to aging and disease.
Just put a few drops of the essence on your fingertips and apply to the face, neck and décolleté in an upward motion before using your moisturizing or sun block products.
The Isabelle Lancray Basis Essence Miracle Complex Anti-Age is retailing for RM358 (15ml), the Complex Anti Rougeurs is RM328 (15ml), and the Complex Vitamineé is RM328 (15ml).
The Isabelle Lancray products are available at over 40 beauty salons nationwide. For more information, log on www.cheerful.com.my/isabellelancray or contact Cheerful Beauteepro at 03-2141 9928/9037 or email: write2us@cheerful.com.my.
Read also: Prep Your Skin With Swiss line's Cell Shock Facial Boosting & Whitening Essences