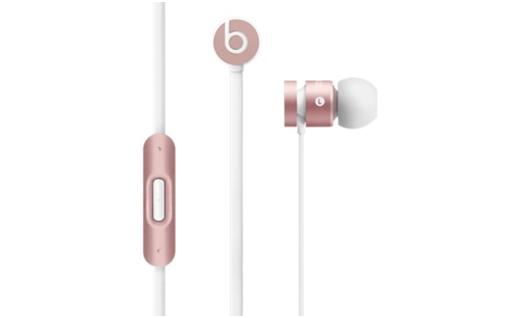 Designed for music lovers who strive for the ultimate combination of sound and style, urBeats in-ear headphones in Rose Gold delivers pure audio in an ultra-lightweight and durable package.
The urBeats Rose Gold is a solid metal housing in gold, silver, and space gray. The tangle-free cable with built-in-mic will help you effortlessly switch between music and calls so that you can enjoy premium, uninterrupted sound. It's also a perfect match to the Apple iPhone 6s and iPhone 6s Plus in Rose Gold.
Features of the urBeats Rose Gold include:
Personalized Design -The solid metal housing is durable and comes in a variety of colors to match your personal style.
Upgraded Sound – Custom drivers deliver deep bass, soaring highs, and noise isolation with multiple eartips.
Built-in-Mic for Calls – Switch easily between songs and incoming calls. No need to take off your earphones or talk into the phone like a walkie-talkie.
Tangle-free Cables – It doesn't matter how carefully you wind them up, cords and pockets just don't mix. That's why we've redesigned our cables to make sure they're ultra-flexible and tangle-free.
urBeats Rose Gold is available at all authorized Beats retailers in Malaysia for RM400 each.