Samsung Galaxy S8 and S8+ have been officially launched in Malaysia yesterday, presenting the the perfect balance of form and function, art and science, design and technology. The Galaxy S8 and S8+ are designed to blend seamlessly into one's life, feature a refined 'unboxed' design, enhanced security with new biometric technologies, robust entertainment capabilities and an intelligent new interface to enhance the way people interact with their phone.

Key Highlights: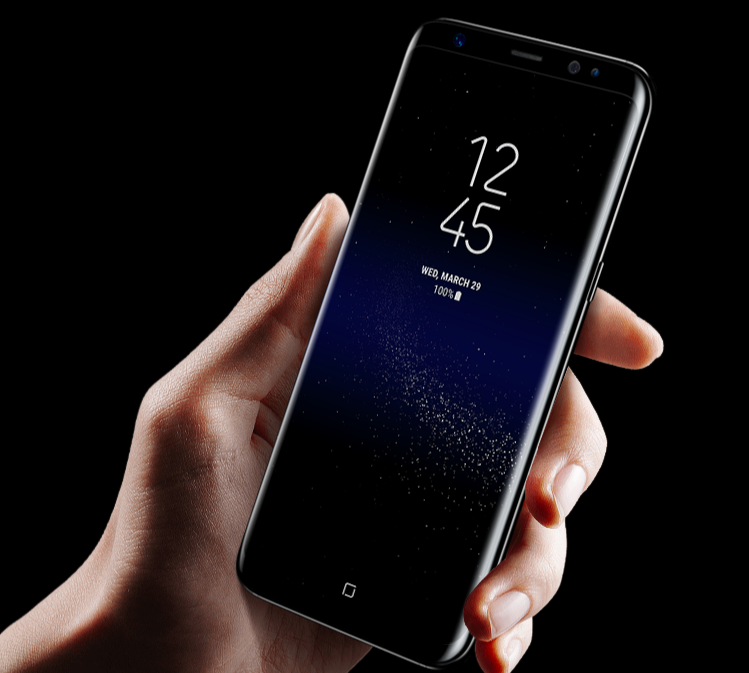 The Galaxy S8 and S8+ build on Samsung's design heritage with a large Infinity Display, a bezel-less, dual-edge display that takes up more than 80 percent of the phone's front screen. The subtle curvature flows from the front of the device to the back to create a more ergonomic grip ideal for one-handed operation. The phone's camera, fingerprint scanner and heart rate sensor have been incorporated on the back of the device in a way that minimises protrusions, ensuring a sleek aesthetic at any angle.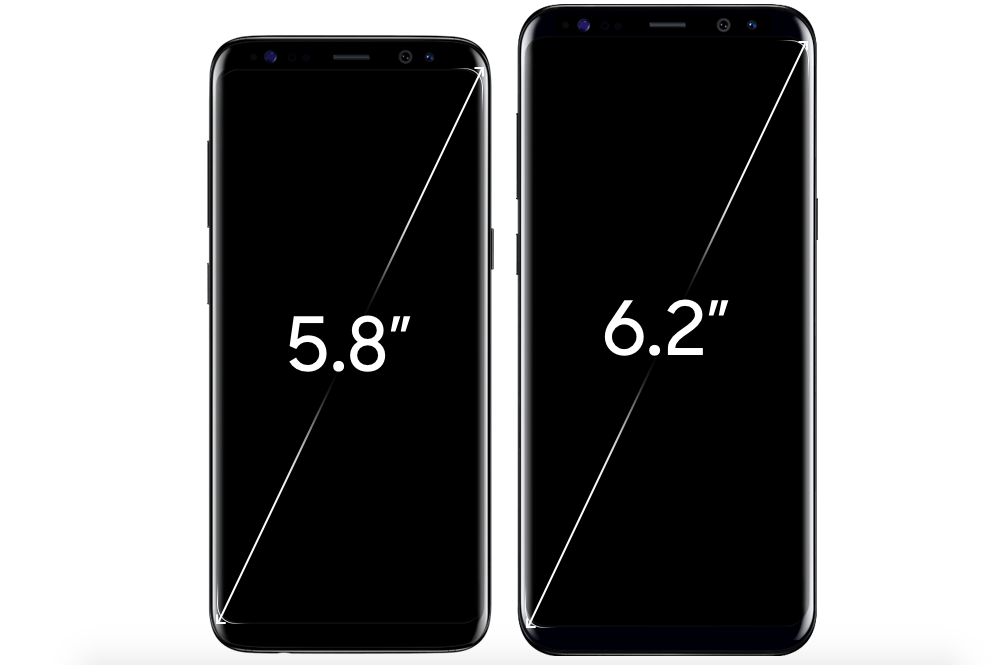 The stunning Infinity Display of the Galaxy S8 and S8+ are 18 percent larger than the display of the Galaxy S7, making for a noticeably more immersive viewing experience. When watched in landscape mode, 21:9 movies fill the Galaxy S8 and S8+'s 18.5:9 display, while the black bars above and below the picture are minimised, increasing the viewing area by 36 percent, compared to the Galaxy S7. This, along with the phone's High Dynamic Range (HDR) Premium capabilities, enables users to see content exactly as the creator intended. Gaming experiences, too, are enhanced, as any game that supports 18.5:9 full screen mode is automatically optimised to fill up the entire screen.
The Galaxy S8 and S8+'s advanced camera offers multi-frame image processing, which able to take multiple photos in rapid succession instead of just one, then selects the clearest image and uses the others to reduce the blur. This enhanced image processing ensures that shots taken when the subject is moving, in low light or when zoomed in are clear and vibrant.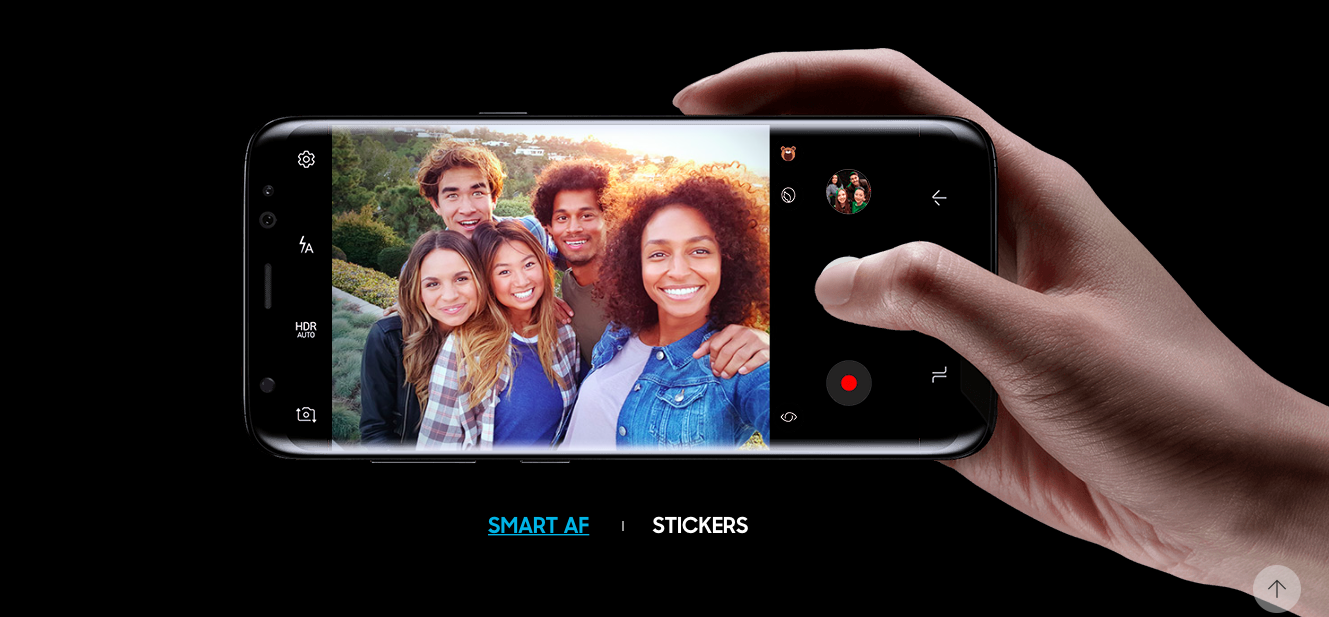 The dual-pixel sensor technology, wide aperture and fast autofocus of the 12MP f1.7 rear camera work together to create beautiful photographs even in low-light conditions. The 8MP f1.7 front camera has been equipped with enhanced autofocus features and facial recognition technology that can recognise and track faces to provide clear, focused selfies, regardless of the distance between the user and the camera.
With an easy-to-use filter setting, users can enhance their photos by selecting from a variety of filters, including Auto Filter, which automatically selects one optimised for their photo. Animated stickers and stamps can also now be applied to images when taking photos, right from the native camera app. The camera's UX has also been optimised for one-handed operation.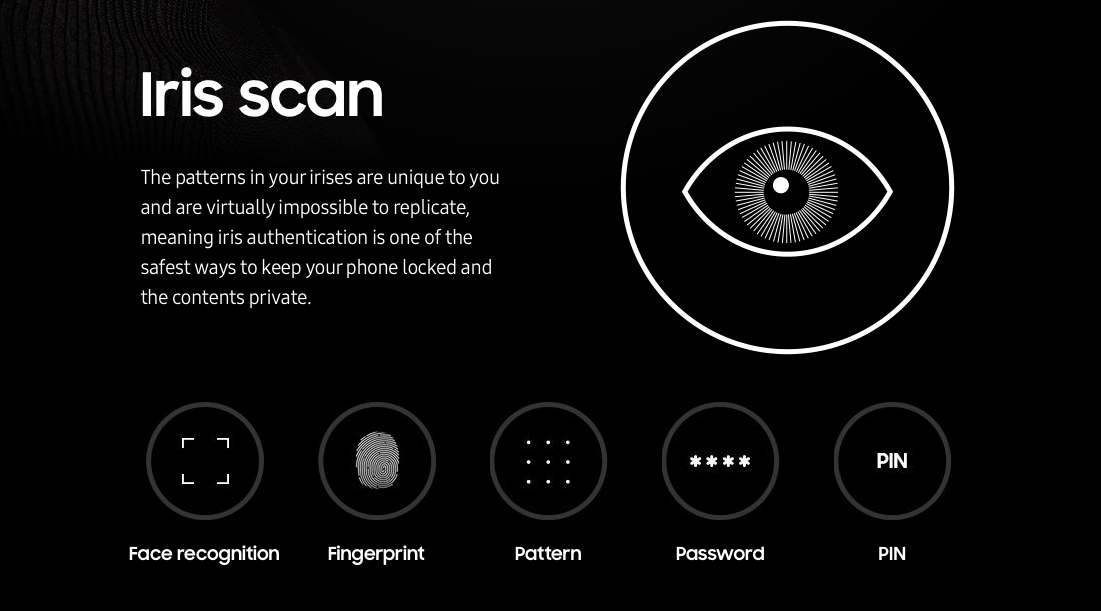 The Galaxy S8 and S8+ provide strengthened security features through the integration of Samsung's trusted Knox security platform and a combination of new and enhanced biometric technologies. The Galaxy S8 and S8+'s highly secure iris scanner is fast, accurate and touch-free, making user verification easier than ever, adding to the device's other security feature – fingerprint scanning. The Galaxy S8 and S8+ also provide various security services including Secure Folder, an encrypted folder that keeps private information separate and safe with an added layer of security.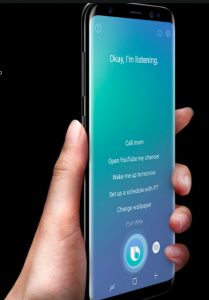 Although Bixby, Samsung's new intelligent interface, is continuously being developed, it was created to enhance the way people interact with their Galaxy S8 and S8+. The intuitive and comprehensive interface leverages contextual awareness to learn users' habits and provide related information, and is easily activated easily with a press of its dedicated hardware button. All of Bixby's features can be accessed through its Home screen, which displays a user's most contextually relevant apps on a single screen.
Beyond the essential features and typical phone experiences, the Galaxy S8 and S8+ elevate the experience for premiere mobile connectivity and entertainment with the new Gear VR with Controller (RRP: RM499). Enabling convenient one-handed control and navigation, the controller provides better motion interaction when accessing interactive VR content. With improved lenses, ergonomics, and expanded compatibility, the new and improved Gear VR headset challenges the very concept of virtual reality, redefining the limits of what it is capable of.
The Galaxy S8 and S8+ also connect to the new Gear 360 (RRP: RM999), placing the keys to creating immersive 360-degree content in users' hands. The Gear 360 allows users to record 360-degree videos in 4K that place viewers at the heart of the action – capturing a complete picture of the recorded experience as well as all the emotion, excitement and beauty that made it memorable.
Users can leave their physical wallet behind with Samsung Pay, turning their Galaxy S8 and S8+ into a digital wallet they can use almost anywhere they would use a credit or debit card. With more than 870 worldwide banking partnerships, Samsung Pay has processed more than 240 million transactions to date.
Seamless Transition from Smartphone to PC
Samsung DeX (RRP: RM459) is a new service that lets users use their Galaxy S8 & S8+ as they would a desktop by providing a seamless, secure mobile-to-PC transition. With Samsung DeX, users can conveniently access apps, browse the web, send messages and more directly from their phone on a larger display without having to carry multiple devices or transfer data. Samsung DeX supports keyboard and mouse gestures, thus providing the effortless usability of a PC. Furthermore, with the ability to quickly shift between windows and adjust window size with ease, users can multitask more efficiently.
Samsung DeX helps to maximise productivity with intuitive applications such as Samsung Browser, MyFiles, Gallery and Samsung e-mail. Samsung DeX is also compatible with the Microsoft Office and Adobe mobile app suite, which allows complete desktop-like functionality previously unavailable from a mobile device. In addition, beginning in the first half of 2017, customers will be able to use VDI to remotely use Windows OS as they would on a desktop.
In addition to the new design innovations, Samsung continues to deliver cutting-edge technology that included enhanced performance and robust entertainment that users love. Packing powerful performance and connectivity, the Galaxy S8 and S8+ feature the industry's first 10nm processor, enabling heightened speed and efficiency. It is also gigabit LTE and gigabit Wi-Fi ready with support for up to 1 Gbps so users can quickly download files, regardless of the file size.
As the world's first mobile device certified by the UHD Alliance as Mobile HDR PremiumTM, Galaxy S8 and S8+ let you see the same vibrant colours and contrasts that the filmmakers intended while watching your favourite shows. In addition, the Galaxy S8 and S8+ offer next-level gaming experiences with vivid and superior graphic technology.
The Galaxy S8 and S8+ also come with the foundational Galaxy features that include IP68 dust and water resistance, microSD support up to 256GB, Always-On Display as well as fast and wireless charging capabilities. Enhanced by a rich colour palette, both devices are available in three colours in Malaysia – Midnight Black, the all-new Orchid Gray and Maple Gold.
The Galaxy S8 and S8+ retail at RM3,299 and RM3,699 respectively; and are available for purchase beginning 5th May 2017 at all Samsung Experience Stores and authorised dealers.
For more information, visit samsung.com/my/s8.
Read also: Samsung Galaxy S8 & S8+ Design Story