HUAWEI unveiled its latest nova 3 and nova 3i, the third-generation of HUAWEI nova range last week at a star-studded event. Over 20 celebrities including Dayang Nurfaizah, Hannah Delisha, Stacy Anam and Haqiem Rusli attended and performed at the launch, and the brand ambassador, Hannah Delisha also debuted a new upbeat-style song 'nova superstar'.
In pursuit of the best AI selfie camera, HUAWEI has equipped the HUAWEI nova 3 and nova 3i with 24MP cameras; creating a quad-camera powerhouse that revolutionizes the world of AI photography, while featuring a fashionable design that mimics its predecessor, the nova 2 series.
The HUAWEI new nova series now melds elegance and innovative AI together to usher in a new era of smart living as the latest HUAWEI nova devices features a wealth of improvements that are made possible by AI, which offer all-new user experiences that ease users into embracing the AI-enhanced life.
Meticulous Design and Trendy Color Options
HUAWEI nova 3 features double curved 3D glass on both the front and back of the device, and underneath the front glass is the 6.3-inch (2340×1080) FullView Display, which is similar to HUAWEI nova 3i. These specs enable the display to push out bigger and sharper images than its predecessor while looking more slender and elongated.
The new notched Full HD+ panel has a 19.5:9 aspect ratio, giving the device a more streamline look compared with its 18:9 counterparts. In addition, the precise engineering techniques employed by HUAWEI ensure that the four corners of the screen are curved identically, so that the screen connects with the mid-frame seamlessly and in an aesthetically pleasing manner.
As the devices strive to be at the forefront of trends, HUAWEI nova 3 and nova 3i are both available in a special gradient color, Iris Purple, in which the purple slowly transitions to a shade of blue, as if it is a living, breathing piece of art. HUAWEI nova 3 is also available in black and red; while HUAWEI nova 3i is available in black and pearl white. Whether it is in fashion or automobiles, the color white has proven to be timeless. With the return of the white color scheme, consumers can own a device decorated with the most classic color.
Capture Beauty Anytime with Four AI Cameras
As the third-generation nova series, HUAWEI nova 3 and nova 3i allow its users to explore new possibilities through the lenses of its four AI cameras.
The AI selfie feature not only captures a subject's face with clarity, but it also comes with the most intuitive photography experience. HUAWEI nova 3 and nova 3i are equipped with dual front-facing cameras with a 24MP primary sensor and a 2MP sensor. The former is designed to capture details with its f/2.0 wide aperture lens, whereas the 2MP secondary sensor captures depth data with dedicated depth detection hardware. Working in synergy, the dual cameras produces stunning, authentic bokeh effects.
In addition, when a user is taking a selfie, the HUAWEI nova 3 and nova 3i can recognize over 200 scenarios across eight categories, including Blue Sky, Plant and Beach, and apply a unique set of optimizations for each scene, while beautifying the subject. The beautification algorithms also take into consideration how people around the world perceive beauty, and apply a different set of adjustments to people of different gender and skin color.
Furthermore, the hardware on HUAWEI nova 3 and nova 3i enable it to support real-time HDR footage preview and recording. The third-generation nova devices also support five studio-quality lighting, namely soft lighting, butterfly lighting, stage lighting, split lighting and classic lighting. The HUAWEI nova 3 and nova 3i can accurately map the five facial features of its subject and develop a 3D model, to then identify areas that require additional lighting or beautification.
The rear camera on the HUAWEI nova 3 comprises of a 24MP monochrome and 16MP RGB sensor with dual f/1.8 wide aperture, while HUAWEI nova 3i features a 16MP primary sensor and a 2MP secondary sensor. Combined, they allow the device to not just capture crisp images, but also provide greater control over the photos. The former captures vivid images and videos, while the latter records depth data to create a professional bokeh effect, resulting in more natural-looking images.
Moreover, the industry-leading AI powering HUAWEI nova 3 and nova 3i serve as the "photography mastermind" capable of effectively distinguishing more than 500 scenarios, categorizing them into 22 types, and optimizing the image for each scene. When taking a photo, the handset also assists the user with intelligent composition, helping amateurs take gorgeous photos with ease.
In a world where people are becoming increasingly comfortable with communicating using short videos, the 480fps super slow-motion video shooting feature on HUAWEI nova 3 and nova 3i allow users to capture and easily share fleeting moments, be it a parkour run or a skateboard stunt. With AI machine learning, both devices support 3D Qmoji, which is a fun feature that digitally transposes the face of a user onto a digital avatar.
Live a Life Empowered by AI
Besides a fashionable design and incredible AI selfie features, HUAWEI nova 3 is equipped with an ambient light sensor and a proximity sensor, allowing its face unlock feature to work with any lighting conditions. To realize true 24/7 fast unlocking, an infra-red sensor is placed beside the 24MP camera to help read the face of users in dark environments.
For the gaming-loving troop, the HUAWEI nova 3 features the Kirin 970 with 6GB RAM, while the HUAWEI nova 3i carries the Kirin 710 with 4GB RAM. Both devices can support up to 128GB internal storage, allowing users to store any data with peace of mind. Combined with the HUAWEI's proprietary GPU Turbo, it enables a high-quality gaming experience by improving 60% of graphicsprocessing efficiency while lowering the Soc power consumption by 30%.
What makes it even more exciting is the premium collaboration with Rules of Survival where nova users will receive a Nova gift bag worth $50 USD when they log in to Rules of Survival with HUAWEI nova 3 or 3i. This promotion will commence at the end of July and is limited to one nova gift bag for one device only. Exclusive for APAC server only.
If a user encounters a network problem in a game, HUAWEI nova 3 and nova 3i can optimize the connection by switching to a network with the lowest latency. In addition, both SIM slots support 4G and VoLTE, allowing users to play games and make calls simultaneously.
The latest EMUI 8.2 features enhancements that can greatly improve the quality of life of its users. The built-in AI can identify objects from the camera and query the web for information, as well as a link to purchase it online.
Pricing and Availability
The HUAWEI nova 3 and nova 3i will be available in Malaysia starting 28 July 2018. Retailing at the attractive prices of RM1,899 and RM1,249 for nova 3 and nova 3i respectively, both devices can be purchased at all HUAWEI Experience Stores, display zones, authorized dealers and major telco companies.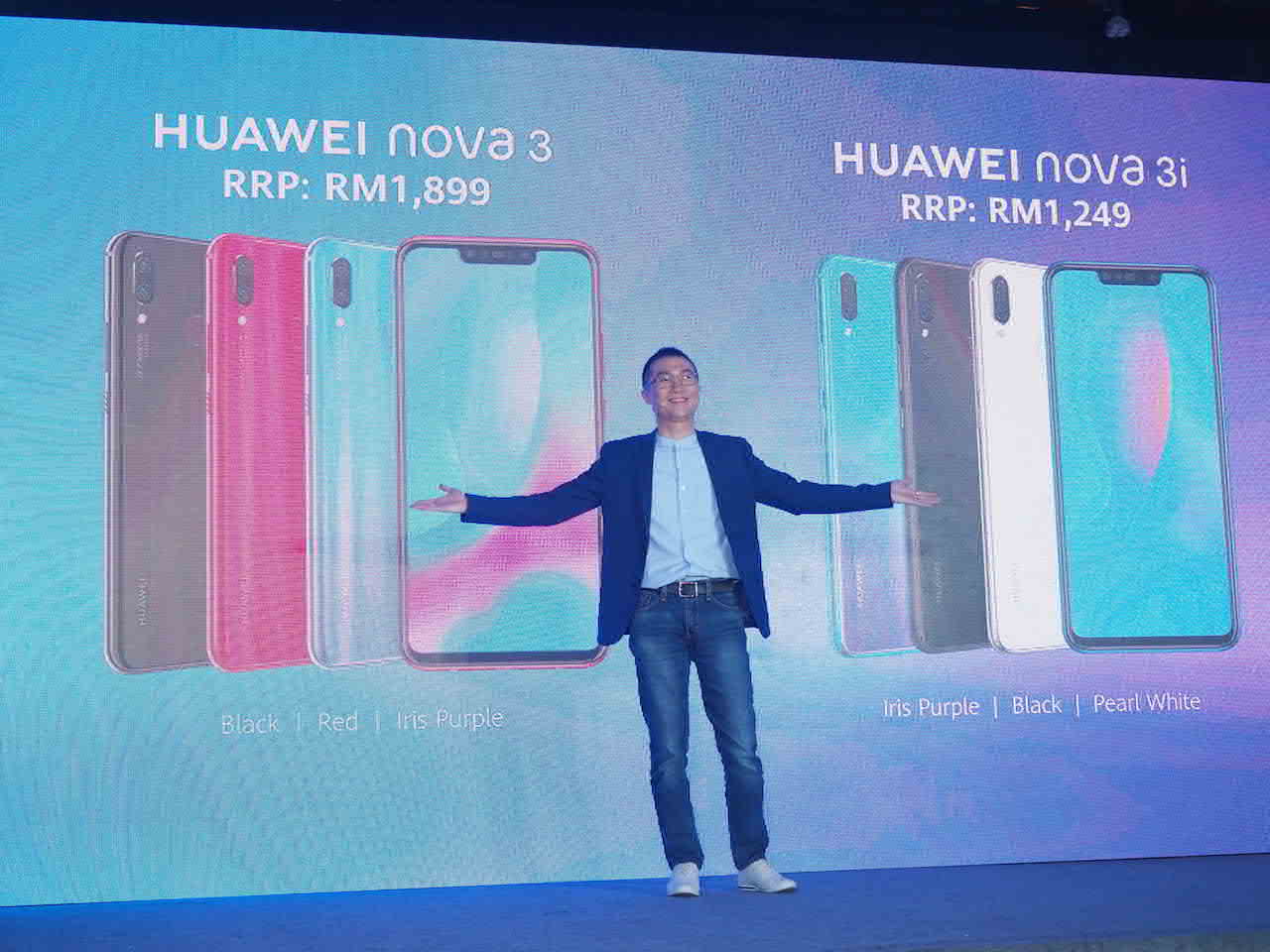 HUAWEI nova 3i Sales Start  
On 28 July 2018, HUAWEI will commence its sales for HUAWEI nova 3i at IOI City Mall, Putrajaya. The first 1,000 customers who line up at the HUAWEI Experience Store in IOI City Mall will receive a HUAWEI Bluetooth Earpiece, HUAWEI A2 Band and Nerd Unit T-shirt, as well as other co-branding offers total worth up to RM1,000 for every purchase of HUAWEI nova 3i, while stocks last.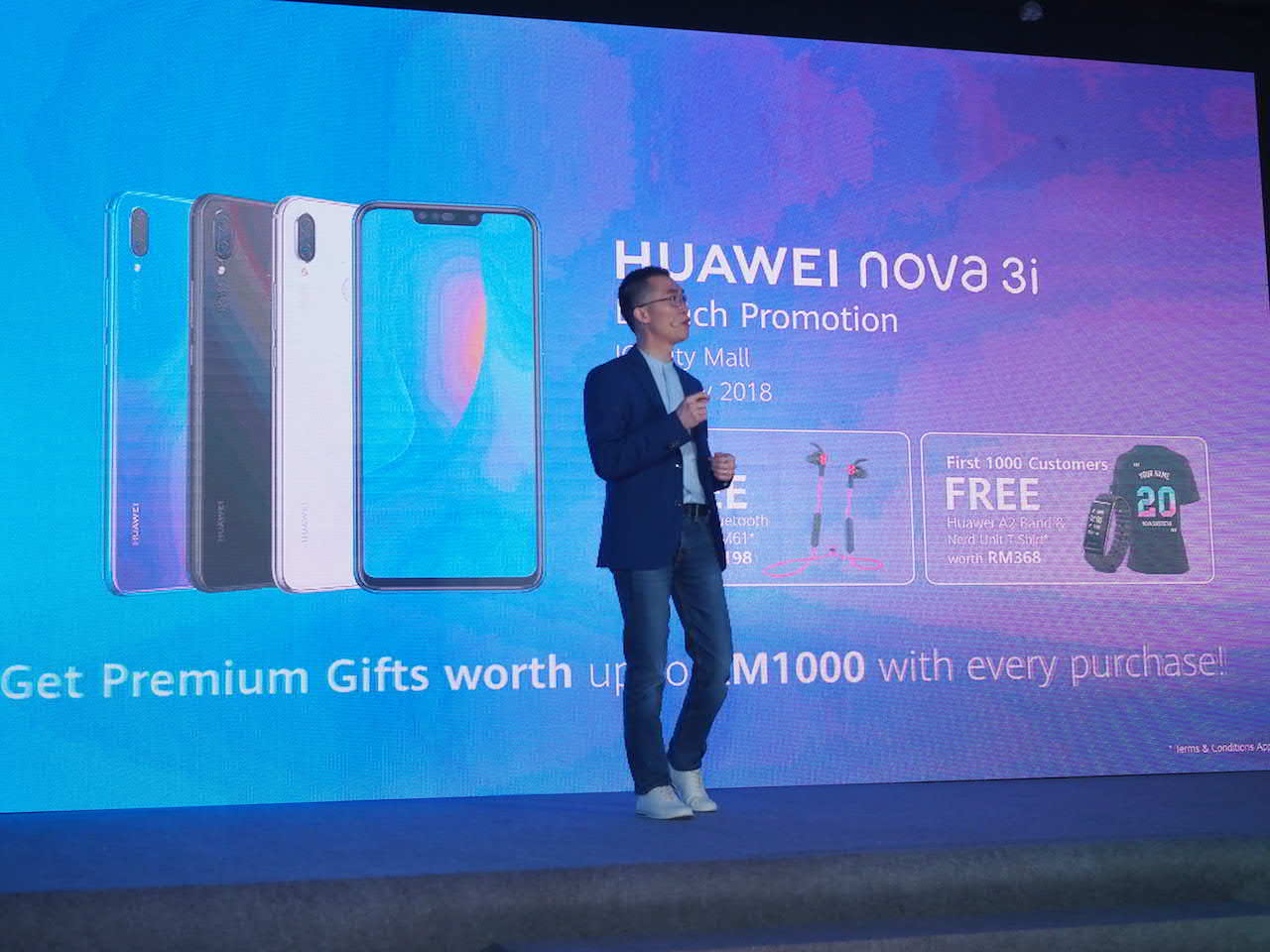 In conjunction with the roadshow, new buyers can also own the HUAWEI nova 3i with the 12-month easy payment at the price of RM104 instalment per month. The instalment can be done in six or 12 months, and applies to all Citibank, HSBC Bank, Public Bank, Maybank, CIMB Bank, Am Bank and Hong Leong Bank credit card users.
For more information, visit consumer.huawei.com/my/ or facebook.com/HuaweiMobileMY.
Read also: HUAWEI nova 2i Limited Edition Aurora Blue Received Overwhelming Demand on the Double 11 Festival