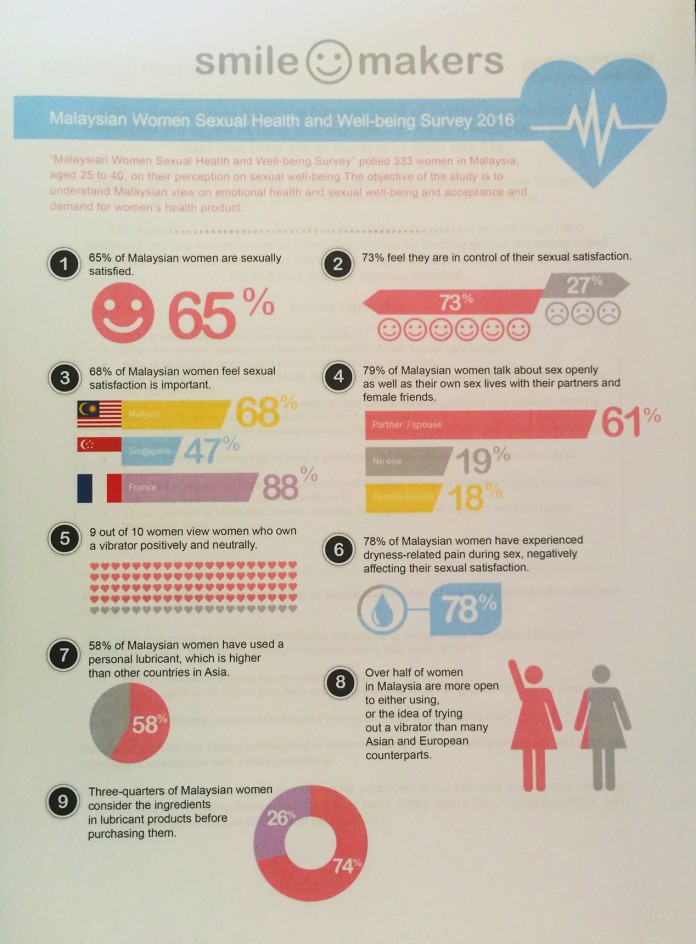 According to findings of a nationwide survey "Malaysian women sexual health and wellbeing" unveiled by leading sexual wellbeing brand Smile Makers, 68% of Malaysian women are sexually satisfied which is significantly higher than other Asia and European countries – Singapore 45%, Hong Kong 53% & UK 28%, and 73% of Malaysian women feel they are in control of their sexual satisfaction.
68% of Malaysian women feel sexual satisfaction is important, as a healthy sex life contributes to the emotional and physical wellbeing, including factors such as feeling loved (95%), happy (92%), attractive (83%), less stressed (83%), beautiful (77%) and healthy (61%).
"Malaysian women are open-minded to embrace sexual related issues and they feel that they are in control of their sex life.  Achieving orgasms – with or without a partner – can relieve stress and anxiety due to the release of endorphins, a feel-good hormone."
– Professor Dr. Low Wah Yun –
The survey also unveiled that 79% of Malaysian women talk about sex in general as well as their own sex lives with their partners and female friends, and 9 out of 10 Malaysian women view women who own a vibrator positively or neutrally, thinking those women are open to new experiences and fun and spontaneous.
However, 8 out of 10 (78%) Malaysian women have experienced dryness-related pain during sex, mainly caused by stressed, post-natal, post menopausal, which negatively affected their sexual satisfaction. Again, Malaysian women are ahead of their Asian counterparts when it comes to taking charge of their sexual wellbeing, and solving dryness-related issues where 58% of Malaysian women have used a personal lubricant to ease discomfort and pain caused by dryness, compared to only 38% in Taiwan and 35% in Hong Kong.
"Lubricants can help to ease the discomfort. The use of water-based, paraben-free and pharma-grade ingredients are important when choosing lubricants. Water-based lubricants will be ideal as they are less sticky and are easy to wash-off. High purity ingredients that are used in water based lubricant make it safer to use."
– Professor Dr. Jamiyah –
Smile Makers Debut in Malaysia
The survey was conducted in conjunction with the debut of Smile Makers' personal massagers and premium lubricants in Malaysia. Smile Makers is the leading sexual wellbeing brand with aims to normalize the sexual wellbeing and reframe it as a natural and healthy part of beauty care and life. The brand is currently sold over 3,000 health & beauty stores in 10 European and Asian markets, and is the only sexual wellbeing brand that sells in mainstream stores.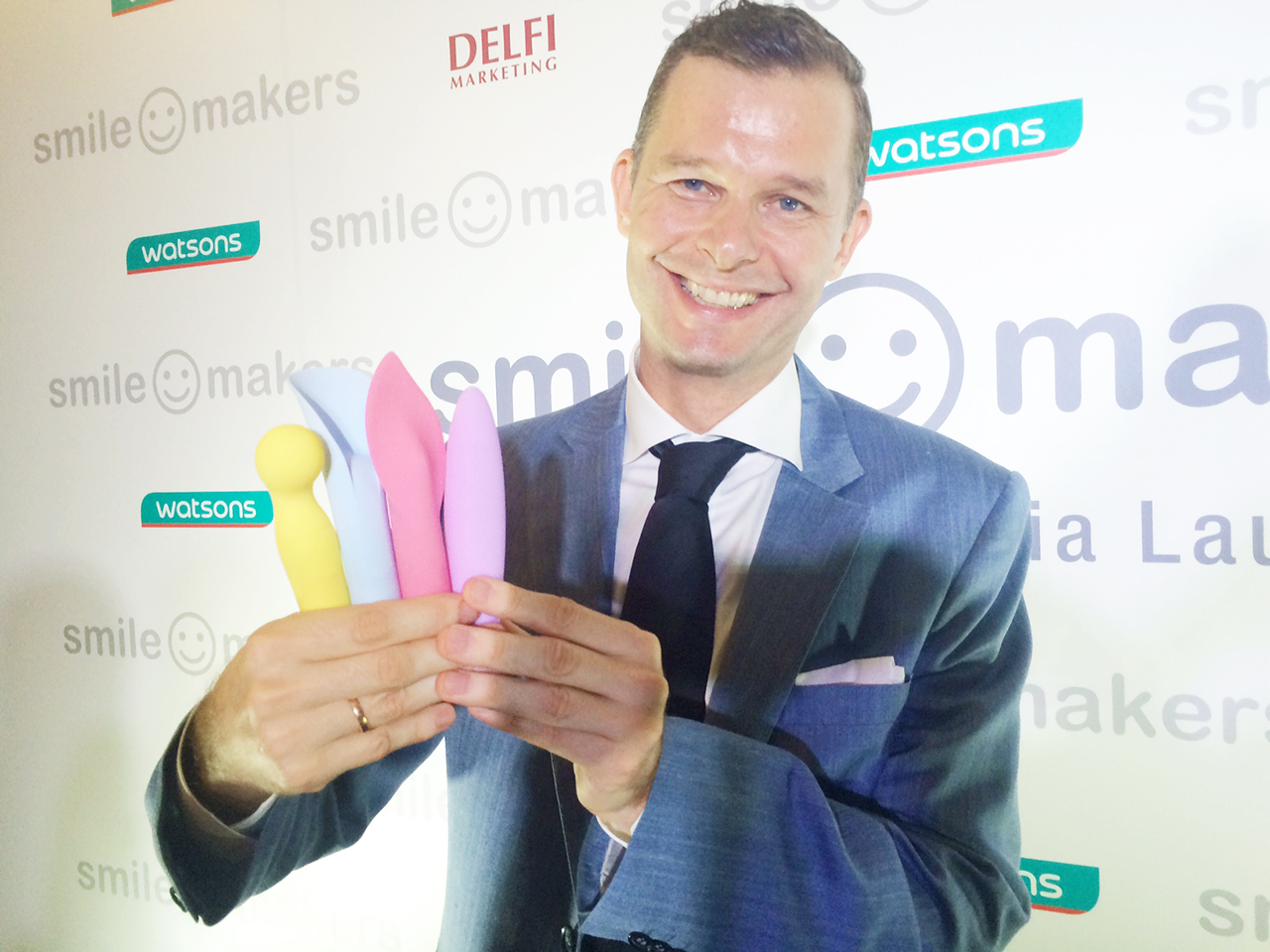 "Making female-friendly products is part of our brand promise, and safety and quality are at the top of this commitment. Sexual satisfaction should not be compromised by concerns around product quality or adverse reactions."
– Mr. Mattias Hulting, the co-founder of Ramblin' Brands –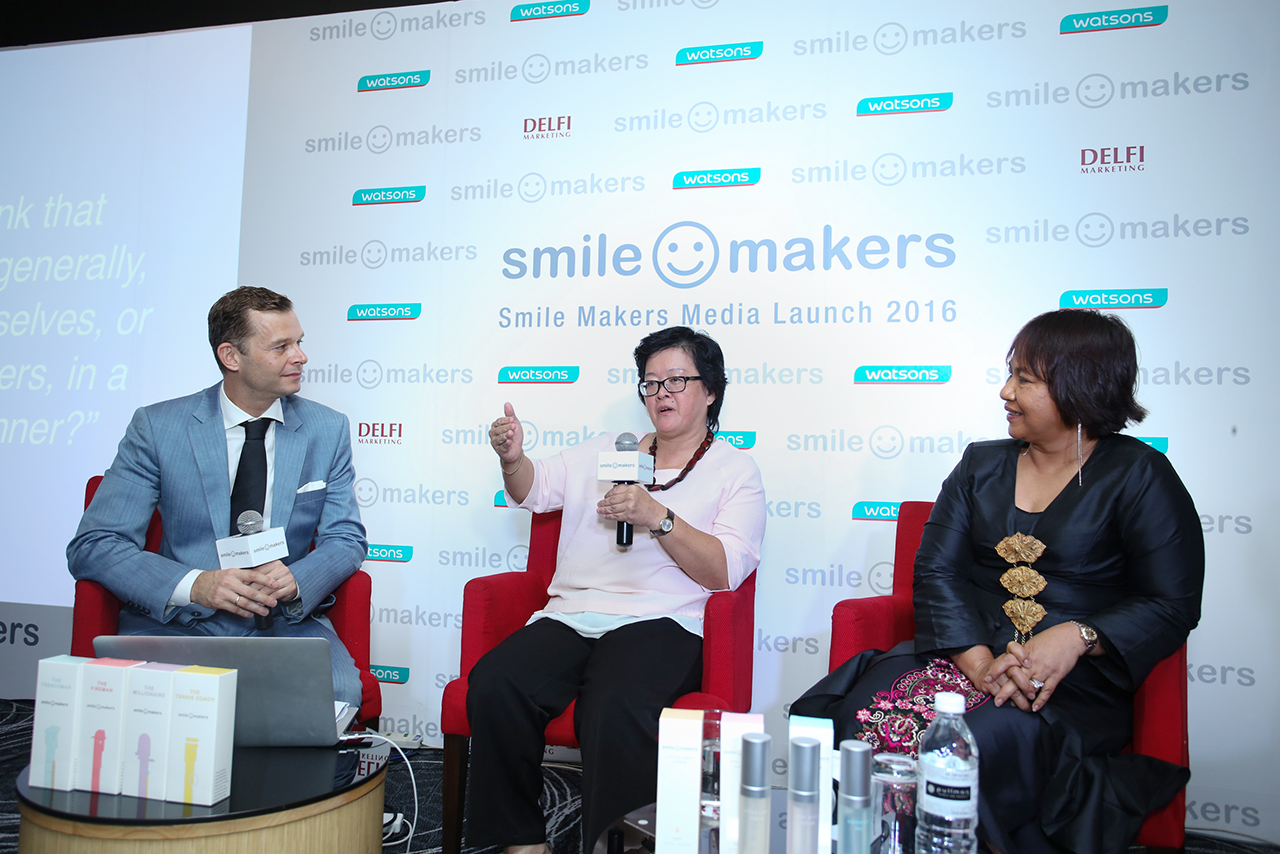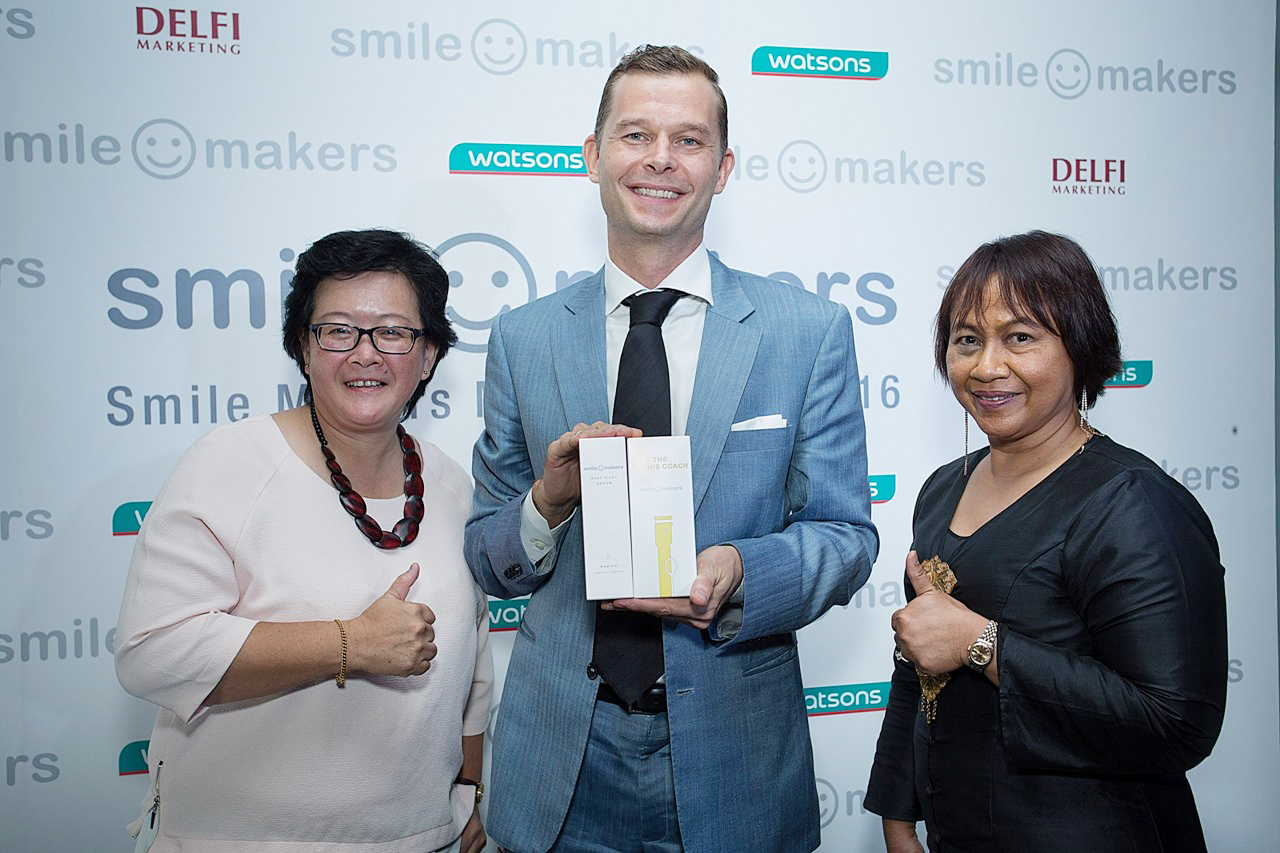 Personal Massagers
Smile Makers personal massagers are designed with the inspiration of four fun personalities – The Fireman, The Frenchman, The Millionaire and The Tennis Coach. They are produced in a static-free environment – all products are completely waterproof, phthalate-free, and made with super-smooth, 100% body-safe, FDA-approved silicone. Since the launch in Europe in 2013, they have been awarded some of the world's most creative, prestigious prizes, including the Cannes Lions (France), One Show (US), AWARD (Australia), and beating iPhone in D&AD international awards in London.
Personal Luricants
Recently launched in September 2015, the formulation of Smile Makers personal lubricants include a natural plant extract, which acts as a natural anti-irritant and regenerates the skin, and a new ingredient imported from France which helps create smooth slipperiness and a silky feeling after use. There are three types of lubricants – Little Light Liquid, Stay Silky Serum and Generous Gel, which all are water based, pH-otimal, paraben free, fragrance free, and also compatible with condoms and any silicon massager.
Smile Makers' personal massagers (RP: RM129.00 each) and premium lubricants (RP: RM59.00 each) will be made available at over 100 Watsons stores nationwide and on Watsons Online Store. For more information on Smile Makers products, visit ramblinbrands.com or watsons.com.my.