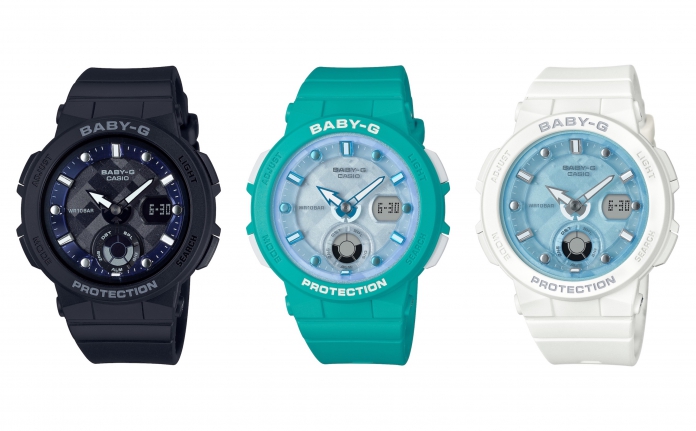 Designed based on the concept of Tough and Cool, the latest addition to the BABY-G line of women's shock-resistant watches, BGA-250 is inspired by a love of the sea and will be available in five models.
The perimeter around the index marks and the new BGA-250 watch face evoke the sparkling surface of the sea with metallic accents on some of the index marks. The marine- inspired design boasts various playful touches including index marks in a bar-and-dot pattern inspired by a ship's steering wheel, and an hour hand whose shape is inspired by a ship's anchor. The watch comes with the Neon Illuminator feature, and a special fluorescent coating is incorporated into the watch face—and also printed on the hour and minute hands—giving a vivid glow at night.
The BGA-250 will be available in five models featuring watch body and watch face colours that are each inspired by a different ocean scene including a moonlit ocean, clear ocean waters, and seashells on a beach.
Read also: Casio Team Up With Girls Generation To Release New Limited Edition Casio BABY-G