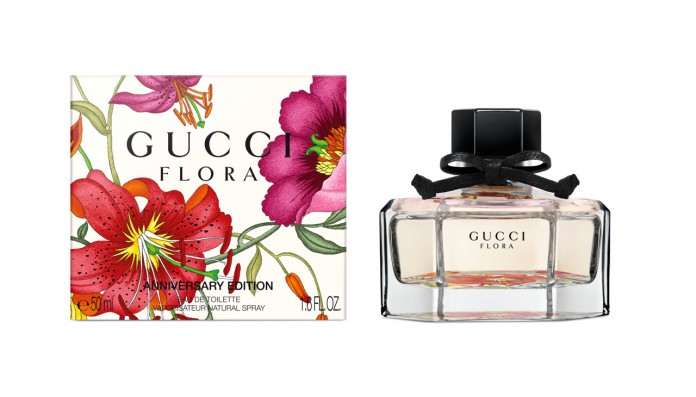 Celebrating the 50th anniversary of the pattern, Gucci presents a new limited edition fragrance, the Flora Anniversary Edition, where both the packaging and inspiration are curated as a compelling exploration into the heart of Gucci's contemporary design.
Sophisticated and modern, the scent's olfactory narrative is exclusively created from the blooms at the heart of the original Gucci Flora fragrance. Conveying the color and energy of Flora, Flora Anniversary Edition opens with fresh mandarin and pear edged with the vibrancy of pepper.
An homage to the heart notes of the original scent, and the core of Flora's pattern, Rose and Osmanthus create a resonant essence in this new fragrance. Blended with other flowers to create new textures, the blooms are redolent with a contemporary mood. Interlaced with a Peony accord, contrasting elements of the Rose signature are amplified: a deep floralcy and the natural airy and petallike character. The Rose signature meets Osmanthus' complex facets, drawing out its apricotlike freshness, exoticism and creaminess.
In this limited edition of Flora, a leathery accord brings a new sensuality to the floral bouquet, adding richness and depth while underlining its elegance. The leathery nuances blend beautifully with Cedar wood, musk and patchouli.