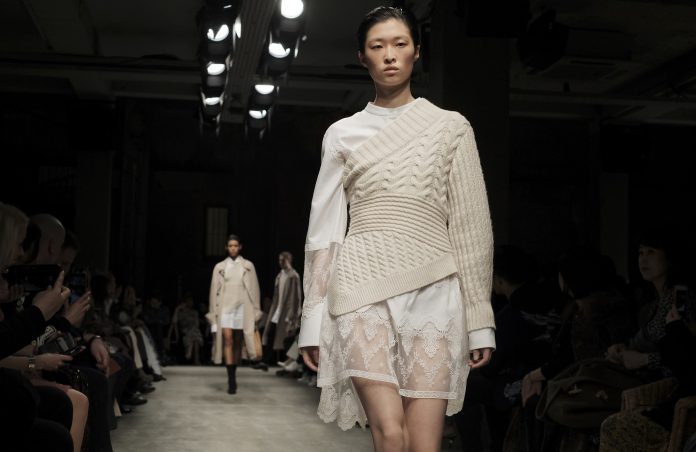 Burberry premiered its February 2017 collection for men and women at its Makers House show venue in London which was interspersed with bronze sculptures by Henry Moore, the iconic British artist that inspired the collection.
The Burberry February 2017 collection is inspired by the work and personal style of Henry Moore – exploring sculpture and silhouette, material and process, strengthening proportions and hard-wearing fabrics. The artist's influence is articulated through form, texture and crafted detail, as well as vivid prints referencing his designs from the archive at the Henry Moore Foundation.
"Henry Moore's art has always loomed large in my imagination: these great, iconic figures in the British landscape, elemental sculptures that manage also to be human, soft, approachable. I've always found them very moving, I think perhaps because they manage to be so monumental and yet so personal, so public and yet so private at the same time. Looking at – and thinking about – his work set up a series of conversations as we were working on this collection; discussions about scale, proportion, texture, patina and shape. We looked at the contradictions in Moore's work, between power and gentleness, heaviness and lightness, familiarity and abstraction. Between the hardness of his materials and the fluidity and softness of his forms. And we thought about the way in which he makes objects that combine beauty with oddness, the recognizable with the strange. At Burberry, we are always fascinated by the making process, where it is hidden and where it is revealed. The images of Moore in his studio – the stripes of his apron, the tools of his trade, the artist at work – ended up feeding into the collection itself. It is our privilege, with thanks to the great kindness of the Henry Moore Foundation, to be able to present our collection alongside the work that inspired it," said Christopher Bailey, Burberry Chief Creative and Chief Executive Officer.
As the brand's second straight-to-consumer collection, all menswear and womenswear looks shown on Burberry February 2017 show are available to buy via Burberry's physical, digital and partner retail networks immediately following the show. Fashion and art enthusiasts can make their way to the Makers House too to explore the new collection and the inspiration behind it through a unique exhibition, which includes over 40 of Henry Moore's works and sculptures.
British musician Anna Calvi performed the show's live soundtrack from a balcony overlooking the runway, accompanied by her band and members of the Heritage Orchestra & Choir.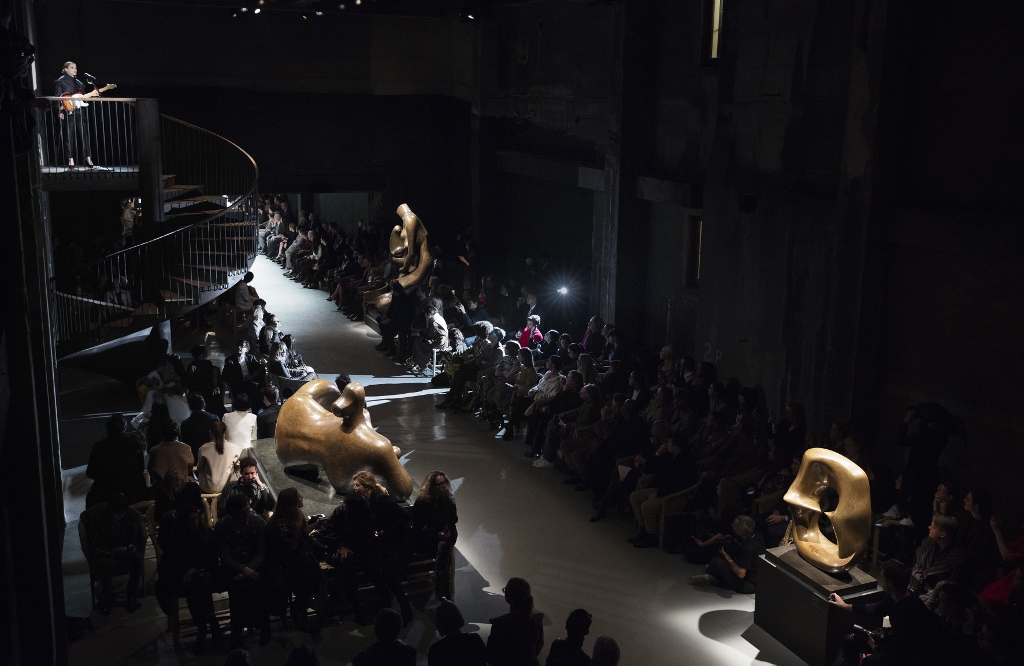 The show also introduced mid-calf boots with an angular cut-out heel for women, and leather brogues with an asymmetric closure for men: both playing on Moore's abstract sculpture.
A collection of 78 limited-edition couture capes was presented as part of the Burberry February 2017 show's finale. Inspired by the scale and form of Moore's elemental sculptures, each unisex design was made using unique constructions and referencing elements from the Burberry archive.
Each individually named cape is available for special order, and is part of a travelling exhibition around the world.
Celebrity fans of Burberry was all decked in the latest collection too during the show.
All menswear and womenswear looks from the Burberry February 2017 Collection are available to buy via Burberry's physical, digital and partner retail networks.
Read also: Jude Law's Daughter Iris Law is unveiled as the face of Burberry Beauty