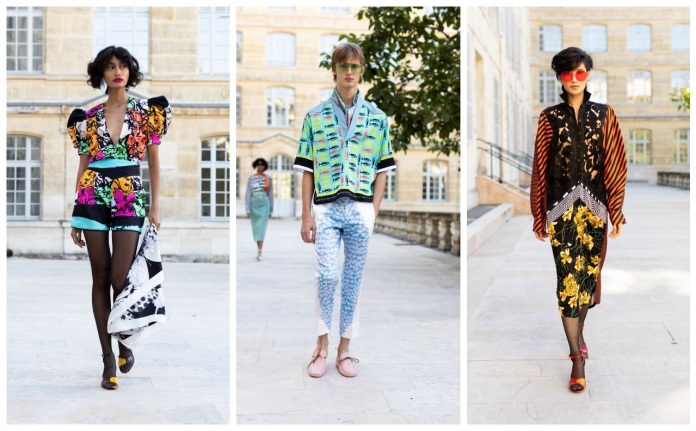 Bernard Chandran is no stranger to diversity having come from a mixed parentage background of Indian and Chinese, growing up in an Islamic country with a melting pot of rich cultures. Whilst diversity of ethnicity and size remain as headlines of the global conversation, Bernard Chandran whips his own version of diverse Asia, through his designs, colours, prints and innovations in the recent Spring Summer 2019 collection.
Synonymous with glamour, the designs carry the sensual elegance flavor of the 70s and 80s silhouette.
Big Lantern Sleeves
Updated big lantern sleeves, inspired by the 80s music video and TV series, take the centre focus, impeccably cut to voluminous proportions. Volume shoulder that slims narrowly at the cuffs gives a bouffant airy bounce without disturbing the lean fit look.
Scarf Cut Silhouettes
Scarf cut silhouettes of different lengths brought along a distinct sense of liberty and undeniable sophistication. Chandran's modern take on the 70s is definitely a refinement of sorts from femininity to a whisper of fun with plenty of vibrant prints in charge of keeping things looking effortlessly exciting.
Brimming with patterns and rich mainly in silk, the hues of this season are black and white; light blue, orange, aqua glass, black and gold.