Saturday Night Fever – The Musical

The all-time Bee Gees' Smash Hit Musical is ready to Heat-Up Kuala Lumpur this September 2015
Milestone Production is proud to present the iconic Broadway and West End disco marvel – Saturday Night Fever from 4 September 2015 – 13 September at Istana Budaya, Kuala Lumpur.
Featuring an amazing collaboration of award winning creative talents and headlined by hugely talented cast and musicians, the Saturday Night Fever 2015 Asian Tour, its first in eleven years will be jive dancing into the Malaysian stage with a repertoire of Bee Gees' hit classics such as "Stayin' Alive", "Night Fever", "More Than A Woman", "Tragedy", "Disco Inferno", "How Deep is Your Love", and "You Should Be Dancing".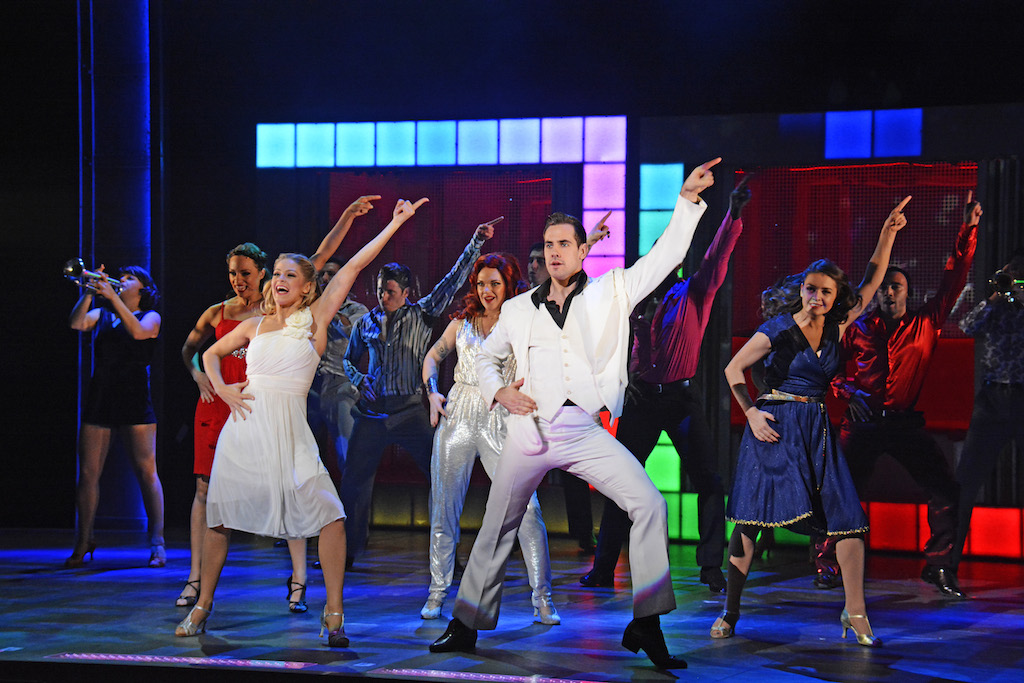 Based on the wildly popular 1970s film that defined the disco phenomenon and starring Oscar-nominee John Travolta, Saturday Night Fever depicts the uncompromisingly sordid 1970's New York that not only made a dance revolution at that time, but also spoke straight to a generation of lost, struggling young adults.
Saturday Night Fever: The story centres on Tony Manero, an Italian-American young man with a dead-end job and an extraordinary ability to dance. Every Saturday night at a local discotheque, Tony dons his flares and struts his stuff; capturing all eyes through his stylish moves on the dance floor. He has only one ambition in life – to become the disco king. When he meets Stephanie, who also dreams of a world beyond Brooklyn, they decide to train together for a dance competition and their lives begin to change forever.
In 2004 The Bee Gees were given a Grammy Hall of Fame Award for the sound track to Saturday Night Fever. Premiered in the West End at the London Palladium in 1998 and Broadway at the Minskoff Theatre in 1999, the spectacular musical Saturday Night Fever has been seen by over 10 million people with over 2,800 shows in more than 20countries across the globe, thrilling theatre and music buffs alike through out the years.
Grace Lee , Managing Director of Milestone Production was quoted in her speech during the recent media launch on 2nd June 2015 that the staging of Saturday Night Fever here in Malaysia is in line with Milestone Production's consistent effort in bringing world class theatre productions to our shores. Milestone Production aim to help build the nation's status as a hub for the performing arts in this region which surely will greatly contribute to efforts in making Malaysia the top-of-the-mind tourist destination.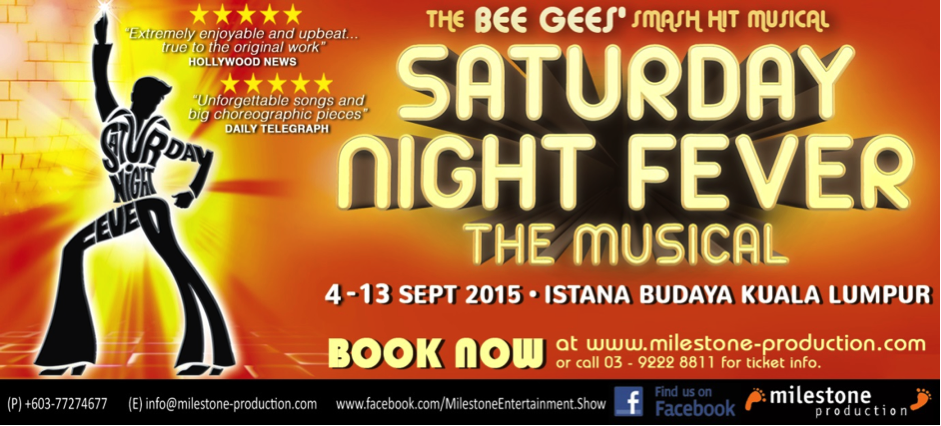 Tickets are now open for sale, priced at RM568 (VVIP), RM398 (VIP), RM338 (CAT A), RM268 (CAT B), RM138 (CAT C) – (Ticket prices are inclusive of 6% GST but not inclusive of RM4 ticketing fee).
Ticket Promotion
Early Bird Discount
15% off for VVIP , VIP, Cat A , Cat B ticket prices for shows on Friday, Saturday and Sunday
20% off for regular ticket prices for shows on Tuesday, Wednesday and Thursday
Offer ends on 14 July 2015
Student Discount
Enjoy up to 25% off for regular tickets.
For ticket sales, log on to www.milestone-production.com or call 03-92228811.
Show Dates
4 September 2015 (Friday) – 8.30pm
5 September 2015 (Saturday) – 3.00pm & 8.30pm
6 September 2015 (Sunday) – 3.00pm & 8.30pm
8 September 2015 (Tuesday) – 8.30pm
9 September 2015 (Wednesday) – 8.30pm
10 September 2015 (Thursday) – 8.30pm
11 September 2015 (Friday) – 8.30pm
12 September 2015 (Saturday) – 3.00pm & 8.30pm
13 September 2015 (Sunday) – 3.00pm & 8.30pm
Venue
Istana Budaya, Kuala Lumpur