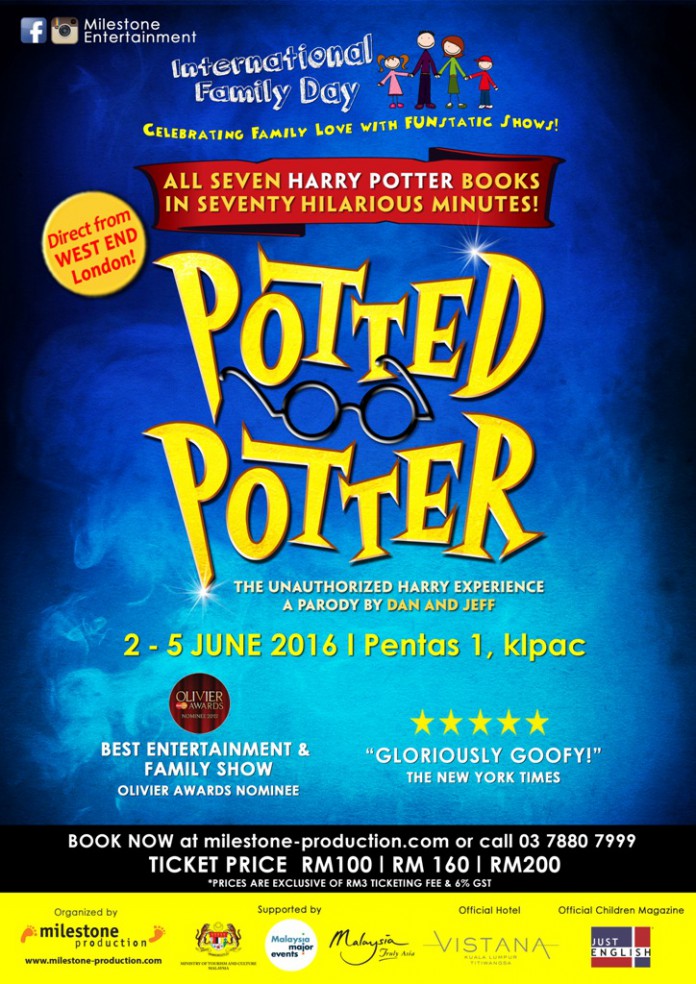 Tell the kids and Potterheads, there's no need for them to wait for their letters to Hogwarts School of Witchcraft and Wizardry now that Potted Potter is in town!
This June 2nd to 5th, experience the magic onstage in full theatrical effect at KLPac as Milestone Production is bringing the magical world of Harry Potter to life. With Potterheads around the world eagerly awaiting for the release of the eighth Harry Potter book, Milestone Production is giving you a special chance to come and refresh your memory of all past seven Harry Potter books in 70 hilarious minutes.
Based on J.K Rowling's bestselling series, Potted Potter—The Unauthorized Harry Experience—A West End London Parody by Dan and Jeff takes on the ultimate challenge of condensing all seven Harry Potter books (in addition to a real life game of Quidditch) into a fun-filled stage production to be enjoyed by all.
This Olivier-nominated production was created by two-time Olivier Award-nominated actors Daniel Clarkson and Jefferson Turner. Other shows this dynamic duo have produced include Potted Pirates, Potted Panto and the very recent Potted Sherlock. With Potted Potter now coming to our shores, here's a chance for all Potterheads to relive their favourite parts of the novels in the company of likeminded fans.
So dig out your favourite 'wizard hat and robes', stock up on some Chocolate Frogs and Bertie Botts' Every Flavour Beans and make your way to klpac this June 2nd – 5th to indulge in some laughs and magic.
Get the tickets now at milestone-production.com. Tickets for Potted Potter are priced at RM200 (VIP), RM160 (CAT A) and RM100 (CAT B), exclusive of 6% GST and RM3 ticketing fee. Early Birds discounts up to 15% off regular ticket prices are available for ticket buyers before 24 April 2016.