Chinese New Year (CNY) is a good time for entertainment with your family and friends – and this CNY looks to be a good one for movie fans as a great line-up of CNY movies are awaiting you in cinemas. As a norm, the movies released during CNY period are mostly of the comedy and fun genre to match the festive atmosphere, this CNY has no exception.
Here we have listed 5 "Must-Watch" movies that are suitable for the enjoyment of whole family this CNY.
1. OlaBola
The first "must-watch" is definitely our truly Malaysian movie directed by Chiu Keng Guan, OlaBola, which is inspired by a true story, which tells the tale of national football players who brought honour to Malaysia when they qualified for the 1980 Olympic Games in Moscow, Russia. The movie "OlaBola" which was released on January 28 nationwide and Brunei, has achieved RM2.5 million in its first four days of screening.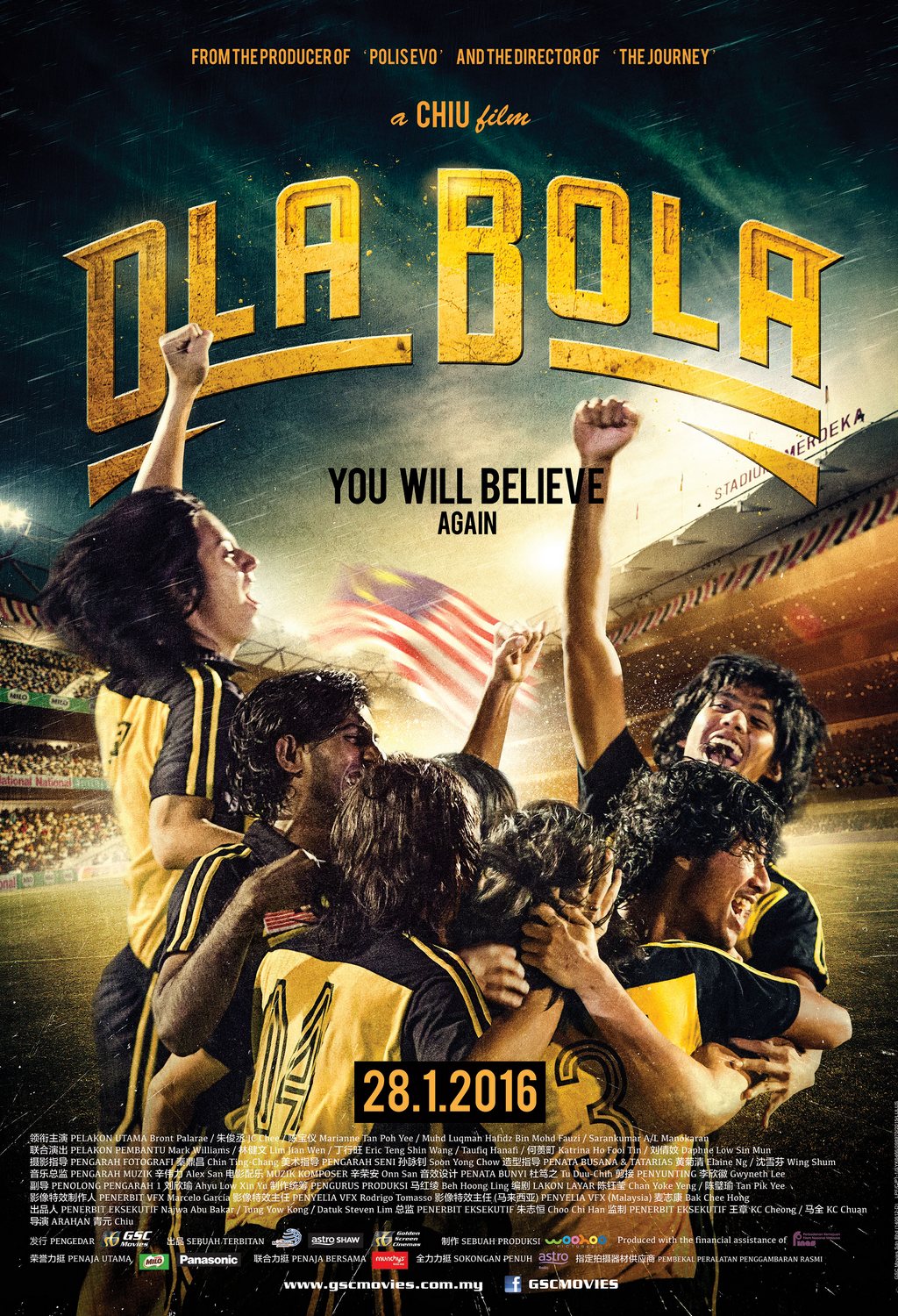 Release Date: 28 January 2016
Language: Malay, Mandarin, Tamil, English
Genre: Drama
Classification: U
Running time: 113 minutes
Cast: Chee Jun Cherng, Bront Palarae, Eric Teng Shin Wang
Synopsis: 
Set in the 1970's, OlaBola celebrates the unity and courage that inspire a team of Malaysian footballers to rise through all odds and create a most triumphant zero to hero story. Inspired by real events, the film showcases the pride and passion of a multicultural football team and their struggles to overcome personal and collective hardships. It is at once a powerful exploration of everyday human relationships and of the indomitable spirit that perseveres through tribulations. An original Malaysian story directed by Chiu Keng Guan, OlaBola is a film for Malaysians from all walks of life; and an inspiring journey into the hearts of everyday Malaysian heroes.
2. From Vegas To Macau 3 赌城风云3
Following the great success of the previous From Vegas to Macau movies, this latest From Vegas to Macau 3 will be in Malaysia cinemas on Chinese New Year on February 5. This movie again with the A-list cast, besides the former lead cast Chow Yun Fat, Andy Lau and Carina Lau, Jacky Cheung and Nick Cheung are also take part in this star-studded movie.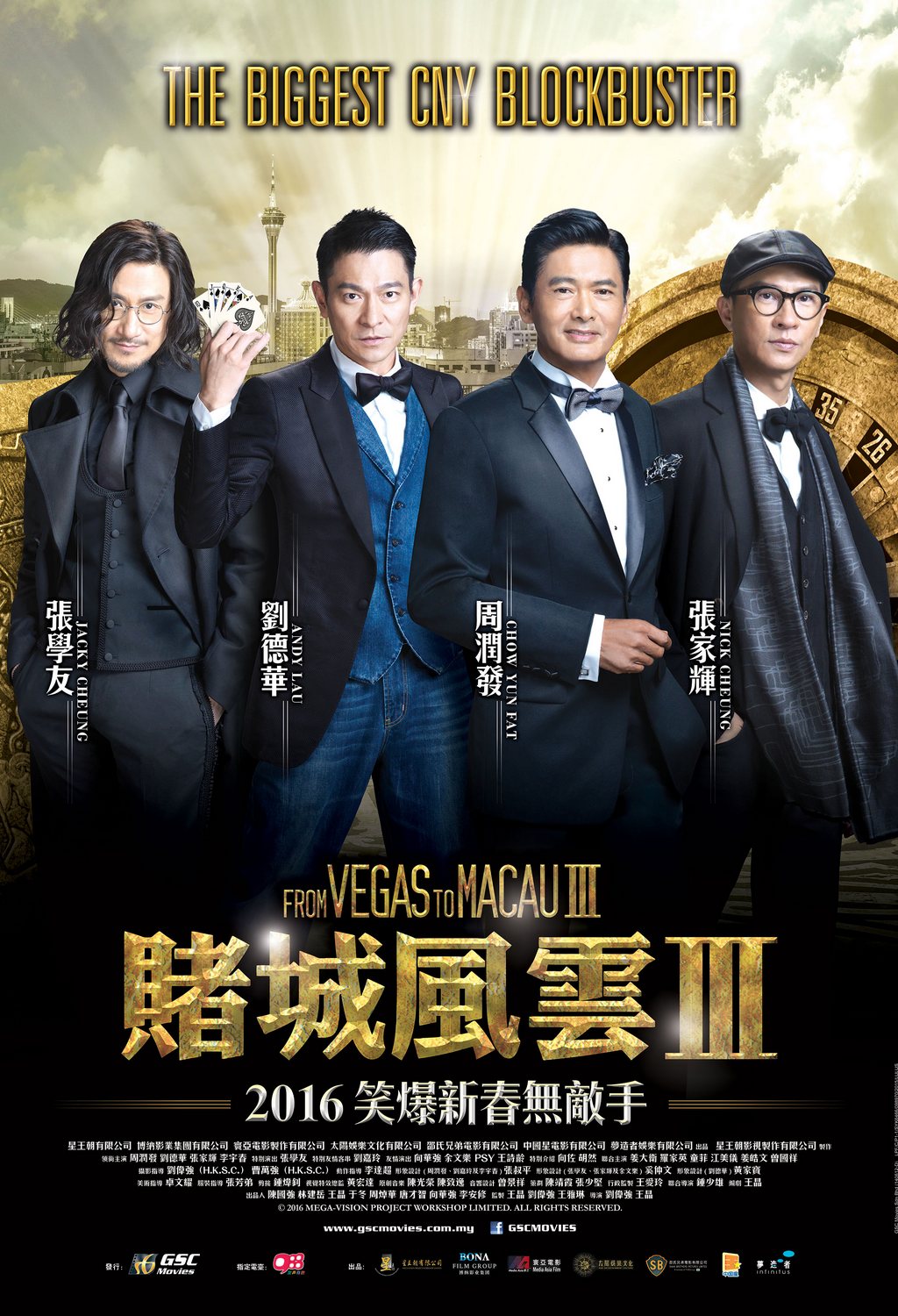 Release Date: 5 Feb 2016
Language: Cantonese
Genre: Action Comedy
Classification: P13
Running time: 113 minutes
Director: Wong Jing
Cast: Chow Yun Fat, Andy Lau, Nick Cheung, Jacky Cheung, Carina Lau, Shawn Yue, Li Yuchun
Synopsis:
A grand wedding ceremony is being held at a resort hotel in Macau. It is the wedding of Ken's daughter, Rainbow and his protégé, Vincent. Ken's close friends, Vic and Mark are also on the guest list. During the ceremony, Mark receives a call from his buddy, Michael Chan, warning him to beware of a mysterious tycoon who has hired mercenaries to kill Ken. The wedding is sabotaged, while Ken and Mark are accused to have engulfed DOA's illicit money. Ken and Mark are once again being hunted down by assassins and luckily Michael comes to their rescue with the help of Faye, Ko Chun's niece and Long Wu Jr. In a twist of events, Ken stands in as a double for Ko Chun to participate in "The Ultimate Men Charity Ball" and wins his way through with the help from his friends. Together, they have to pursue the mastermind who has entangled them in his evil plans…
3. The Mermaid 美人鱼
Talented Stephen Chow returns as a director once again with his upcoming fantasy-themed movie, The Mermaid. For the hardcore fans of talented Stephen Chow, this movie can't be missed. With his unique thrills and comedy sense in previous movies e.g. Kung Fu Hustle, Shaolin Soccer and many more, his movie is always one to anticipate, although he has retired from acting scene and is focusing on directing.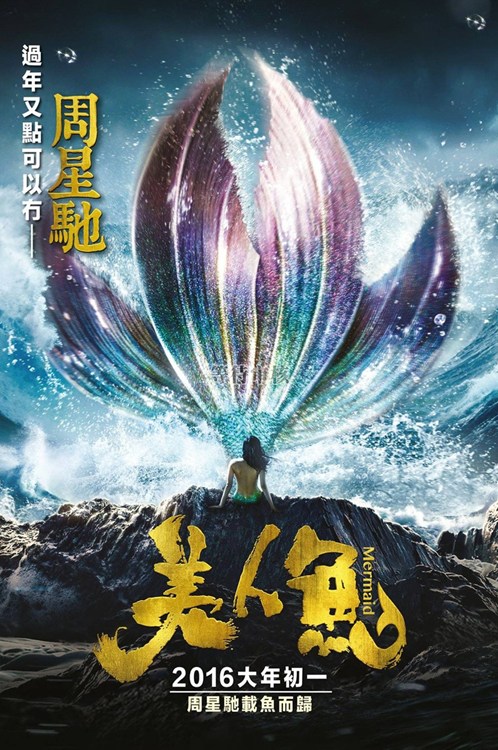 Language: Cantonese
Classification: NA
General Release Date: 08 Feb 2016
Genre: Comedy / Fantasy / Science Fiction
Running Time: 100 minutes
Director: Stephen Chow
Cast: Deng Chao, Show Luo, Kitty Zhang, Lin Yun
Synopsis:
Hin's real estate project involves reclamation of the sea. This threatens the livelihood of the residents who rely on the sea to make a living. Shan is dispatched to stop Hin and this encounter soon leads to them falling for each other. Out of his love for Shan, Hin plans to stop the reclamation. Unfortunately, Shan gets injured in an accident and vanishes into the sea.
4. The Monkey King 2 西游记之孙悟空三打白骨精
The Monkey King 2 is an upcoming Hong Kong-Chinese fantasy film based on the classic novel Journey to the West by Wu Cheng'en. It is a sequel to the 2014 box office hit The Monkey King with Cheang Pou-soi returning as director and Sammo Hung as action director, whom replaces Donnie Yen's role from the previous installment. Film stars Aaron Kwok, who portrayed the main antagonist in the previous installment, as the film's titular protagonist, whom also replaces Yen from the previous installment.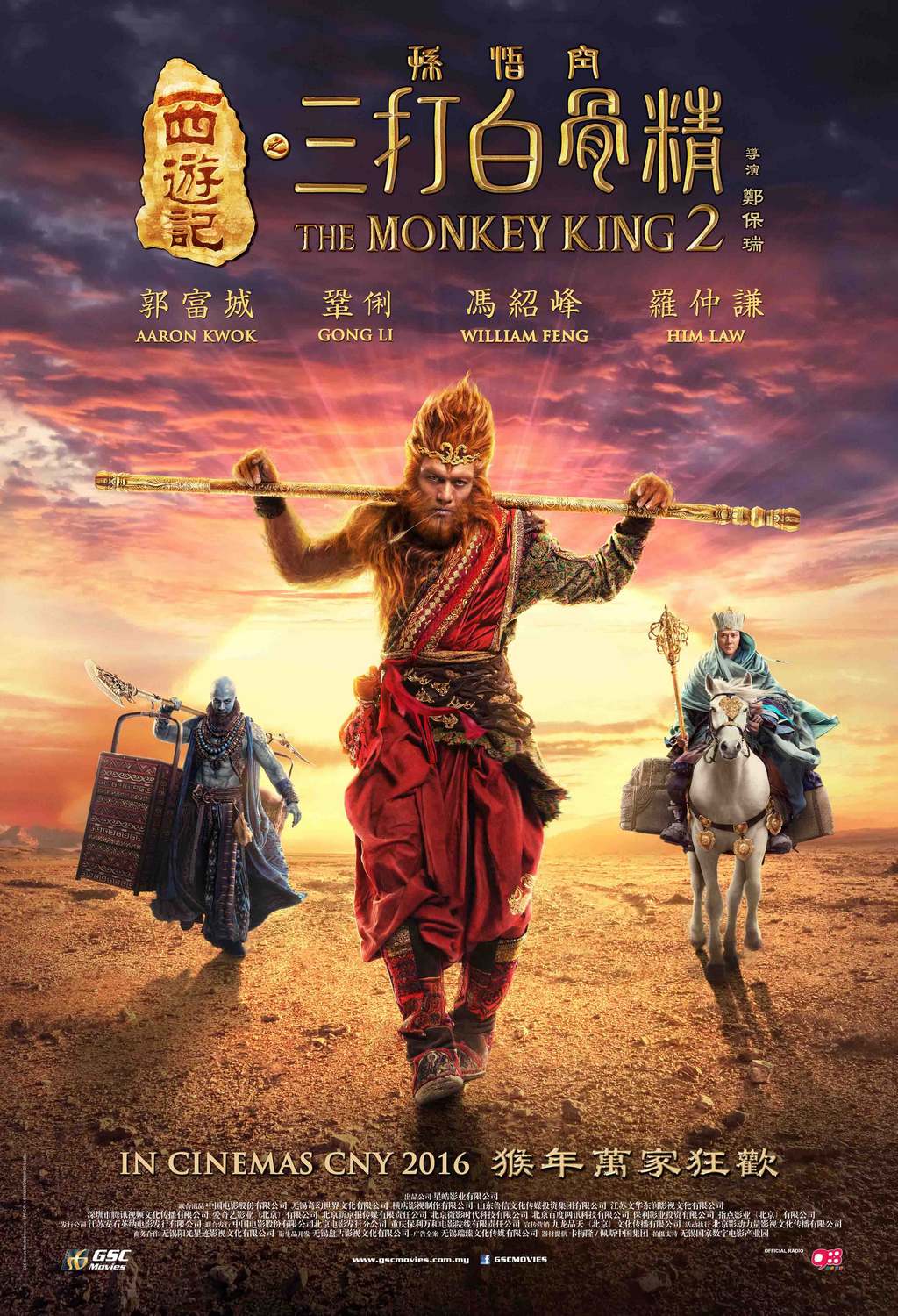 Release Date: 5 Feb 2016
Language: Cantonese
Genre: Action, Adventure
Classification: P13
Running time: 119 minutes
Director: Soi Cheang
Cast: Arron Kwok, Gong Li, Feng Shao Feng, Xiao Shen Yang, Him Law, Kelly Chen
Synopsis:
Taking place 500 years after the Havoc in Heaven, the Tang Priest is appointed by Buddha to go to the West to fetch the sacred scriptures, only to accidentally free the Monkey King. With Lady White aiming to break up the team assembled to defeat her, the Monkey King must fight in order to save his world!
5. HUAT THE FISH四个愚夫之金玉满堂
Huat The Fish is also a local movie featuring an ensemble cast made up mostly of MyFm and Melody FM DJs such as Jack Lim, Jeff Chin, Juztin Lan, Alvin Chong, Wan Wai Fun, Bernard Hiew, Gan Mei Yan and more. It is a nonsensical comedy movie that suitable for the viewing of whole family during this joyous festive season.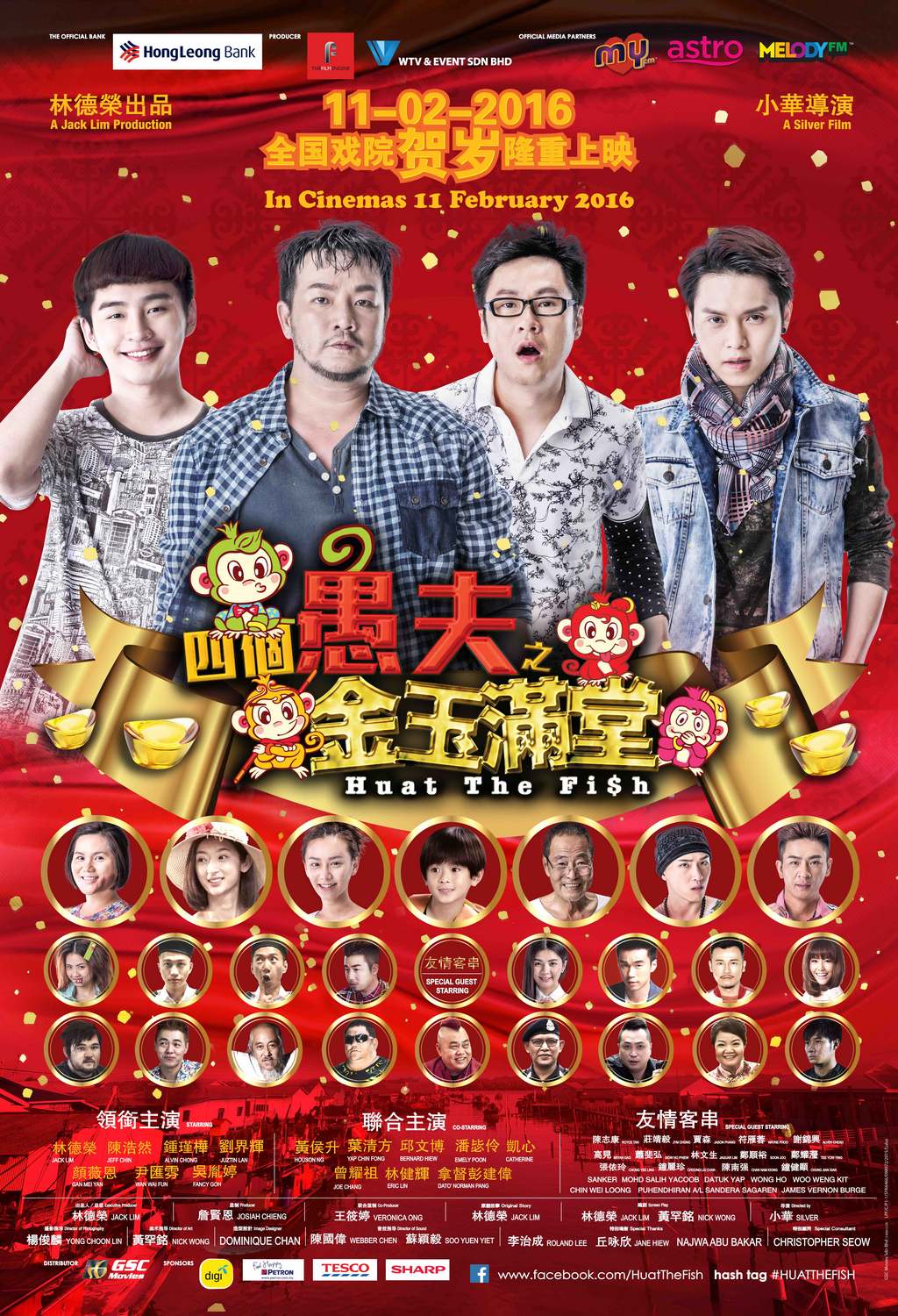 Release Date: 11 Feb 2016
Language: Cantonese
Genre: Comedy
Classification: U
Running time: –
Director: Silver Yee
Cast: Jack Lim, Jeff Chin, Juztin Lan, Alvin Chong, Wan Wai Fun, Bernard Hiew, Fancy Goh, Gan Mei Yan
Synopsis:
This is a story that revolves around the lives of four fishermen who are buddies from a fishing village at Pulau Ketam. In order to settle a huge loan, the four buddies decide to venture into a robbery. In their attempt, the four buddies crash into a real robbery scene. In the chaotic chase, the four buddies end up with 2 bags of stolen jewelry. They emerge the heroes of the case by surrendering only one bag of jewelry to the police. One day, a group of tourists visit the island. The four buddies were made the tour guides. At a later stage, the robbers from the earlier robbery locate the four buddies at Pulau Ketam. Will the robbers get back the stolen jewelry? Will the four buddies get away with such a crime?