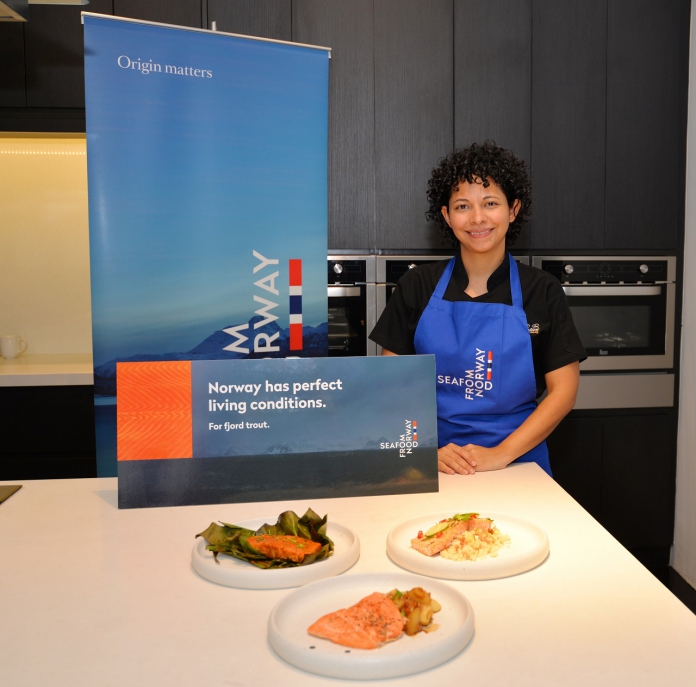 It's important to eat foods that are safe and rich in nutrients to keep your energy levels up, your mental focus clear and your body running optimally especially during the Ramadhan period. An ingredient such as Norwegian Fjord Trout is a good example of something you can add into your meals for buka puasa and sahur as it's high in protein, full of antioxidants, and essential omega 3 fats.
"The Norwegian Fjord Trout has become a popular fish of choice among Malaysians," says Mr Jon Erik Steenslid, the Norwegian Seafood Council director for South-East Asia. "From our recent Seafood Consumer Index, an annual survey conducted by the Norwegian Seafood Council, the results show that 3 out of 4 Malaysians think it's important to know the origin of their seafood and 1 out of 2 Malaysians prefer to buy Fjord Trout from Norway."
The Norwegian Fjord Trout is similar to salmon but its flesh has a deep red-orange colour with white marbling that gives the fillets a luxurious feel. Norwegian Fjord Trout has a remarkably rich flavour, with a pure aftertaste. It has a lustrous and silvery skin like salmon and grows to a weight of 2.5 kilos, which is a bit smaller than salmon.
Here are 5 reasons to include the Norwegian Fjord Trout into your diet:
1. Eat more Norwegian Fjord Trout during Ramadan for overall well-being
During the fasting month it is important to eat foods with essential vitamins and nutrients to keep your energy levels up, your mental focus clear and your body running optimally throughout the day. Norwegian Fjord Trout is one fresh ingredient that can boost your overall health during this time.
2. Protein is a must
It can be tempting to sleep in and to skip sahur or to just grab a quick convenient bite but paying close attention to what you eat during this time can make a big difference in how you feel overall. Eating protein-rich foods such as Fjord Trout will prevent hunger and tissue breakdown and will keep your mind focused till it's time to break fast.
Protein is an important component of every cell in the body. It helps to build and repair tissues, make enzymes and hormones and it's the essential building block of bones, muscle, cartilage and blood. A diet high in protein will ensure you feel full and satisfied, while your body will benefit from enough building blocks to repair itself fully during Ramadhan.
3. Omega 3's boost mental focus
During the fasting month it is particularly important to eat foods rich in omega-3 as this will help keep fatigue at bay and improve your concentration. Fjord Trout is high in these fatty acids which will help you stay clear-headed throughout the day and improve your mood and overall mental focus.
4. Healthy fat burns belly fat
The change in meal times during the fasting period can often put the body through stress. When our stress levels go up we are more susceptible to put on weight in areas such as our belly. Consuming a diet rich in healthy fats such as the oily Fjord Trout helps to burn excess belly fat. Instead of burning the glucose stores in our body for energy, the body will burn fat instead. This will result in a slimmer and healthier overall physique.
5. Promote glowing skin
During Ramadan our skin can take a beating. This is due to the change in sleep schedules along with mealtimes that no longer follow a pattern. Skin can appear dull and sallow during this period and a great way to keep that at bay is to add more Fjord Trout into your diet. Fish oils aid in cell rejuvenation and will nourish your hair, skin and nails for an overall healthy glow.
After knowing it's health benefits, Alexandra Prahabaran, a certified nutritionist, is sharing 3 healthy, quick, and wholesome recipes you can try using Norwegian Fjord Trout. The protein-rich trout will help prevent hunger and fatigue till it's time for berbuka puasa.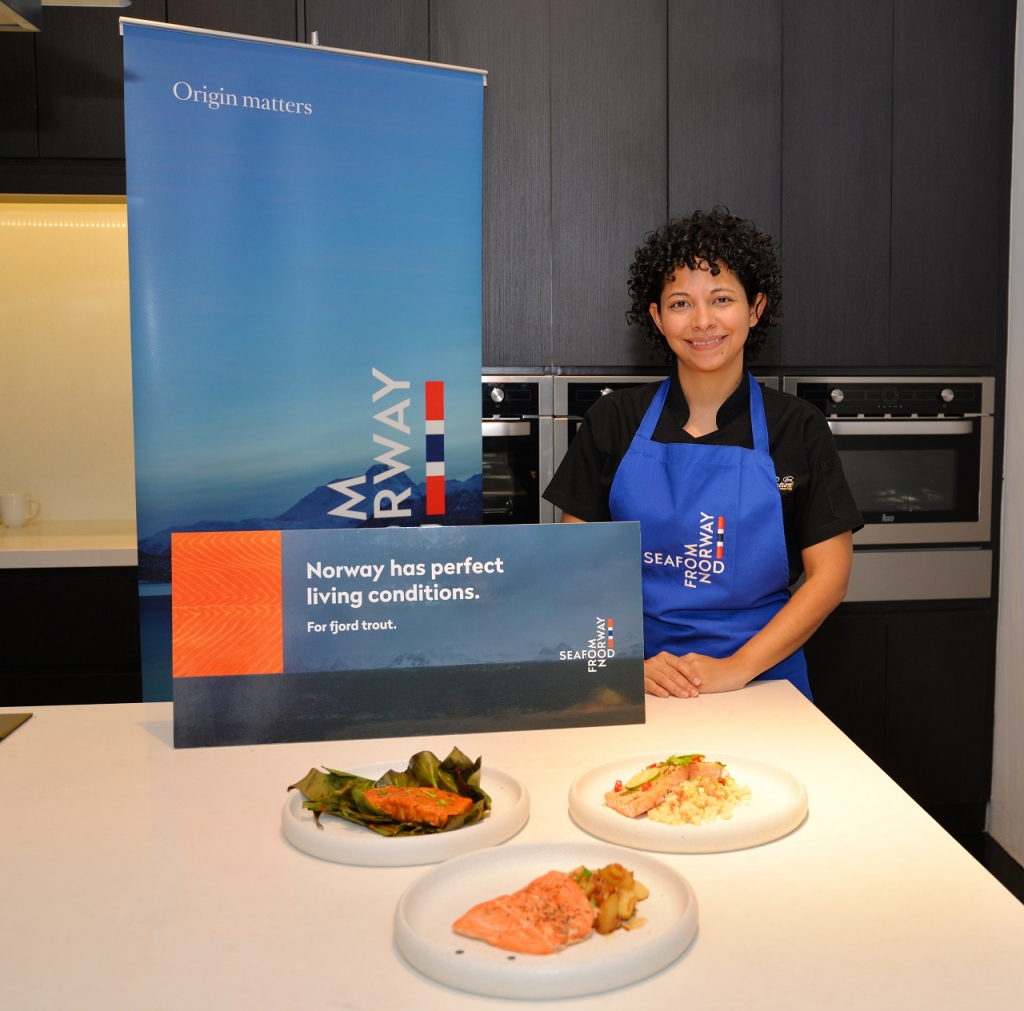 1. Kaffir Chilli Norwegian Fjord Trout with Quinoa Bubur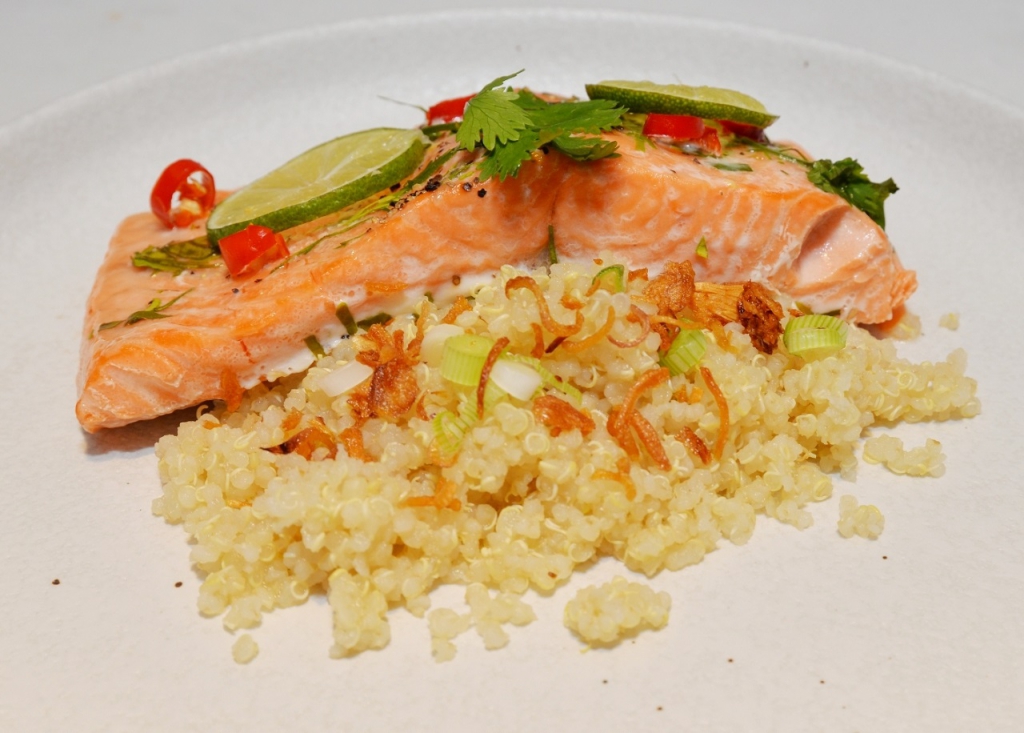 Ingredients
1 Trout fillet
1 kaffir lime leaf, sliced thin
1 lime, sliced
1 red cili padi, sliced
1 handful cilantro (daun ketumbar)
1 cup quinoa, cooked
1 cup fish stock
1 spring onion, sliced
Salt and pepper, to taste
Method
Place the cooked quinoa and fish stock in a pot and let simmer till it thickens into a bubur consistency.
While that is cooking, place in a piece of aluminium foil the trout with the kaffir lime leaf, lime, cili padi, and cilantro. Sprinkle with salt and pepper and wrap up tight and bake in the oven at 200C for 15mins.
Put the bubur in a bowl. Once the trout is cooked remove from the oven and place some on top of the bubur and sprinkle with some spring onion to serve.
2. Seared Norwegian Fjord Trout and Asian Potato Salad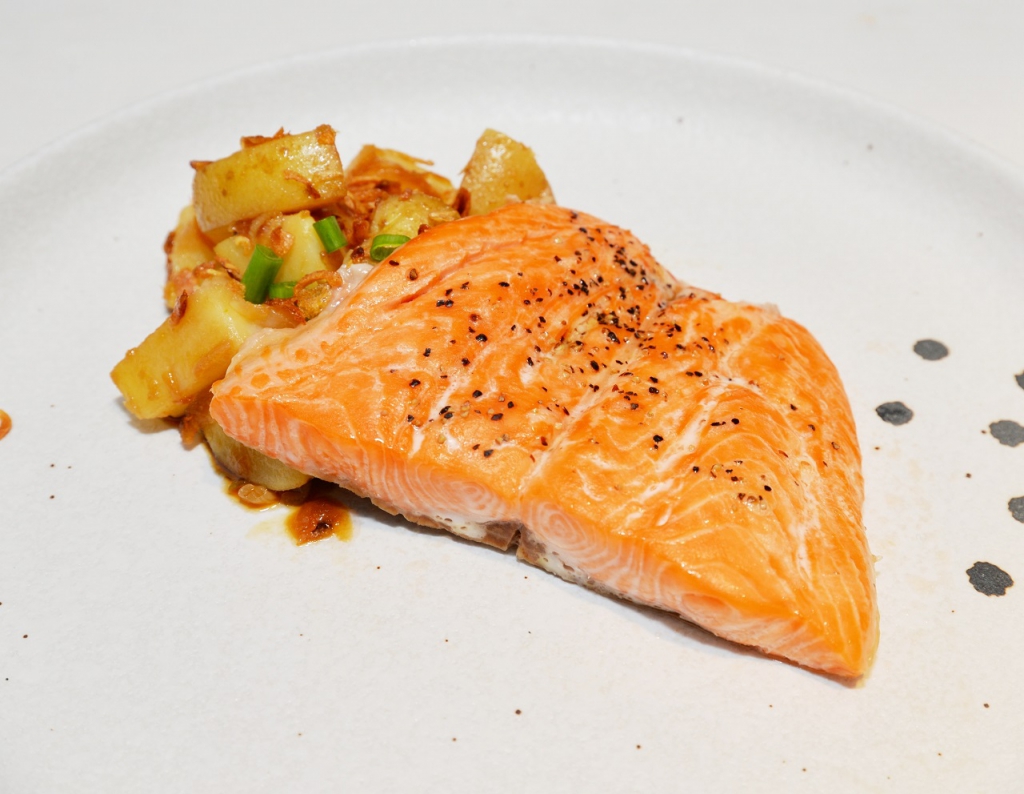 Ingredients
1 Trout fillet
2 waxy potatoes, cooked
1 Tbs light soy sauce
1 Tbs sesame oil
1 spring onion, sliced
1 tsp fried shallots
1 inch ginger, grated
Salt and pepper, to taste
Olive oil
Method
Drizzle the trout with a bit of olive oil and sprinkle with salt and pepper. Bake in the oven at 200C for 10mins.
While that is cooking cut the potatoes in cubes and set aside. Whisk together the soy sauce, sesame oil and grated ginger. Toss with the potatoes.
Top the potatoes with spring onion and fried shallots and serve with the cooked trout.
3. Norwegian Fjord Trout Bakar in Banana Leaf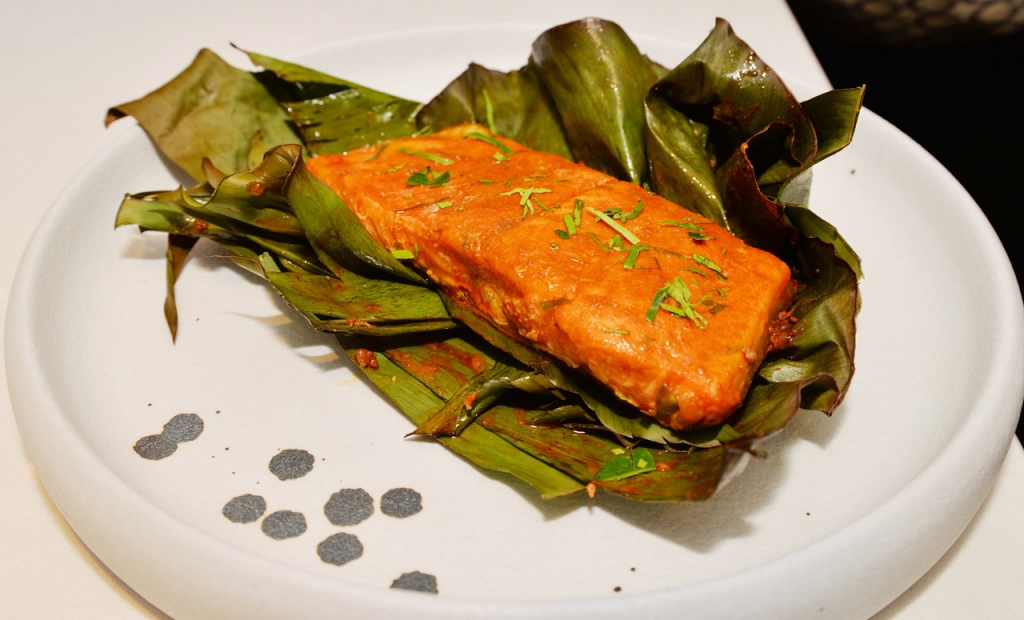 Ingredients
1 Trout fillet
1 Tbs fish curry powder
1 Tbs chilli powder
1 tsp brown sugar
1 tsp belacan, grated
Kaffir lime leaves, chopped
Olive oil
Salt, to taste
Banana leaf
Method
Mix the curry powder, chilli powder, belacan, sugar and salt together.
Make slits on the skin side of the trout. Rub the spice mix on thoroughly. Push the kaffir lime leaves in the slits of the fish.
Drizzle some oil on the fish and wrap with banana leaf. Roast in the oven at 220C for 15mins. Serve with sambal on the side.
The Norwegian Fjord Trout is widely available in markets, supermarkets and seafood stores in Malaysia.
For more information, please visit https://en.seafood.no/.
Read also: #Ramadhan2018: Keep Your Skin Looking Bright With Astute Clinic's Premier Medical Facial