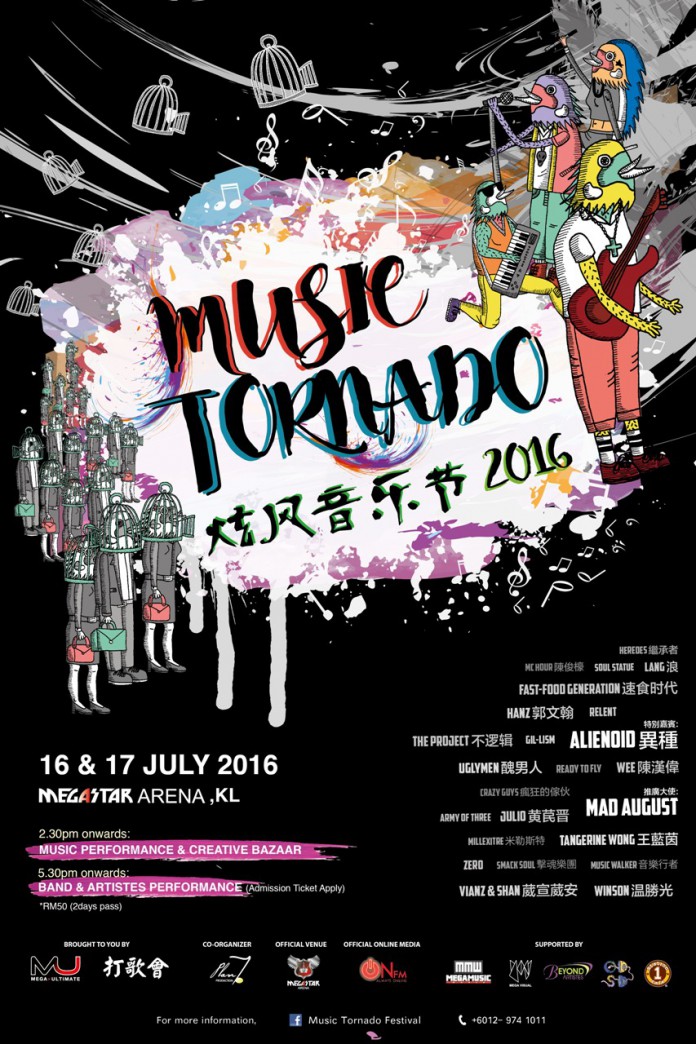 We offer you a chance to rock-n-roll at the "Music Tornado Festival 2016" which will be held at at Mega Star Arena this July 16 -17, 2016. Just answer 2 simple questions to stand a chance to win a pair of entrance passes. Total ten (10) pairs of tickets to giveaway!
Answer 2 simple questions to enroll:
When the Music

Tornado

Festival

2016 will be held?
Where the Music

Tornado

Festival

2016 will be held?
Send your answers for the above 2 questions together with your personal details (full name, NRIC, mobile number, email and correspondence address) to editor@pamper.my by 11.59p.m. on July 6, 2016.
"Music Tornado Festival 2016" is a platform for all local compose bands & group to get together while showcasing their passion with no limits on music genre. This is the best networking session for all participating musicians and artistes to share their experiences.
This two-day festival will be filled with interactive activities, awesome stages, numerous of live acts, and an incredible atmosphere. The performing bands & artistes, including TANGERINE WONG 王藍茵、UGLYMEN醜男人、WINSON溫勝光、WEE陳漢偉、HANZ郭文翰、VIANZ & SHAN WEI 葳萱葳安、THE PROJECT 不邏輯、JULIO 黃苠晋、LANG浪、FAST-FOOD GENERATION 速食時代 and more.
Related: Music Tornado Festival 2016 | Mega Star Arena, July 16 & 17