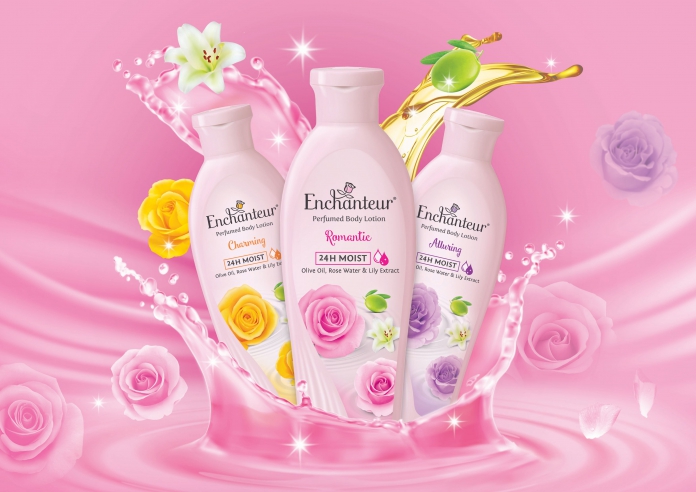 The new ENCHANTEUR 24H Moist Perfumed Body Lotion is specially formulated with Rose Water, White Lily Extract and Pure Olive Oil to keep your skin moisturized, youthful and glowing all day long with just one application a day, a great alternative for the busy ones.
Rose Water is a well-known ingredient which nourishes and hydrates skin. White Lily Extract is rich in amino acids and minerals while Pure Olive Oil is a long trusted ingredient to maintain beautiful skin. The combination of these three amazing natural ingredients, work wonders to penetrate deeply into the skin to nurture, moisturize and nourish the skin to ensure hands and body stay soft, smooth and youthful!
It is clinically proven that with a single application of ENCHANTEUR 24H Moist Perfumed Body Lotion, skin enjoys immediate moisturization and hydration for up to 24 hours. It delivers luxurious moisture providing a comfortable texture to the skin. ENCHANTEUR 24H Moist Perfumed Body Lotion's aqua based formulation, does not leave an oily and sticky feeling to your hand and body.
As a connoisseur of fragranced personal care products, ENCHANTEUR 24H Moist Perfumed Body Lotion is also infused with 3 of ENCHANTEUR's French-inspired fine fragrances to help ignite and rekindle the romance. ENCHANTEUR 24H Moist Perfumed Body Lotion keeps your hand & body skin healthy and silky smooth, while the lingering with romantic scent of ENCHANTEUR, makes you so irresistible.
ENCHANTEUR Charming (made for the sensual, elegant & sophisticated)
The fragrance which captures the essence of sophistication and chic femininity opens with an exotic mix of Rose and Muguet that's embraced by Citrus and Aldehydes. It then undergoes a subtle change as the base notes of Musk and Cedarwood become more apparent to perfectly complement your inner style.
ENCHANTEUR Romantic (made for the uplifting, cheerful & feminine)
A scent which bears the joyous burst of zesty Mandarin with lively, green crisp of Violet and Galbanum that signify the beginning of a wonderful love. Just like true love that grows deeper, ROMANTIC blossoms beautifully with Bulgarian Roses and White Jasmine mingled with delicate scent of Mimosa and Orange Flower. Lingering warm Sandalwood and Vanilla wrap up this lovely concoction that puts romance in the air.
ENCHANTEUR Alluring (made for the seductive, passionate & mysterious)
An exotic, seductive fragrance that exudes a sweet mysterious aura. It blends fruity notes of Bergamot and Passion fruit, dissolving into an intoxicating bouquet of Rose and Iris, and warmed by rich Vanilla, Musk and Vetiver – thereby concocting a bold scent that's one of a kind.
The new ENCHANTEUR 24H Moist Perfumed Body Lotion Range retails at RM11.90 (including 6% GST) per bottle of 220ml and is available at all major supermarkets, hypermarkets and pharmacies.
For more information about ENCHANTEUR, visit enchanteur.com.my or check out ENCHANTEUR's Facebook page at facebook.com/enchanteurmy .
Read also: Be Enchanted with the New Stunning Scent from ENCHANTEUR