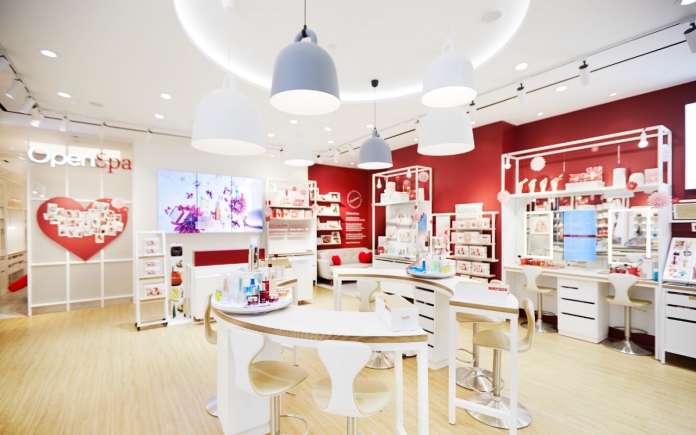 French skincare expert, Clarins is proud to the announce launch of the brand's flagship store in Malaysia, unveiling a new pampering heaven for skincare and cosmetic at Mid Valley Megamall. Known for its revolutionary plant-science spirit, Clarins continues to redefine the beauty experience mold with this new 1,130-square-foot beauty store that offers an expansive range of products and services, all contribute to create an oasis of well-being in centre of the city. It is with much excitement that the space also features an inspiring spa environment with a complete result-oriented spa experience to fulfill all beauty needs in one location.
Here are some snippets from the launch recently.
The new flagship store is enveloped in sophisticated red & white walls, warm lightings and
splashes of wood pattern, the atmosphere reflected Clarins' concept on simplicity and purity with a touch of modern elegance. A contemporary take on beauty retail – Clarins is devoted to achieve an enriching life.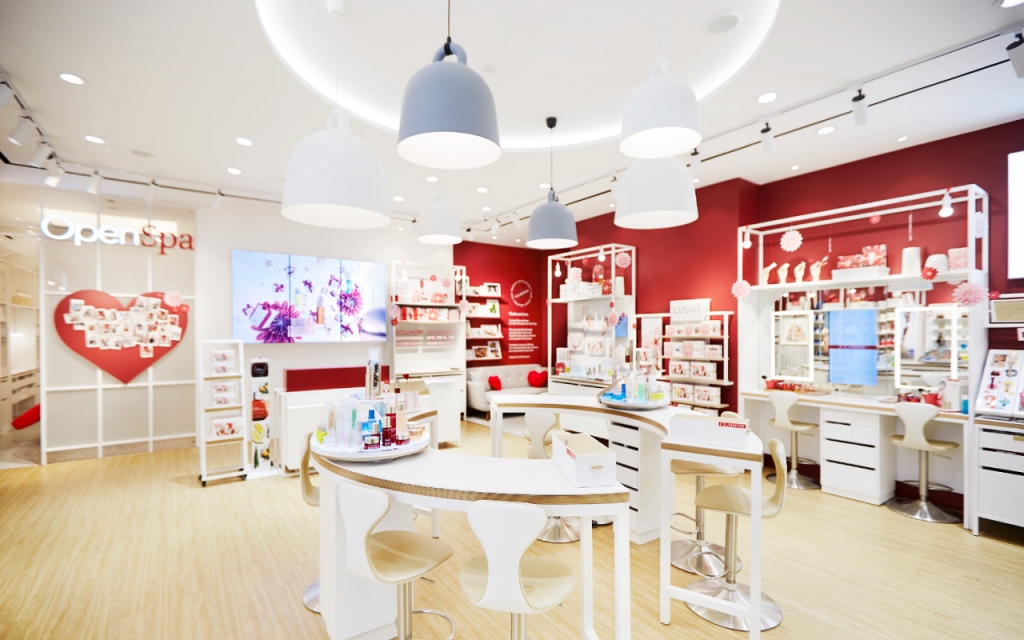 As part of its expansion plan in Southeast Asia, this new boutique embodies the characteristic of Clarins "The Trusted French Skin Expert" beauty philosophy, presenting customers with an optimized store design and intimate format that fosters personalized connections between customers and the beauty advisors. The store will be the ultimate one-stop beauty destination for Clarins devotees, housing its full range of skincare, makeup, body, men's cult-worthy skincare line and open spa, merges the best of an inclusive neighborhood retail environment that enable the expert beauty advisors to customize recommendations on an individual basis. A unique concept centered on client experience and 360-approach to time honored beauty.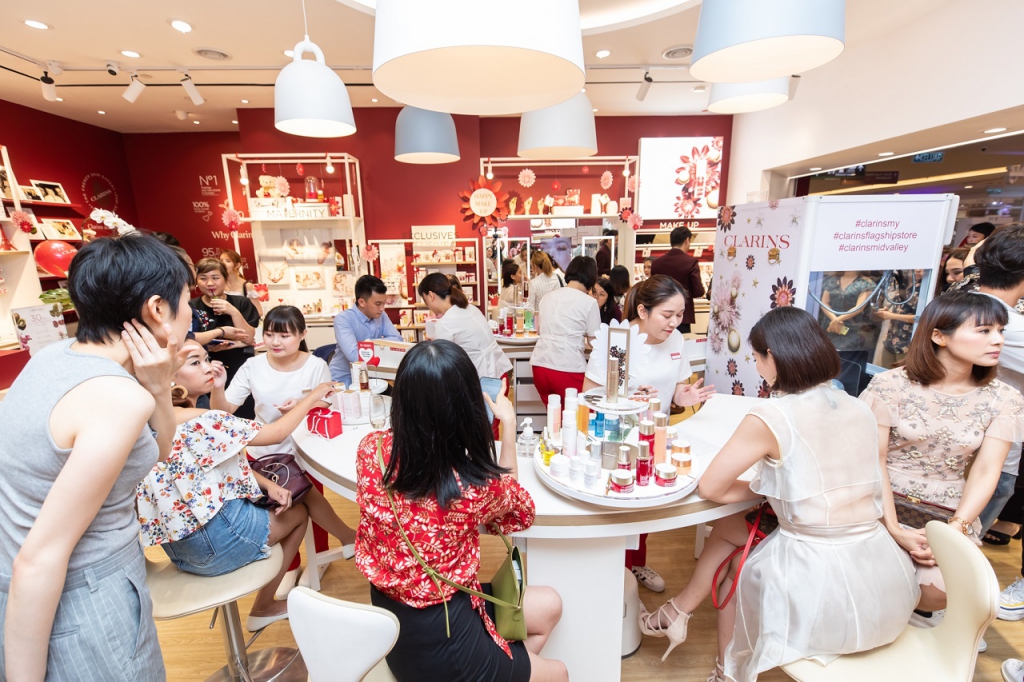 ● Travel Zone beauty on the go
Travel sizes are available for frequent travelers and those who like to do sports. Customers can delight in various products packaged in compact containers and carry comfortably.
● Iconic & New Product Section discover the products that deserve your loyalty
Meet the star of the season. Customers are invited to discover this section that highlighting a variety of Clarins' latest and best-selling products through the years. Browse the selections and find some new inspiration!
● Sample Wall learn, experience & indulge
Customers to test & try the products, and creating their own skin care program. Pick samples according to skin needs upon completion of a consultation, with skin care coaching and demonstration of 100% manual Clarins application techniques that boost its optimum efficacy: easy methods to repeat at home.
● Maternity Corner beauty through every stage of motherhood
A complete range of pregnancy care products for pre-natal and post-natal to help new or expectant mothers feel beautiful. Give your skin the special attention it needs and enjoy this precious moment with Clarins!
● Gift Wrapping happiness sparkles
Feel good & look good. Beautiful skin is the gift that keeps on giving. Complimentary gift-wrapping service is provided to add the French romantic thoughts – an enchanting treat to your love ones.
● Make-up Area for look that shines from morning to night
The store is making make-up even easier and fun – range of makeup that embodies on the motto of "healthy, happy and easy". Complimentary make-up demo and touch-ups are provided to customers. Perfect place to play and discover your new color favorites!
● Relaxing Lounge take your own sweet time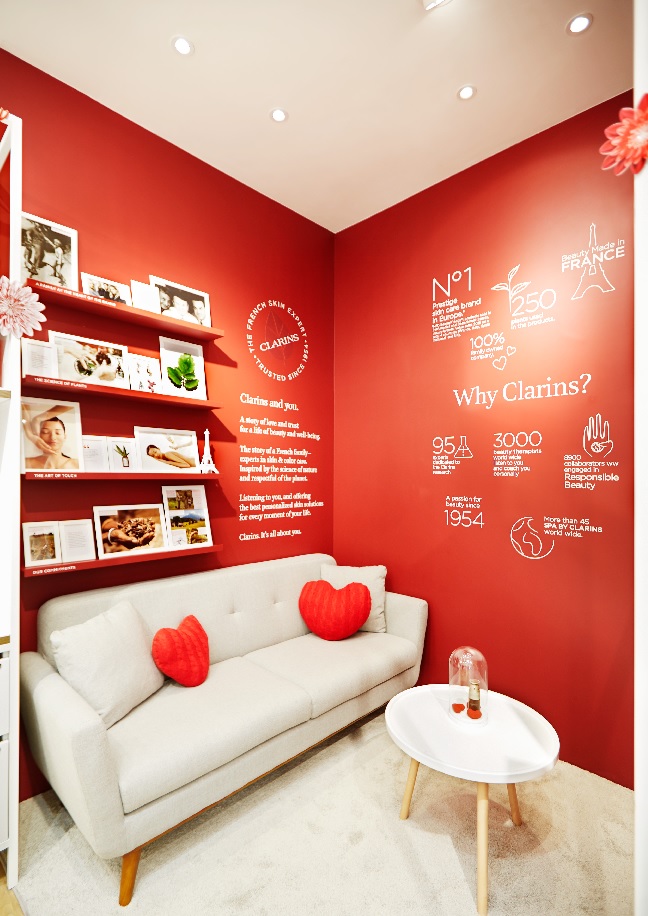 A relaxing area for family to chill and browse through a library of the Courtin-Clarins family books.
● Open Spa Expertise 30 minutes to a better you
A new concept featuring result-oriented facials tailored with personalized skin consultations. Optimized for both men and women, Clarins has concentrated all its skin care expertise and plant-based knowledge into a series of 30-minute treatments for immediate result and a wonderful feeling of well-being. For those in a hurry or who do
not have the luxury of spending an hour at the spa. https://www.clarins.com.my/spa-clarins-treatments/open-spa-treatment.html The warm and spacious environment with astonishing treatments for face. Clarins looks forward to encourage customers to feel like their best selves after a nurturing and reviving visit to this newest location.
The Clarins Flagship Store is located at Lot F-007, First Floor Centre Court, Mid Valley Megamall, Lingkaran Syed Putra, 59200 Kuala Lumpur.
To learn more about Clarins Malaysia, visit www.clarins.com.my. To get insider tips and exclusive offers, follow us on Facebook @ClarinsMalaysia and Instagram @ClarinsOfficial, for exciting new updates #ClarinsMY.
Read also: Clarins Celebrates The 20th Anniversary Of The Cult-Favourite, Shaping Facial Lift With A Limited Edition Bottle Design