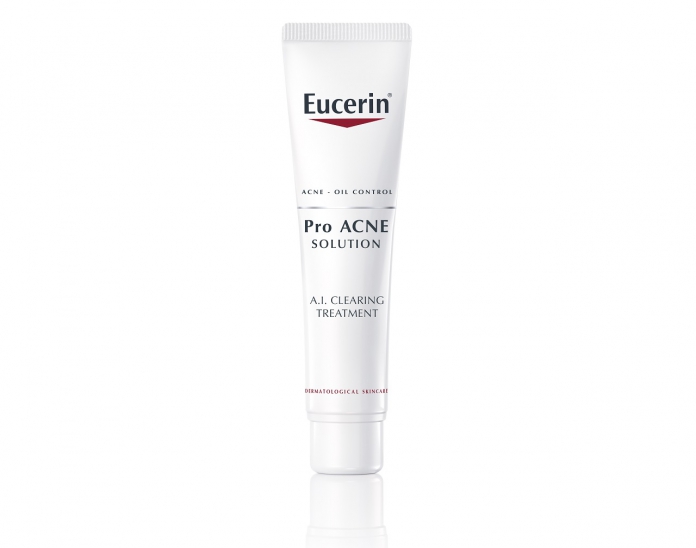 The new Eucerin® ProACNE Solution A.I. Clearing Treatment is specifically designed and tested to effectively unclog pores, visibly reduce blemishes and prevent their reappearance, all while protecting your skin against moisture loss. And it's perfect for oily, acne-prone skin!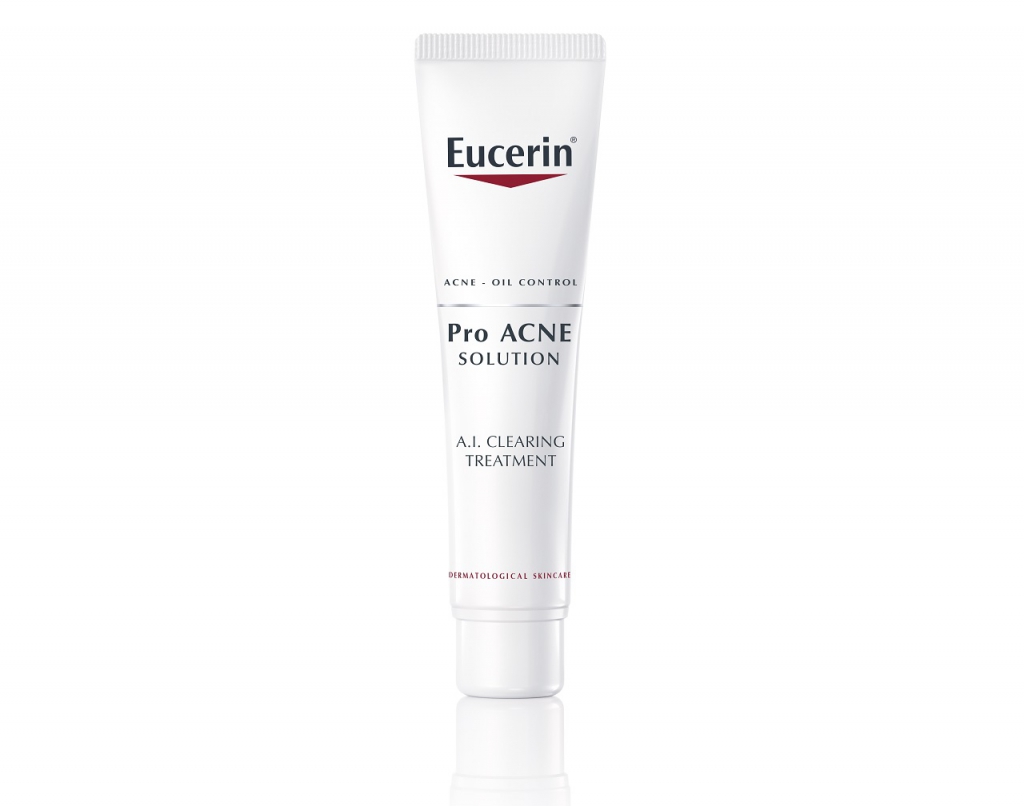 Formulated with potent active ingredients, Eucerin® ProACNE Solution A.I. Clearing Treatment reduces comedonal acne in only TWO weeks without drying out your skin. Its formula soothes irritation for smooth and healthy skin, with:
Ten percent Hydroxy Complex, a powerful combination of three peeling agents AHA (glycolic acid), BHA (salicylic acid) and PHA (gluconolactone), that helps renew skin surface, unclog pores, reduce acne-causing bacteria P. acnes and remove dead skin cells;
Licochalcone A, a highly effective anti-inflammatory to soothe irritations and helps reduce redness;
Dexpanthenol, derived from vitamin B5, which is a powerful humectant that binds water to the skin, helping to make skin more resilient and less sensitive to environmental triggers.
Make this part of your complete nighttime skincare regime right after toner, to prevent new blemishes and reduced dark post-acne marks, whiteheads, blackheads, and inflammatory pimples. Put the new-and-improved moisturizer for acne-prone skin to the test in the Eucerin® 14-Day Acne Clear Challenge in two easy steps:
Step One: Snap a picture of your skin on Day One and again on Day 14, after 14 days of usage
Step Two: Post your "before and after" photos and share your experience using the product on your Facebook page using the hashtag #EucerinProACNE
Then, stand to win a Grand Prize of Eucerin® products worth RM5,000, a First Runner-Up prize of Eucerin® products worth RM2,000 or Five Lucky Winner prizes of products worth RM1,000 each.
The Eucerin® ProACNE Solution A.I. Clearing Treatment is retailing for RM62 while the rest of the Eucerin® ProACNE skincare range is available at all pharmacies nationwide.
For more information about Eucerin® ProACNE skincare range, log on to www.eucerin.my or www.facebook.com/EucerinMY.
Read also: Freeze Your Skin From Ageing With The New Eucerin Hyaluron-Filler + Elasticity Range