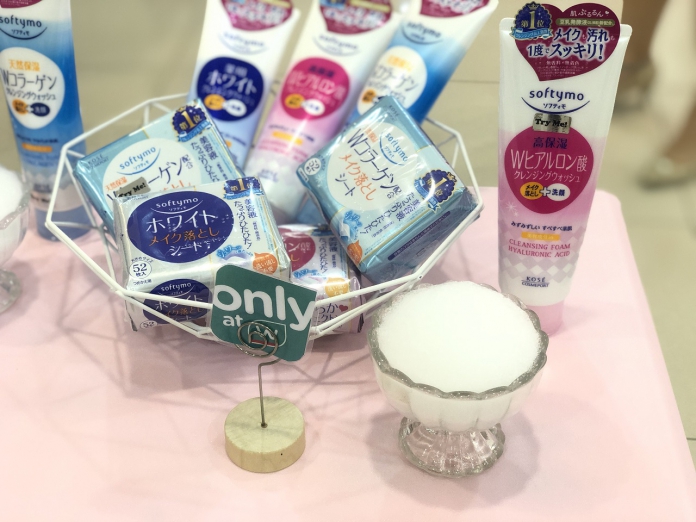 Stop by your nearest major Watsons store and you might notice that J-Beauty is making a comeback because KOSÉ Cosmeport Malaysia just launched selected cleansers and mask from its popular and affordable range such as Softymo and Clear Turn!
We got a first look and try on some of the products during the launch at Enchanted Siblings, Sri Petaling where we were treated to a foot spa and mani pedi session.
KOSÉ Cosmeport Malaysia also provided a blue themed spread of sweet treats and some kombucha from Boocha to feed our sweet tooth in check.
Now back to the skincare!
Softymo has an extensive lineup of cleansers from cleansing foams to wipes made with skin beautifying ingredients to keep your skin nourished as it removes traces of makeup and dirt from your skin.
The Softymo Cleansing Foams retail for RM39.90 each and come in 3 varieties that you let's you generate a soft, dense foam as you lather it up with water:
Collagen (White label): Improves skin's elasticity and moisture levels
Hyaluronic Acid (Pink label): Keeps your skin hydrated and supple
White (Blue label): Brightens and evens out your skin's complexion.
The Softymo Cleansing Sheets (*Exclusive in Watsons*) also retail for RM39.90 per pack consisting of 52 sheets soaked in rich cleansing liquid that are made with plant-derived ingredients that are fragrance-free, low pH(acid) level and colour-free. It comes in 3 variants:
White (Blue label): Contains Vitamin C to gently exfoliate your skin to give you luminous skin.
Hyaluronic Acid (Pink label): Rich in Hyaluronic Acid to provide more moisture for dry skin.
Collagen (White label): Has Collagen and moisturizing ingredients to soften and firm up the skin.
While, Clear Turn masks has been the No.1 selling sheet masks for eight years in a row in Japan! You can find a variety of daily and weekly masks to treat different skin issues and budgets.
Babyish Face Mask, RM23.90 (7 sheets per pack)
The Babyish range is made for the daily masker because it's made with gentle ingredients such as chamomile and baby mint while staying fragrance-, colour-, mineral oil-, alcohol (ethanol)-, surfectant-, and silicone-free. Plus, you only have to keep it on for about 5-10 minutes so this can be a quick skin treat before you apply your makeup!
Clear Turn White Masks, RM43.90 (5 sheets per box) *Exclusive in Watsons*
Each sheet of this mask range is soaked with 22ml of Mimasake Thermal Water that are rich in minerals from Okayama Prefecture that are famed for their hot springs' therapeutic properties. This range comes in 4 varieties.
Clear Turn Premium Royal Jelly Masks, RM48.90 (4 sheets per box) *Exclusive in Watsons*
These more premium range of masks are packed with Royal Jelly Extract, Argan Oil, and Coenzyme Q10 for an intensive nourishment weekly. It comes in 2 variants to suit your skin's anti-ageing and moisturizing needs.
We also got a look at some new makeup additions from Cezanne! New shades of lipsticks, eyeshadow palettes, eyebrow pencils, blushes and more to cater to your J-beauty look.
These selected KOSÉ Cosmeport Malaysia products are exclusively available at selected Watsons stores but you can also find other variants at selected Wellness, Aeon, PlayUp Advance, Guardian, and online on Hermo.
Follow KOSÉ Cosmeport Malaysia on Facebook & Instagram for the latest updates.
Read also: #PamperMyBeauty 2018 J-Beauty: Beauty Tips From Japanese Celebrities To Try!