Working women's busy schedule can be a dampener for beauty regime, however here're few tips which can help you to do make-up in just five minutes.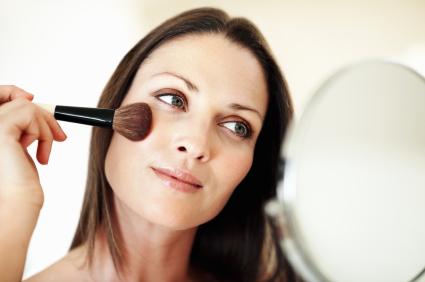 Manisha Chopra, cosmetologist, beauty expert, co-founder, cosmetic brand SeaSoul Cosmeceuticals, shares five-minute beauty tips: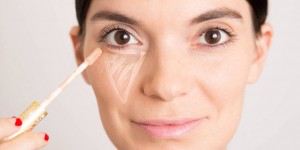 Tip #1: Concealer
Whether your eyes look puffy due to lack of sleep or you've developed a hint of dark circles, applying concealer correctly can save the day. Instead of following the age-old practice of dotting your concealer under the eyes, apply it in a triangular shape. After rubbing it in gently, dab on some translucent yellow powder and watch your whole face come alive.
Tip #2: Lipstick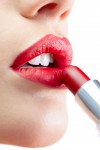 You must have noticed that after a few hours at work, your lipstick begins to fade and lose its initial vibrancy. And who has time to reapply colour in between the hectic daily schedule? Apply one coat of your chosen lip colour. Now lightly hold a tissue over your lips and dust off some translucent powder over the tissue. This seals your lip colour for a long time.
Tip #3: Eye liner
Always wanted that beautiful smokey eye look that the celebrities seem to don so effortlessly? Here's an ultra-cool way of getting perfect smokey eyes for a party or for work. Use your eyeliner and draw a slanted hashtag on the outer corner of your eyelid. Now blend this in with the rest of your make-up and voila, it's done!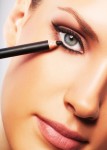 Tip #4: Liner Pencil
Doing a winged eyeliner at home may seem tough but it really isn't. All you need is a few minutes and some scotch tape. Place a piece of tape at the corner of your eye, going towards your eyebrow. Now use your liner pencil to draw a thin line across your upper lash line extending all the way to the edge of the tape. Trace the edge of the tape with your liner and now make the line thicker on the outside edge than the inside. It makes your whole face look more defined.
Tip #5: White eyeliner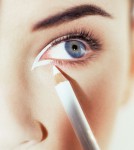 A white eyeliner pencil can work wonders. It is also a beautiful way to make smaller or droopy eyes pop. Use it on the inner corners of your eyes for a wide-eyed look. Draw a sideways V and then gently blend it in.
Source:  IANS