A salon blow-out can leave your hair looking smooth, with amazing shine, but can cost quite a bit of cash each time you hit the salon to get your straight hair fix.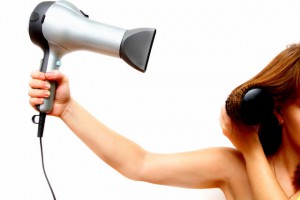 However, it is possible to do a home salon blow dry and get great results. It's all about the technique! So, use these hair tips and tricks to help you learn how to do it yourself to save time and money.
Start with clean, wet hair. After washing and conditioning your hair, make sure you towel dry it to get all excess water taken care of. If you try to blowout hair that is extremely wet, it will take hours.
Add a product that fits your hair type. One of the tricks to getting a great blowout is in the product you choose to use. Great products can add body to fine hair or even tame curly or thick hair. If you have dry hair, you may want to try using a leave-in conditioner, shine serum or straightening balm. If you're unsure about what type of product to use, ask your salon stylist to recommend something or research different products online to find which ones might work best with your hair style.
Setting Your Hair Dryer: Use your hair dryer on a cool heat setting to remove all excess moisture before you start the actual blowout. The quality of your hair dryer is not extremely important, but paying a little more for a Conair quality dryer instead of a cheap generic store brand may allow you to keep it longer. Some stylists recommend just letting your hair air dry for about five minutes instead. The point is for your hair not to be soaking wet when you start the blowout.
Separate your hair into smaller sections. You can do this by dividing it into sections and clipping it back with small clips or ponytail holders. It's a great idea to wind the hair into small little buns, to keep it out of the way.
Dry from roots to end. With your fingers, pull through the hair from the roots to the ends. Pull it out a few inches and hold it while you shoot the warm air from the crown down. Holding the hair tight and straight is helpful, because it eliminates the possibility of allowing moisture to stay in the hair shaft. Do this until the roots are all dry.
Use a round brush for a smooth finish. Next, use a round brush (not a flat one) to pull through the hair as your finish the section. Pointing the hair dryer nozzle down will control frizz. Be sure you don't ever wrap your hair around the brush, however. Or, you could end up getting your hair stuck in the brush and end up having to get it cut out.
A blast of cool air to set. Lastly, use the "cool" button on your hair dryer to blast each section with cool air. This will lock in the shine and finish your blowout. If you find your hair is still a little frizzy, think about using a little shine serum on it. Simply put a small amount of serum in your hands and rub them together. Then rub your hands down your hair, staying away from the root area.
Source: freebeautytips