Aveda's celebrating its 40th Anniversary this October and to kickstart the celebration, the brand has launched a new advertising campaign, Know What You're Made Of, a modern and cutting-edge expression of the rich heritage of Aveda, focusing on the brand's founding principles of using high-performing, naturally derived ingredients and distinctive aromas, abiding by a cruelty-free, no animal testing policy, and following an environmental mission.
Aveda has invited a unique mix of authentic, multi-faceted women with strong ideals and convictions who were selected as models for the campaign. These women are indicative of today's individualistic consumers who look for transparency in their products and beyond, craving brands with values that mirror their own.
Aveda Global General Manager Barbara De Laere says, "We're inspired by the provocative and heightened energy the younger generations and conscious consumers are bringing to the world, and their willingness to champion authenticity and 'do' over 'say.' This philosophy is the core of Aveda. This is why we want to join them via our mission of caring for the world we live in and our naturally derived products that align with their values. As a global brand, we are continuously striving to create a positive impact. From our wind-powered manufacturing facility in Minnesota to our environmentally-friendly, organic farming partners in India, to an employee-organized Walk for Water in Japan, giving back is in our DNA. It's a tribute to [Aveda founder] Horst Rechelbacher's vision when he created our founding principles in 1978."
Know What You're Made Of is a theme that resonates beyond the new brand campaign; it lives in the heart of Aveda's headquarters in Minneapolis, Minnesota. Situated on a 58-acre, National Wildlife Federation Certified habitat including honeybee colonies, the 276,000 square-foot facility houses over 700 employees who are natural advocates of the brand mission. A passionate team dedicated to giving back (employees have helped the brand raise over $56 million for Earth Month initiatives since 1999), the staff has access to wellness perks including four miles of running trails, an employee-curated vegetable garden, onsite daycare, an organic café, guided meditation sessions, a wellness center and complimentary massages. Company headquarters are also the site of the primary manufacturing facility, where all products are manufactured solely using wind power [1] and more than 85% of skin care and hair styling PET bottles and jars are packaged using 100% post-consumer recycled materials.
One way to live a more eco-friendly lifestyle is to switch to naturally derived products. You can start with your haircare. Damaged hair will love the Aveda Damage Remedy Treatment System range that's packed with organic quinoa protein to help strengthen and reinforce strands while the daily leave-in treatment instantly repairs hair by 26% and protects against heat styling while you wear it.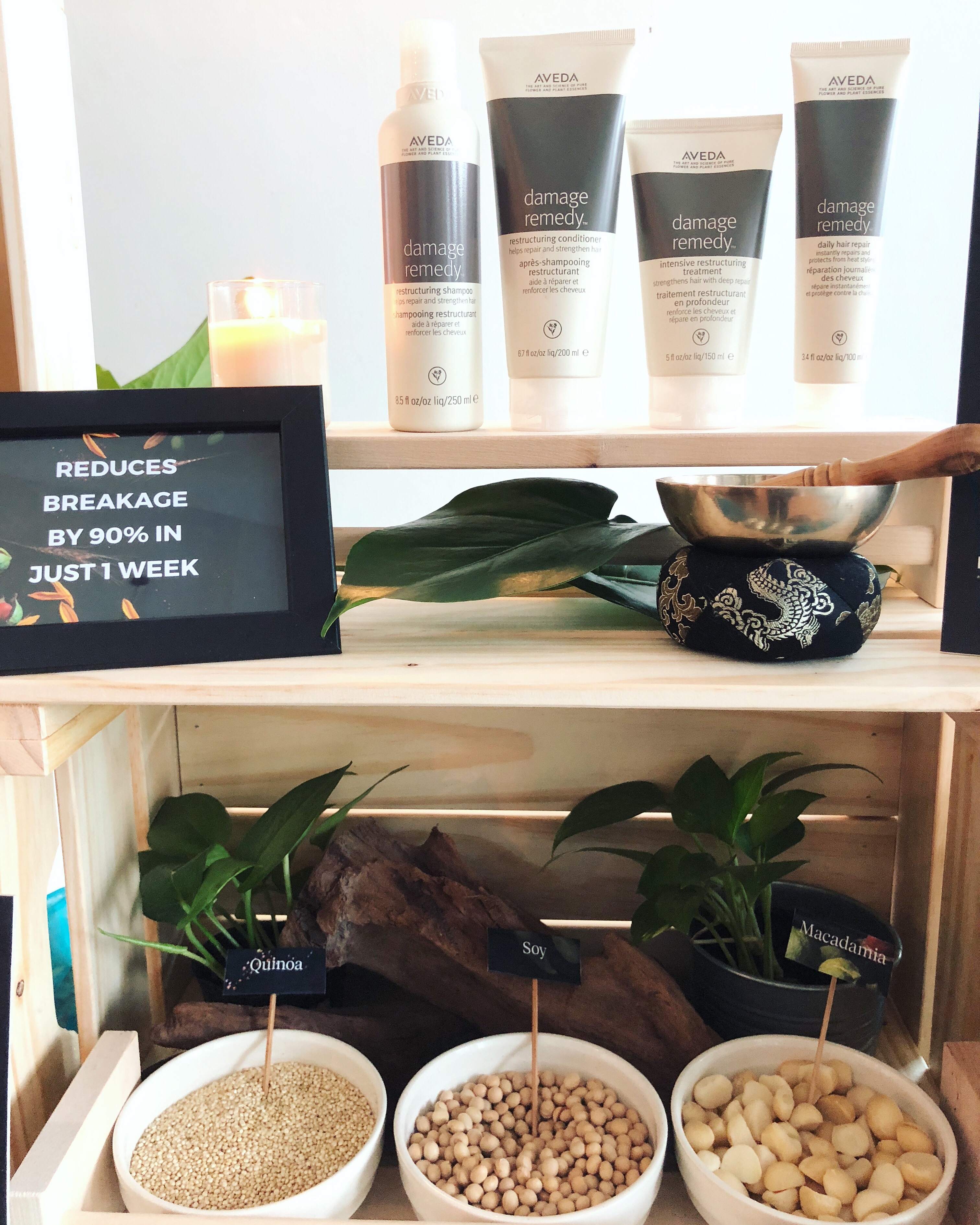 Here is some info about the four products from the range:
Damage Remedy™ Intensive Restructuring Treatment seals in quinoa protein to instantly reinforce and strengthen damaged and chemically treated hair, making it more resilient to future damage. Hair's natural oils – often depleted with processing and heat styling – are replenished with jojoba oil to leave hair looking healthy, shiny and strong.
Damage Remedy™ Daily Hair Repair is a leave-in treatment that instantly repairs damaged hair by 26% with quinoa protein. Wheat protein helps prevent damage from heat styling, and soy oil detangles to help prevent breaking.
Damage Remedy™ Restructuring Shampoo & Conditioner gently cleanse and deliver daily conditioning, helping to repair and strengthen damaged and chemically treated hair with quinoa protein and naturally-derived conditioners, leaving hair smooth, soft and shiny.
So, do you #KnowWhatYoureMadeOf ?
Follow Aveda Malaysia on Facebook & Instagram for the latest updates.
Read also: #PamperPicks: 7 New Spring & Summer Haircare Products To Try