Malaysia is a wonderful country filled with many exciting activities. Just like other places in the world, our country has numbers of New Year Eve celebrations. Be it a countdown party at the a swanky nightlub or a concert party, there are many options for you.
We have compiled some of the happening New Year countdown spots around Malaysia, where you can have a blast with your family and friends on this New Year Eve!
Klang Valley
1. Putrajaya – Light & Motion Festival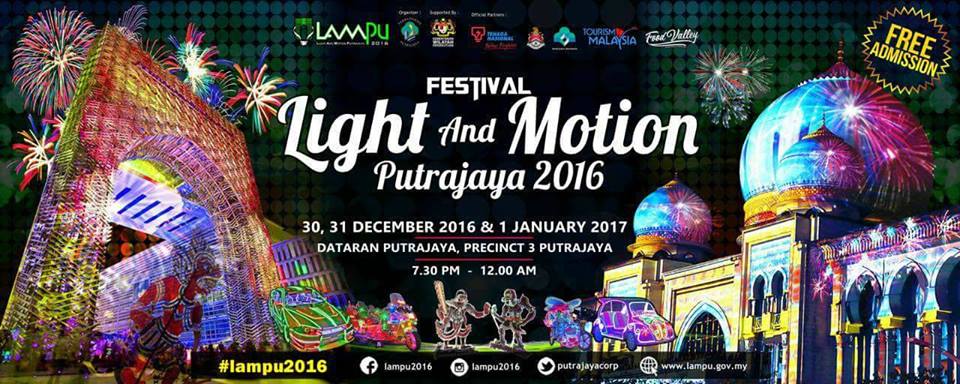 Light and Motion Putrajaya, better known as LAMPU will be held from December 31, 2016 to January 1, 2017. The 2016 edition of LAMPU (which means lamp in Malay) will feature spectacular displays of lights, audio and motion at their best. The festival will continue to showcase its signature event, the grand Projection Mapping on the facade of the grand Palace of Justice.
2. Kuala Lumpur – White Party at Le Noir

Premium bar and nightclub Le Noir KL has announced their white-themed party, where the 8000 sqft haven will be transformed into 'Le Blanc" with ivory embellished decorations surrounding the building. On top of that, Le Noir will be presenting all night long countdown party led by top DJs – Hayze supported by Circuitbreaker, Juny Brothers & friends as well as Kirstie Maximus.
3. Bandar Sunway – Neon Countdown at Sunway Lagoon @ Surf Beach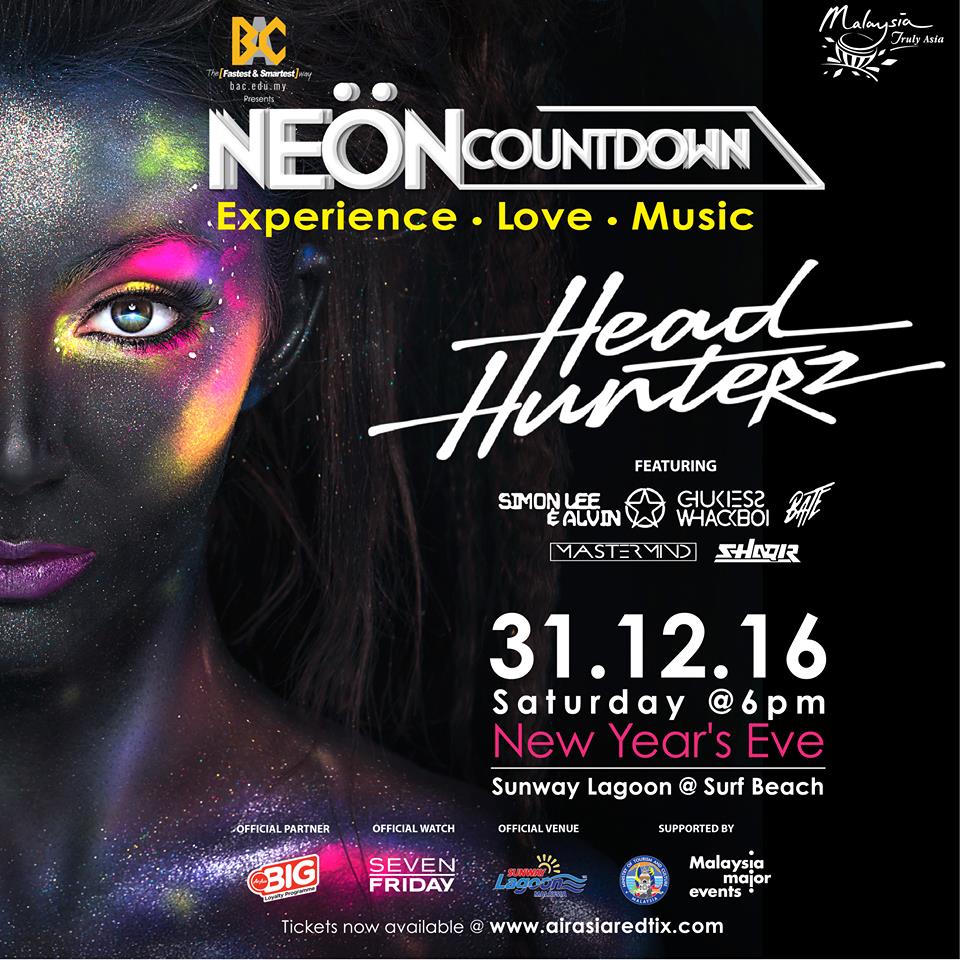 Usher into the New Year with Neon Countdown NYE 2017 celebration at the Sunway Lagoon @ Surf Beach. Featuring grand stage all New Year's Eve day long and music from renowned international and local DJs – BATE, Headhunterz, Simon Lee & Alvin and many more. Click here to get your tickets.
4. Petaling Jaya – Last Party On Earth at PLAY club @ The Roof

Party-animals simply cannot miss out this New Year's Eve countdown event. Make your last day of the year count by attending PLAY club's "LAST PARTY ON EARTH". As the name suggest, party like it's your last night ever and the countdown will be led by DJ Def, EDZ, and MC Ruff.
5. Banting, Tadom Groove On 2.0 at Tadom Hill Resorts

Opt for a more hippy kind of countdown at Tadom Hill Resorts where you can take a dip in the hypnotic turquoise lake and party with an exciting line-up of indigenous traditional games and smashing music around a cozy campfire, accompanied with a feast of delicious native food. In addition to that, be part of the #togetherness drum circle where more than 100 drums and bamboo instruments will come together, ushering in 2017 with a bang!
Penang
1. MY FM Let's Emoji Countdown Party at M Mall O2O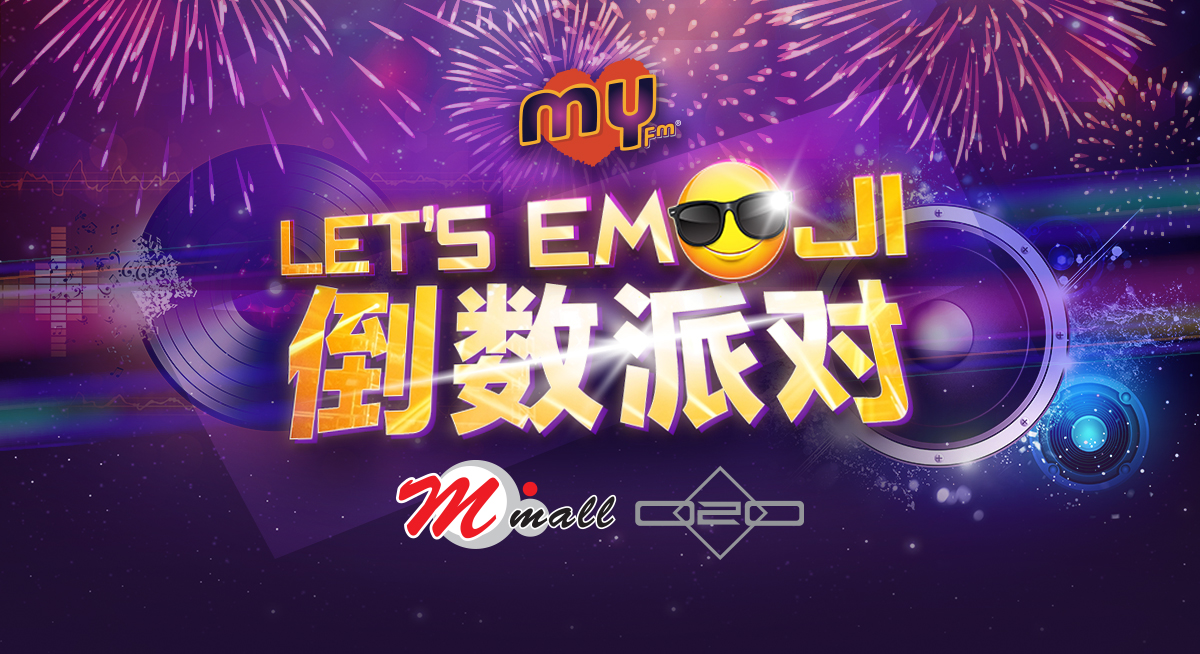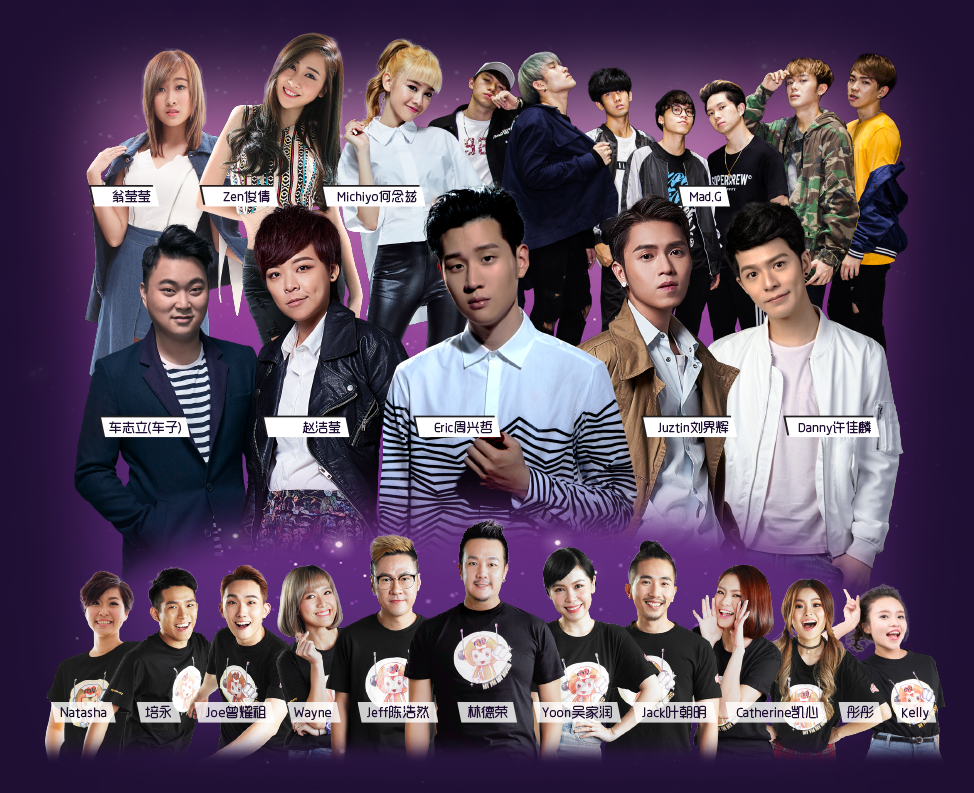 Held on December 31 from 9:30pm onwards, famous MYFM Deejays like Jack Lim, Jeff Chin, Yoon, Jack Yap, Catherine, Wayne, Joe, Tong Tong, Chan Phei Yong and etc will be joining you in welcoming 2017 in the MY FM Let's Emoji Countdown Party. The entrance is FREE but will be differentiated into three zones comprises of VVIP, Rock and Normal zone. The ticket can be obtained when you call in and win the games you play with MY FM deejays during their airing time or through their road tour across North Malaysia.
2. 2017 New Year's Eve Countdown Celebration at Straits Quay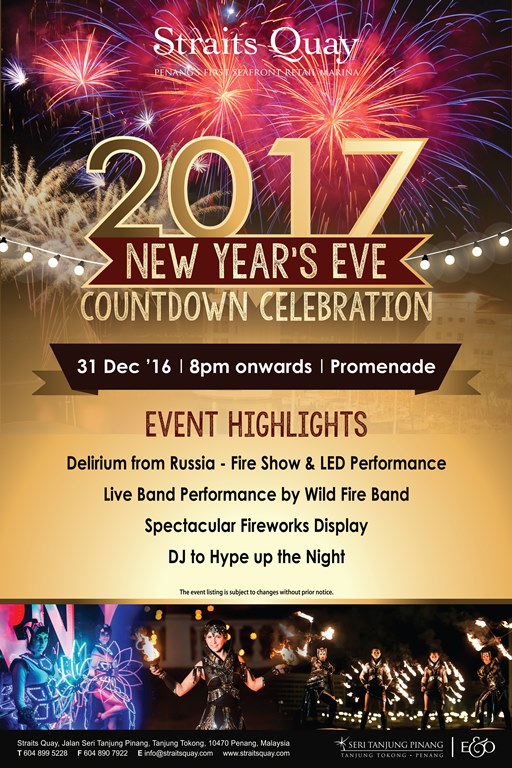 This year's New Year's Eve celebration at Straits Quay Retail Marina will begin at 8pm with a live band performance by the Wild Fire Band.
Another major highlight would be a spectacular fire show and LED performance by the talented Delirium group from Russia. There will also be fun game sessions and prizes to be won, with the DJ's selection of sensational remixes to have the crowd immersed in the festive spirit.
3. New Year's Eve Countdown Party at Gurney Paragon Mall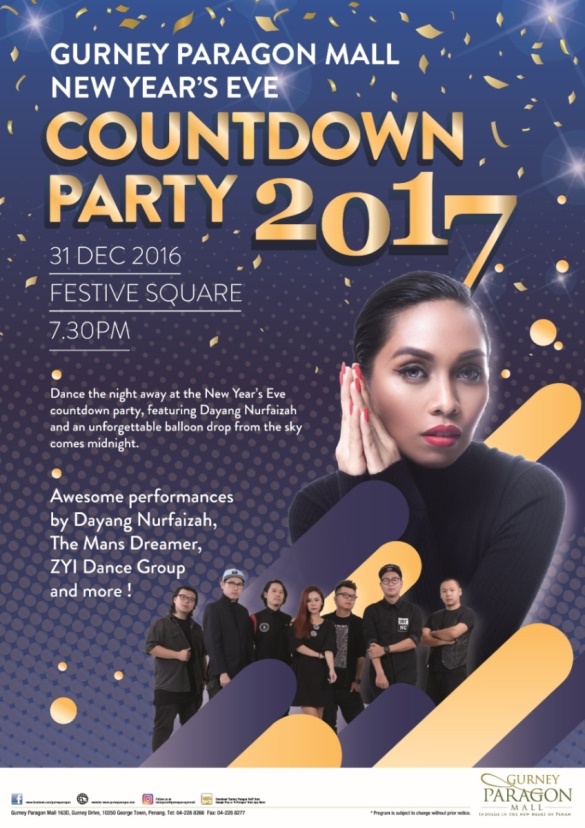 What better way to ring in 2017 than at the Festive Square overseeing scenic night view at Gurney Drive? The night will kick off at 7:30pm featuring local pop singer Dayang Nurfaizah and an unforgettable balloon drop from the sky comes midnight.
4. X'mas & New Year Countdown Fiesta 2017 at Auto-City

This event is a popular huge fiesta pack with music, performances, competitions, pageant, coloring contest, exhibition and more. In addition to that, there will be a line-up of approximate 30 booths for you to visit starting from now til January 2, 2017. Auto-City welcomes visitors from everywhere to be dazzled by spectacular fireworks at Auto-City, Juru. Enjoy the beautiful night with variety of entertainment and the countdown will be hosted by Gary Yap from 8TV. Besides that, YDP Dato' Maimunah will be the guest of honor together with other VIP guests, and entertainers.
5. Countdown Party 2017 at Queensbay Mall (North Zone, Outdoor)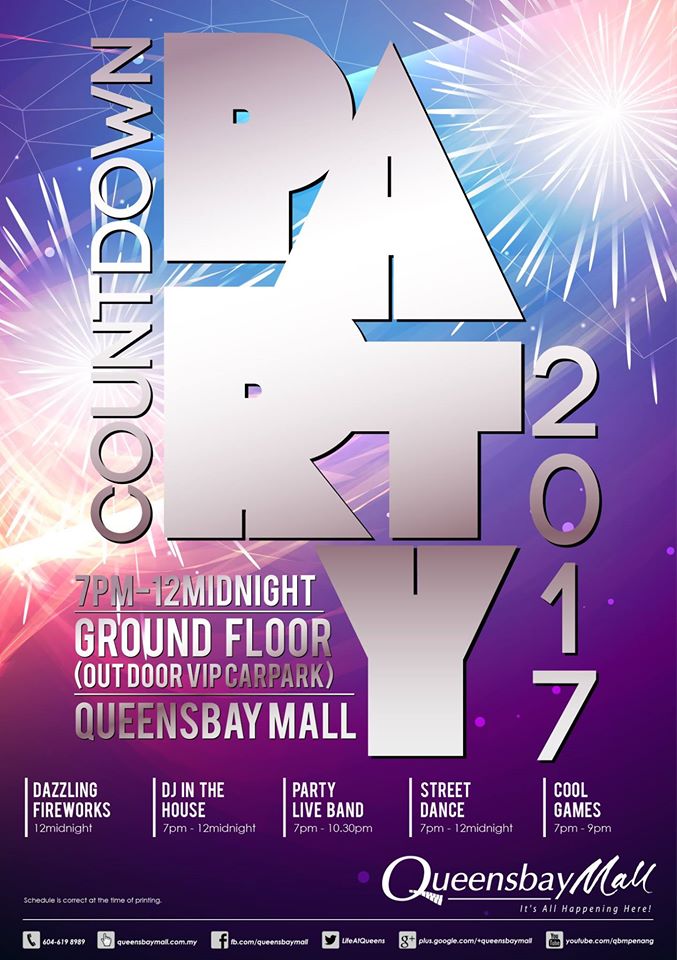 Let the countdown to the end of the year begin and ring in the NEW YEAR 2017 at Queensbay Mall (North Zone, Outdoor) from 7pm onwards on December 31, 2016! There will be dazzling fireworks display lighting up the skyline of Queensbay Mall's seafront when the clock hits midnight. Be sure to put on your dancing shoes, and get ready to party all night long with DJ Kyori setting the dance floor ablaze, and party live band serenading explosive rhythms and powerful melodies. Bring your friends and family, and catch the artistic stilt walkers in action and the clowns making balloon sculpture
Johor
1. Johor Bahru – 2017 New Year's Eve Countdown Party at Sutera Mall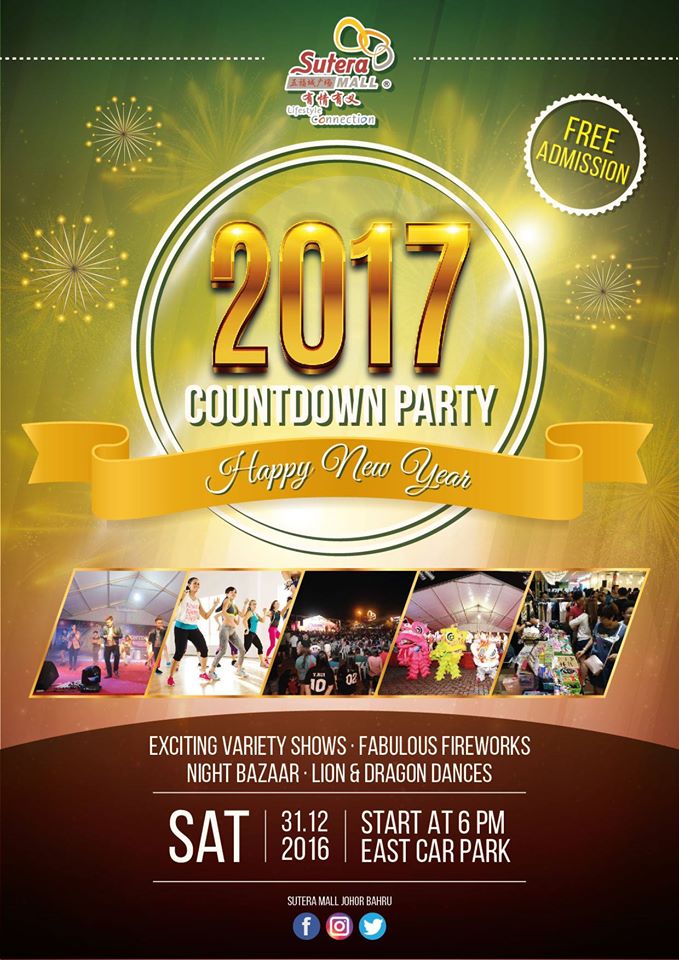 If you will be around Johor Bahru this weekend, think no more and head over to Sutera Mall Johor Bahru as they are celebrating their yearly New Year's Eve Countdown Party, where you can anticipate a spread of mouth-watering food stalls and gorge on street food as you usher into the new year.
2. Johor Bahru – New Year Countdown Party 2017 at Roppongi Japanese Tapas Lounge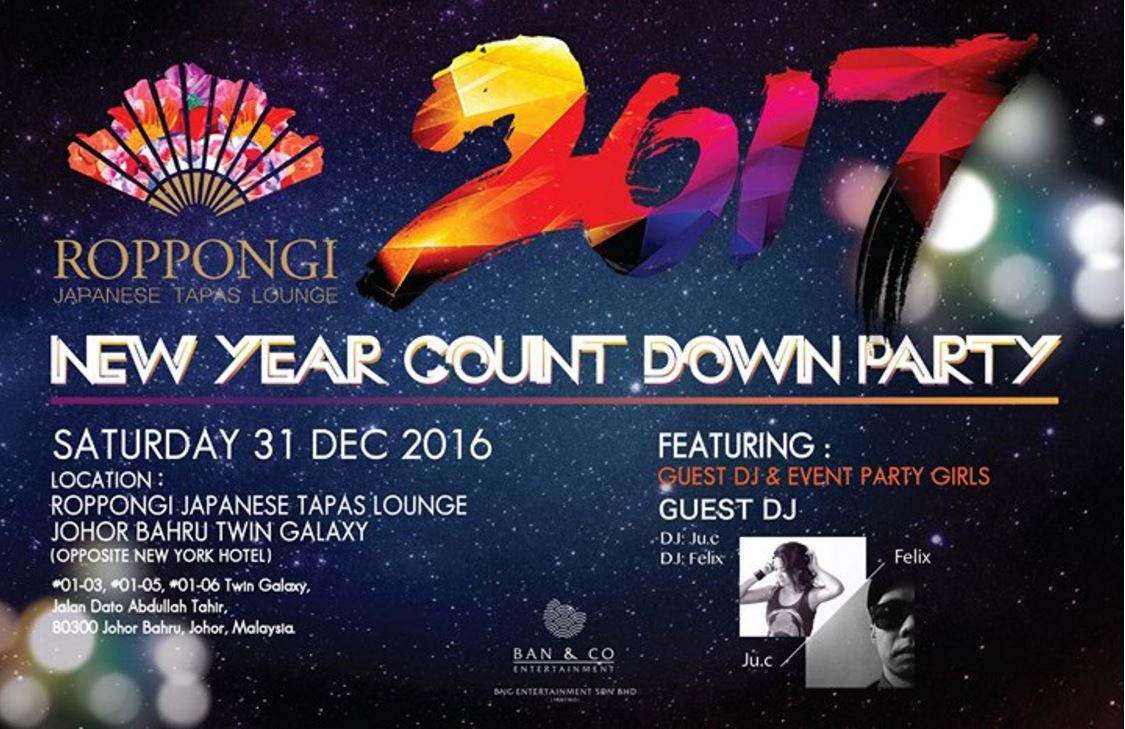 Join Roppongi for a fun and exciting party as they countdown to 2017. Party with Guest DJ DJ Felix, DJ Ju.C, and DJ Kenji all night long that you will have an amazingly unforgettable New Year's Eve celebration.
3. Johor Bahru – 2017 New Year's Eve Celebration at Puteri Harbour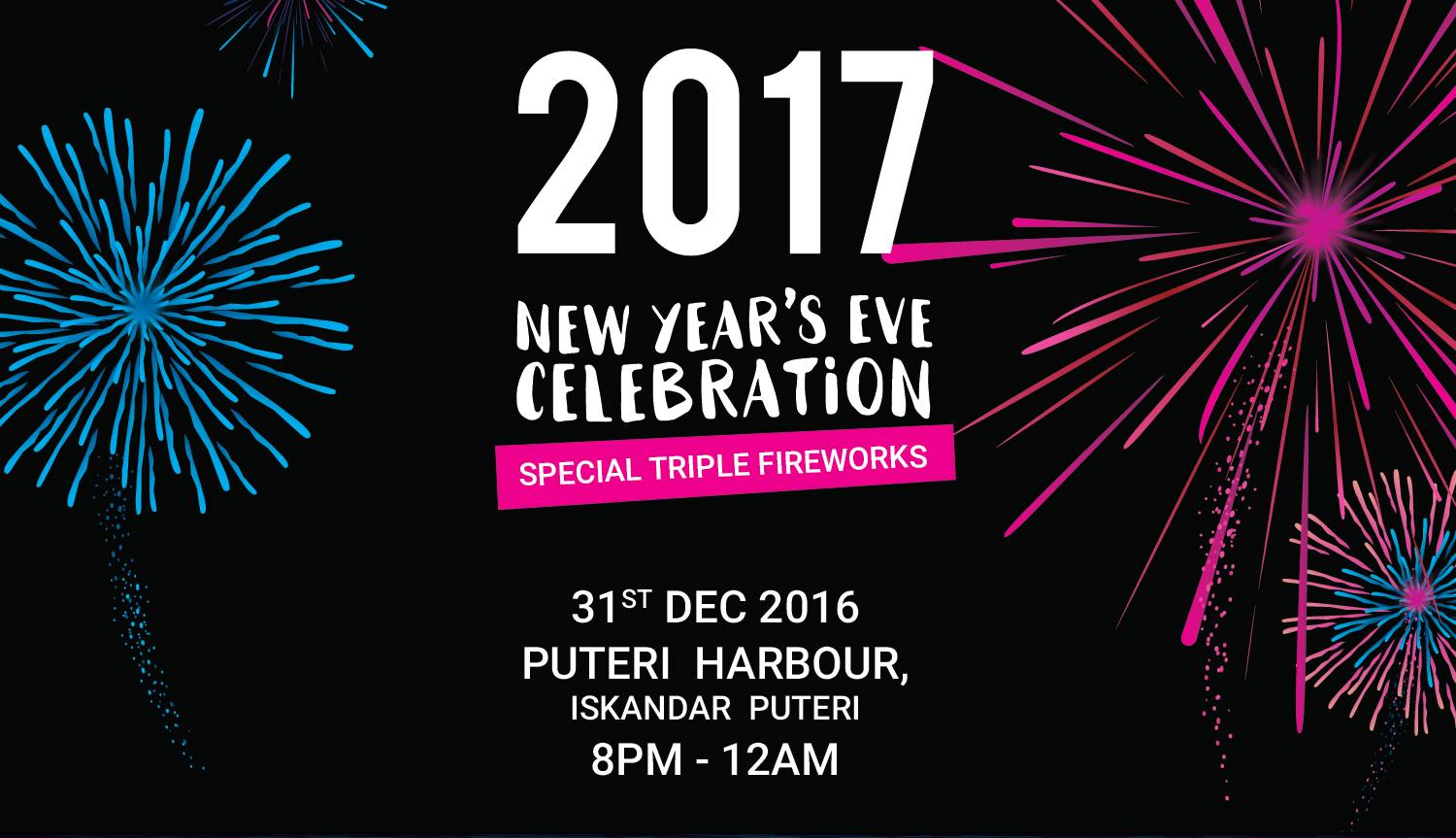 Welcome 2017 from Johor Bahru at Puteri Harbour, a hub for everyone to play, dine, stay and explore, from December 31 2pm onwards. There will be Port of Call Bazaar, Johor Green Market, Food Trucks and Live Music Performances by Joe Flizzow, Salam Musik, Darren Ashley, Muniros, Ethnography, Nading Rhapsody, and The Sound of Bangsar Johor. Remember to catch the special triple fireworks too.
Melaka
1. Historic Melaka River at Casa del Rio, Melaka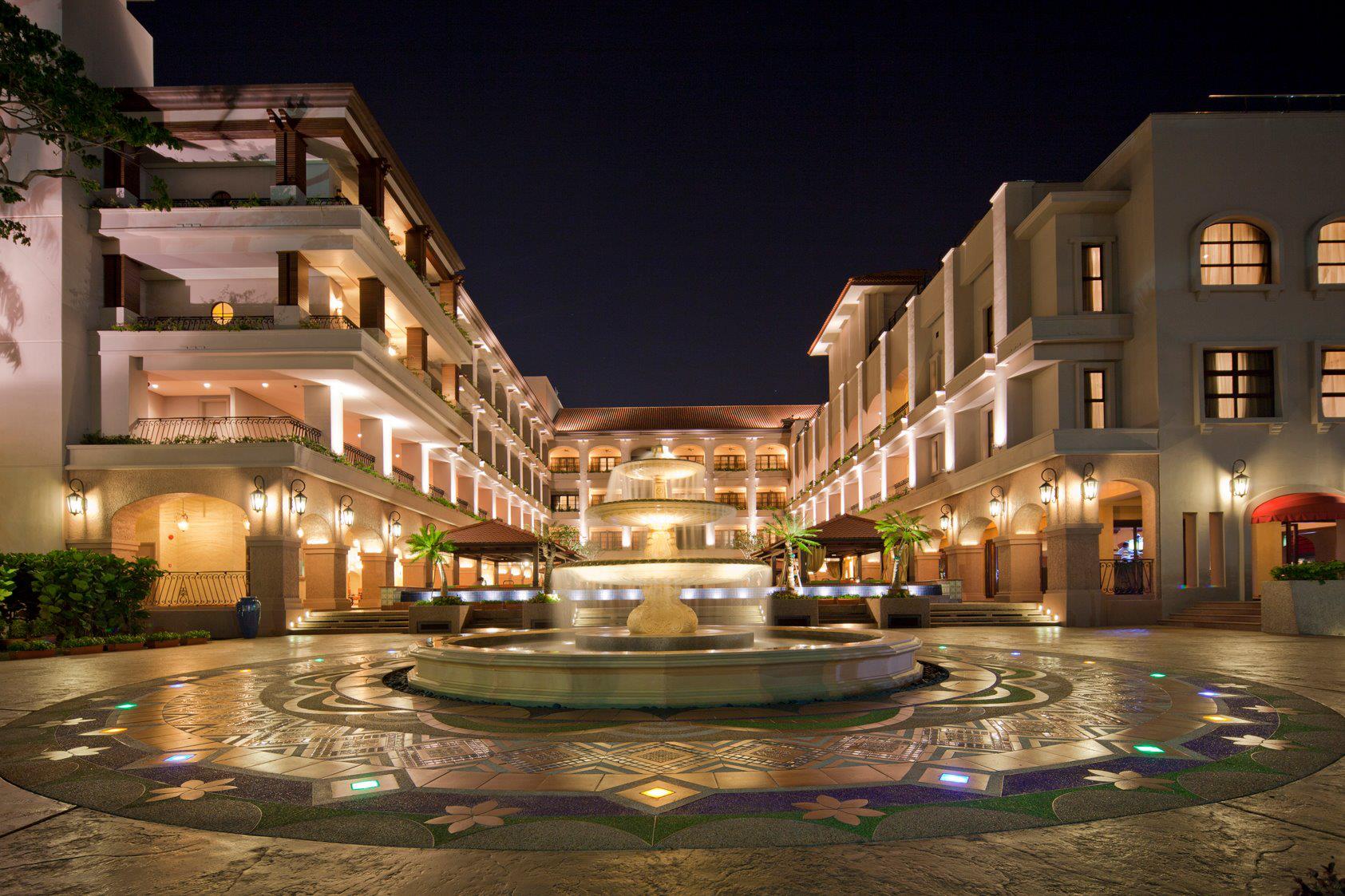 Come count-down to the New Year 2017 beside the Historic Melaka River at Casa del Rio.  Stay with them on the December 31, 2016 and you get to join their Grand Buffet Dinner, Inclusive a glass of house wine or beer & FREE ENTRY to their countdown party under the Stars at their Alfresco Piazza Area!
Sarawak
1. Kuching – New Year Countdown Party at Boulevard Shopping Mall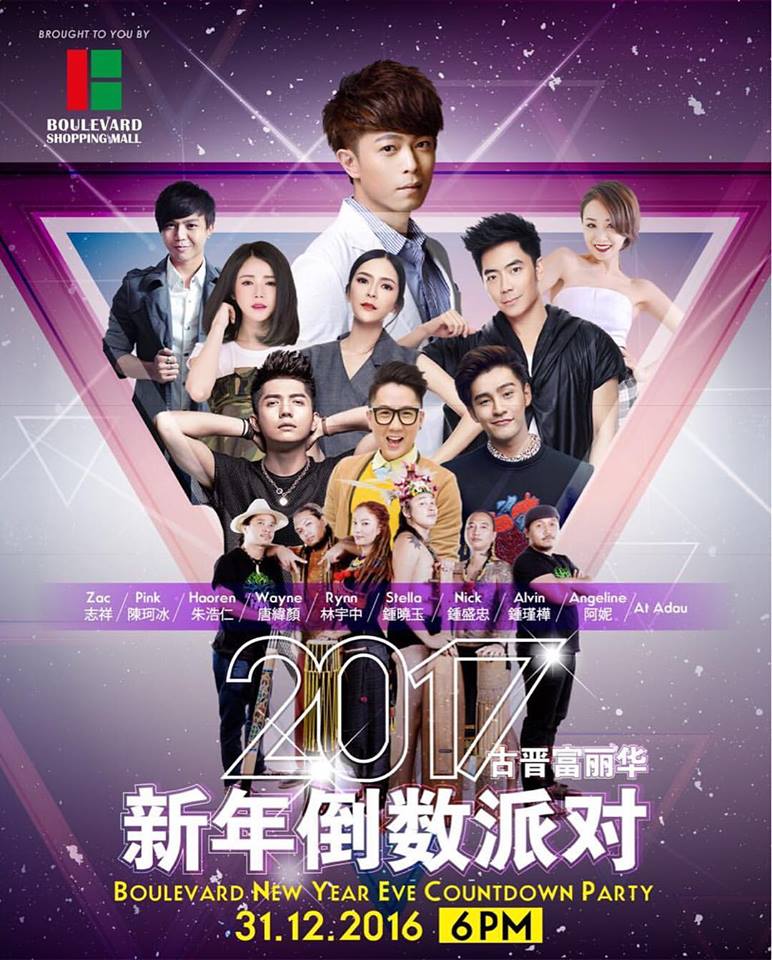 Attention, Kuching-ites! Think no more and head over to countdown party at Boulevard Shopping Mall. Catch exciting perfomances by talented local singers such as Haoren, Rynn Lim, Stella Chung, Nick Chung, Alvin Chong and more.
Read also:
Kick-off the New Year with a Cruise Vacation;
12 Long Weekends Holidays in Malaysia in 2017
– Cover Image: znbc.co.zm