Singapore's sold out event "Ge Tai – The Musical" is now happening in Malaysia, held at the Genting International Showroom from October 1 to 4 and October 8 to 11.
Written by Singaporean scriptwriter Jonathan Lin, "Ge Tai – The Musical" boasts a renowned cast and a creative team comprising the finest minds in the entertainment scene, including leads played by Desmond Ng and Hao Hao in the roles of Liu Zhang Wen and Shen Yi Fei respectively. The other performers are Bao Bao Sisters (playing Xing Xing sisters), Jiu Jian (as manager Wei), He Jie (as Hong Ling), Tay Yin Yin (Ah Lin Sao), Jasper Lai (stage owner Zhen Zhu), Peng Chi Seng (Ah Lin), Michelle Tan (Ah Fen) and Tay Sin Yeun (Jin Sao).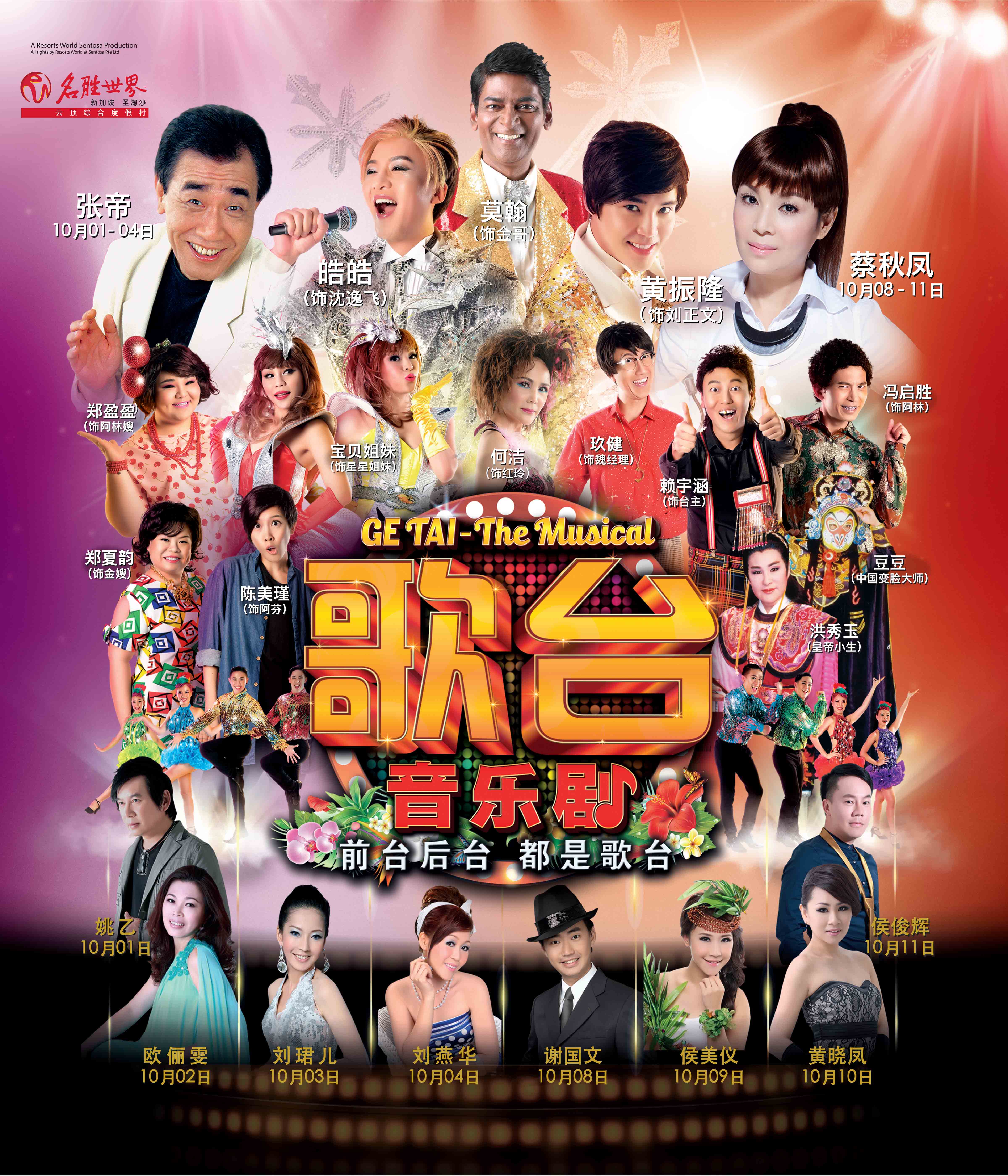 Added to that, other standout names among the cast are Ipoh-born Simon Mohan who plays Jie Ge, and International stars Zhang Di and Cai Qiu Feng, both veteran stars who are household names in Asia.
Ge Tai — The Musical that first premiered in Singapore last April is the first of its kind, bringing audiences back to 1980s Singapore and providing a refreshing take on this popular art culture. Fans can expect to be treated to much glitter and comedy in the production that showcases the glamorous world of getai — in this case, how a group of getai performers re-discover the irreplaceable significance of kinship.
The musical also serves as a trip down memory lane for many people as not only do the flamboyant performers portray the lives of the getai community; the production also showcases the vibrancy of the getai scene that spans more than three decades from the 1980s.
Other guest artistes are Yao Yi (appearing on October 1), Ou Li Wen (October 2), Liu Jun Er (October 3), Liu Yan Hua (October 4), Xie Guo Wen (October 8), Hou Mei Yi (October 9), Huang Xiao Feng (October 10), and Hou Jun Hui (October 11).
Ge Tai — The Musical is currently ongoing at Genting International Showroom at 9pm, from October 1 to 4, and from October 8 to 11 (except on Saturday when there will be two shows, at 4pm and 9pm).
Tickets are priced at RM530 (VIP), RM230 (PS1) and RM120 (PS2). Head over to this link for more information.
Read also: Get Ready to Experience Movie Watching Under the Stars with Helipad Cinema