In the latest dietary guidelines released by the U.S. Department of Agriculture (USDA) last week, it is recommended a healthy eating pattern that accounts for all foods and beverages within an appropriate calorie level.
Updated every five years, the USDA guidelines serve as the foundation for federal nutrition policy and shapes the recommendations found on USDA's MyPlate.

The healthy eating pattern that is recommended under the USDA dietary guidelines includes:
A variety of vegetables from all of the subgroups – dark green, red and orange, legumes (beans and peas), starchy, and other;
Fruits, especially whole fruits;
Grains, at least half of which are whole grains;
Fat-free or low-fat dairy, including milk, yogurt, cheese, and/or fortified soy beverages;
A variety of protein foods, including seafood, lean meats and poultry, eggs, legumes (beans and peas), and nuts, seeds, and soy products; and
Oils
The guidelines also recommended that the consumption of saturated fats and trans fats, added sugars, and sodium should be limited under the healthy eating pattern.
The Estimated Calorie Needs per Day for Adults (by Age, Sex, and Physical Activity Level)
Age
Sedentary
Moderately Active
Active
Male
19-20
2,600
2,800
3,000
21-25
2,400
2,800
3,000
26-30
2,400
2,600
3,000
31-35
2,400
2,600
3,000
36-40
2,400
2,600
2,800
41-45
2,200
2,600
2,800
46-50
2,200
2,400
2,800
Female
19-20
2,000
2,200
2,400
21-25
2,000
2,200
2,400
26-30
1,800
2,000
2,400
31-35
1,800
2,000
2,200
36-40
1,800
2,000
2,200
41-45
1,800
2,000
2,200
46-50
1,800
2,000
2,200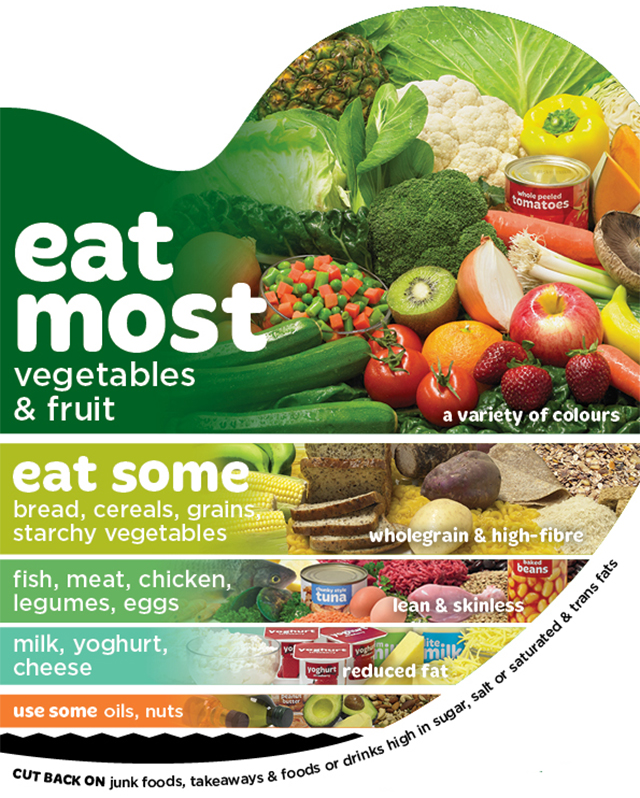 Also read:
Cutting Back on Salt: 8 Tips to Eat Healthy Without Too Much Salt;
5 Super Health Benefits of Celery You Must Know About;
10 Healthy Reasons to Eat Bananas Regularly