Next year is the year of the Fire Rooster so what better way to start the new year right by maxing up on some good ole' vitamin-bursting thirst quenchers! Juice Works Malaysia is introducing a new smoothie combo, the aptly named Prosperity Juice. Made from a mix of juices from the lovely mandarin orange, the heart-healthy guava, the sweet lychee and the super-fruit soursop, it is a delicious, fragrant and refreshing sorbet combo that will get you all geared up to embrace the best that the new year will bring.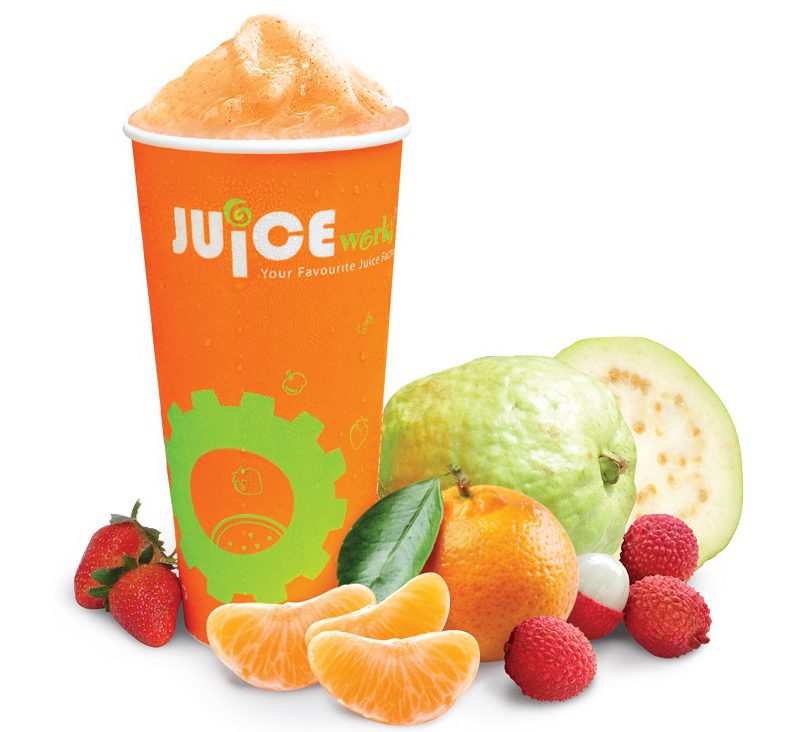 A little info on why these fruits are so good for you:
1.Mandarin orange: It's low in calories, full of fibre and Vitamin C and A!
2.Guava: Regarded as a heart-healthy fruit, it's rich in Vitamin A, Vitamin B, Vitamin C, and potassium, which are great antioxidants and detoxifiers.
3.Lychee: Packing with Vitamin C, potassium and fibre, it's also a great source of disease-fighting flavonoids, besides magnesium copper, iron, manganese and folate — all essential for blood circulation and formation!
4.Strawberry: Juicy, fragrant and red, this delicate fruit is not just counted among the top 5 best antioxidant fruits in the world, but also found to be able to control or reduce blood sugar spike from excess intake of sugar! Given its amazing store of phytonutrients, there is also rising research interest in the fruit's anti-inflammatory properties!
Juice Works Prosperity Juice retails at RM13.75 for the Power size (600ml) and RM12.65 for the MIDI size (450ml) (All prices include GST). This power-packed combo is only available from Jan 2 till Feb 28, 2017. So grab your spot of Prosperity Juice today for that sweet prosperous start to the brand new year!
Since it's also angpow season, grab a Power-sized Prosperity Juice and get an exclusive Juice Works angpow packet for free with every purchase!**
**Some terms & conditions to take note of:
-This offer is for a limited time only, from Jan 2 till Feb 28, 2017.
-This promotion is valid only while stocks last.
-Only regular-priced drinks are entitled to this promotion.
-This promotion cannot be combined with other on-going promotions / discounts / offers / vouchers.
-Available at all Juice Works & Juice Works 2GO participating outlets in Malaysia.
-Juice Works Malaysia reserves the right to final decisions on all matters.
Read also: Juice Works Launches "Berry Christmas" In Conjunction Of World Diabetes Day