To combat and address the skin issues caused by city pollution and UV rays, which will triggers the formation of dark spots, pigmentation and wrinkles, LANEIGE introduces the NEW White Dew Tone Up Fluid SPF35 PA++, an essential whitening product for all women to not only brighten up their skin, but to also deeply moisturise, minimise dark spots and prevent skin aging.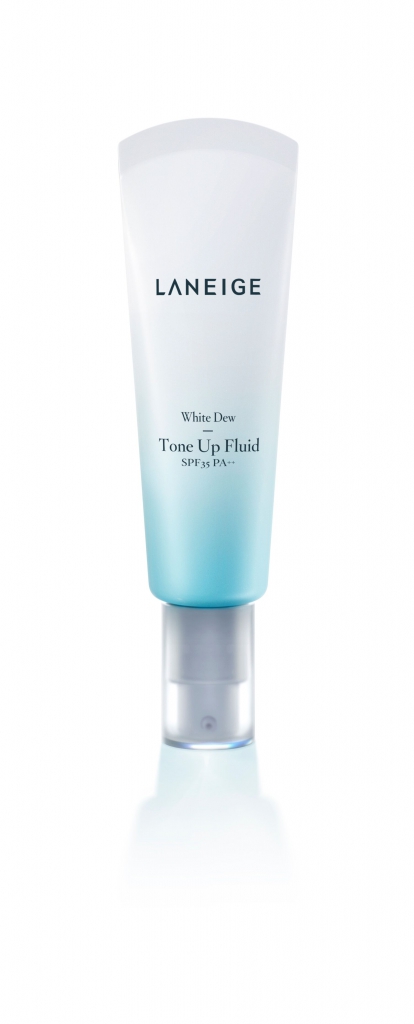 Formulated with LANEIGE Water Science, LANEIGE's NEW White Dew Tone Up Fluid is a light lotion containing SPF35 PA++ to provide strong defence against UV rays and air pollutants while keeping the skin deeply moisturised. Delivering integrated natural moisturising and whitening effect, it contains a nature-derived ingredient, Saururus Chinensis extract that also acts as a moisture gloss essence, keeping the skin glowy from within all day long. Users will be able to observe a brighter and more even skin tone after diligently using the LANEIGE White Dew Tone Up Fluid for 8 weeks.
The new White Dew Tone Up Fluid contains a revolutionary fluid that forms a transparent membrane to act as a skin barrier by shielding and defending the skin against air pollutants, particulate matters and bacteria. Designed to resolve Asian women's 8 daily concerns on their skin, it is able to block 7 most threatening hazards from penetrating into the skin by forming 8 protective layers on the skin for 8 hours long, such as the following:
1. Moisture Layer (to combat dryness)
2. Sebum Layer
3. Lipid Layer
4. Saururus Chinensis (for skin whitening)
5. UV Layer (SPF protection)
6. PM Layer
7. Blue Light (protection from indoor UV rays)
8. Anti-Oxidant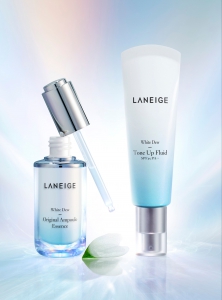 LANEIGE's White Dew Tone Up Fluid contains the most natural and gentle ingredients and it is free from 7 hazardous elements i.e. Animal Ingredients, Mineral Oil, Polyacrylamide, Imidazolidinyl Urea, Triethanolamine, Tar Color and Talc that are potentially harmful and may cause adverse effect to the skin.
LANEIGE's White Dew Tone Up Fluid is formulated with Amorepacific's Thin and Fit Technology, which makes it the thinnest UV block product amongst the other Amorepacific products. This enables the tone up fluid to be the most comfortable product for users to wear all day long without a heavy and tacky feeling on the skin.
How to use:
After cleansing face in the morning, use LANEIGE's White Dew Tone Up Fluid as the last step in skincare routine. Apply lightly on your face and gently press down with fingers to enable better absorption. For Dry Skin, apply the White Dew Sherbet Cream followed by the White Dew Tone Up Fluid SPF35 PA++ for optimal results.
The NEW LANEIGE White Dew Tone Up Fluid SPF35 PA++ priced at RM170 will be available at all LANEIGE beauty counters and boutiques nationwide in March 2019 onwards.

Read also: #NewIn LANEIGE's NEW Time Freeze Skin Refiner and Emulsion