Skin whitening or brightening has always been one of the main focuses of Asian skincare routine. A survey by market research company Synovate had found that 4 out of 10 women in Hong Kong, Malaysia, the Philippines and South Korea used a skin-whitening cream. A local report also revealed that three quarters of Malaysian men thought their partners would be more attractive if they had lighter skin complexion, a beauty standard they call the "Eurasian" or the "Pan-Asian look".
So it's no surprise that many beauty brands came up with whitening and brightening products for the Asian market. There are a whole host of whitening and brightening products on the market claiming to give you a brighter skin complexion, and we understand it can be a difficult task to find the perfect one that works for you.
Therefore, for your easy reference, we have compiled a list of newly launched whitening and/or brightening products that may help to address and treat discolouration and uneven skin tone conditions.
1. Sisley Phyto-Blanc Brightening Daily Defense Fluid SPF 50 PA++++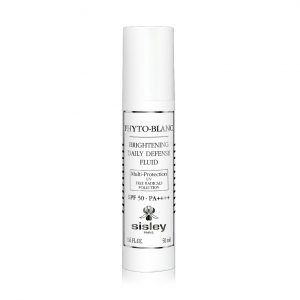 Available from mid February 2017, this Sisley Phyto-Blanc Brightening Daily Defense Fluid SPF 50 PA++++ (RM1,100/50ml), is a complete anti-dark spots daily skin care with a multi-protection urban shield – anti-UVB/UVA, anti-free radicals, anti‑pollution – specifically designed for Asian skin.
It works in three ways to protect skin – defending it against UV rays, eliminating free radicals and hydrating it. After a period of using, pigmentation will be lightened and skin's overall brightness will be improved.
2. Laneige White Dew Original Ampoule Essence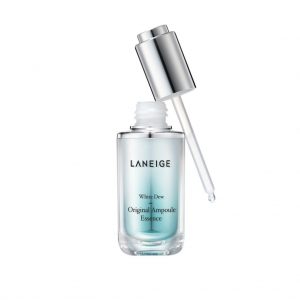 Released in March 2017, this Laneige White Dew Original Ampoule Essence (RM220/40ml) contains Mela-vita Crusher to lighten dark spots and improve skin tone to deliver flawlessly clear skin. This concentrated ampoule formula works from within the skin to effectively lighten spots and even out skin tone for a brighter complexion.
3. Khiel's Clearly Corrective Brightening and Smoothing Moisture Treatment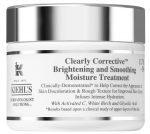 Kiehl's introduced this Clearly Corrective Brightening and Smoothing Moisture Treatment (RM210/50ml) in March 2017. It's an ultra-lightweight, innovative hydrator featuring dermatologist-trusted Glycolic Acid in concert with the company's signature skin clarity ingredient, Activated C (a high-performance Vitamin C derivative) that actively brightens, smooths, and refines skin for a smoother texture.
4. Caudalie Vinoperfect Radiance Serum Complexion Correcting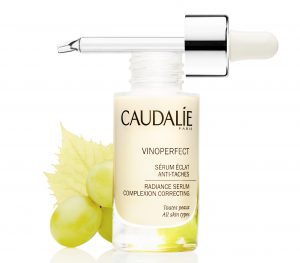 Available from April 2017, this Radiance Serum Complexion Correcting (RM140/30ml), the cult product in the Caudalie's Vinoperfect collection, effective on all kinds of dark spots and for all skin types, even the most sensitive.
The duo's anti-dark spot effectiveness is TWICE AS GREAT as that of the serum on its own, thanks to the effectiveness of a glycolic acid-based composition to eliminate dead cells, white peony extract for complexion evenness and a healthy glow, and grape water – Caudalie's signature ingredient renowned for its moisturizing and soothing properties.
5. Clarin White Plus Pure Translucency Tri-Intensive Brightening Serum
This newly launched White Plus Tri-Intensive Brightening Serum (RM350/30ml) by Clarins in March 2017, contains a precious extract from the Acerola fruit (a type of cherry, which is abundant in Vitamin C). The serum helps to preserve flawless, even and translucent skin with its exceptional anti-dark spot action that reduces production of melanin and and slows down all the processes for distribution of melanin in the epidermis.
6. La Mer The Brilliance White Mask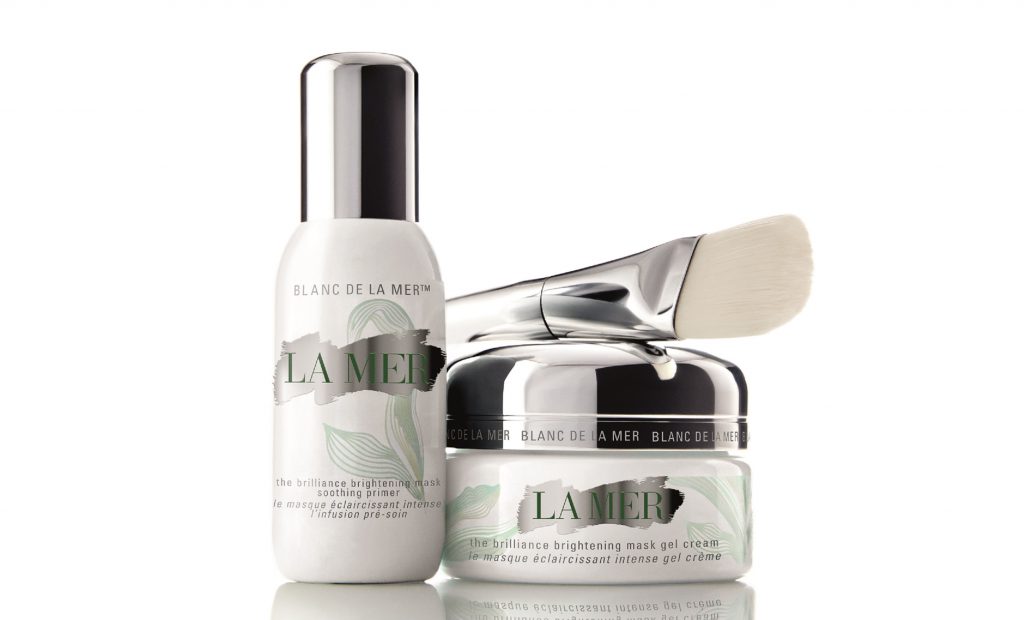 The new Blanc de LA MER The Brilliance White Mask (RM1,030), is a powerful yet gentle two-step treatment that delivers perfectly curated concentrated solutions that instantly brighten and soften skin to reveal a more brilliant luminosity.
Available from March 2017, this two-step mask consisting of The Brilliance White Soothing Primer and The Brilliance White Gel Cream that soothes and calms visible irritation, hydrates to help smooth and soften the look of fine lines and wrinkles, as well as brightens and evens skin tone for a more unified healthy looking complexion.
7. innisfree Whitening Pore Day Cream SPF16 PA+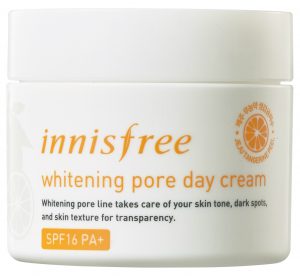 A new addition to innisfree's Whitening Pore range in March 2017, this Whitening Pore Day Cream SPF16 PA+ (RM115/50ml) is infused with the peel extract from the Jeju tangerine, which has six types of citrus flavonoids that even out skin tone and lightens dark spots for a clearer complexion. It comes with Perfect Fit Texture that moisturises the skin without leaving it looking oily. It also protects the skin from the sun's harmful UV rays and brightens the skin with its tone up effect.
8. SK-II Atmosphere Airy Light UV Emulsion SPF30/PA+++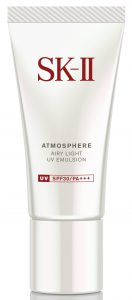 Introduced by SK-II in March 2017, this Atmosphere Airy Light Emulsion SPF 30 with PA+++ (RM259/30g) is designed to create a holistic layer to combat visible aging signs, such as wrinkles, spots and dryness, caused by not only UV and pollution but also infrared light.
This SPF Emulsion provides an airy light texture because of its unique oil and thickener ratio. Despite its high level of SPF protection and hydration, it contains only 2/3 the amount of oil found in other similar products, eliminating any greasy residue for breathable protection.
9. Artistry Ideal Radiance Complexion Serum Concentrate and/or Spot Essence Concentrate
The new Artistry Ideal Radiance Complexion Serum Concentrate and Spot Essence Concentrate are developed to specifically treat different types of spots and discolourations.
The Complexion Serum Concentrate (RM305/30ml) featuring Star Lily Blend and Ginger Root Extract, is a lightweight, iridescent serum that lightens and diminishes  the early signs of discolouration such as blemish marks, dull areas, and blotchy, uneven skin tone. Whereas the Complexion Serum Concentrate (RM371/30ml) comes with a combination of Star Lily Blend, Micro Green Algae and Artemisia Extract, works for stubborn dark spots and UV spots.
Read also: On The Shelf: 5 Dermatologist Recommended Products for Great Skin