Shanghai, 2014: a city famous for its links to the opium trade in years gone by, now a modern, vibrant hub of cosmopolitan urban life.
We see a woman, waking up at in the middle of the night in a high-rise building. The thrown-back sheets on the other side of the bed, reveal the absence of a man, someone she spent the night with. Gone too is something precious, something she searches for frantically on the bedside table.
She pulls her trench jacket over her t-shirt. On go a pair of stilettos. She is edgy, anxious to get going, can't wait for the elevator to take her down to the ground floor, impatient to catch the train she needs to get back what's now missing from her life.
Neon lights flashing through the tunnel say she's too late. She could wait for the next train, but she's not the kind of girl who waits for anything. She kicks off her shoes, runs barefoot through the tunnel, faster she goes, stopping for nothing.
He's there, at the other end, in his bedroom, in his house. He's happy to see her, pulls her close to him. Face to face they almost embrace, her arms reaching round his body, holding him close – and stealing back the bottle he holds – the bottle she wants.
Back with its rightful owner. It touches her skin. She is happy.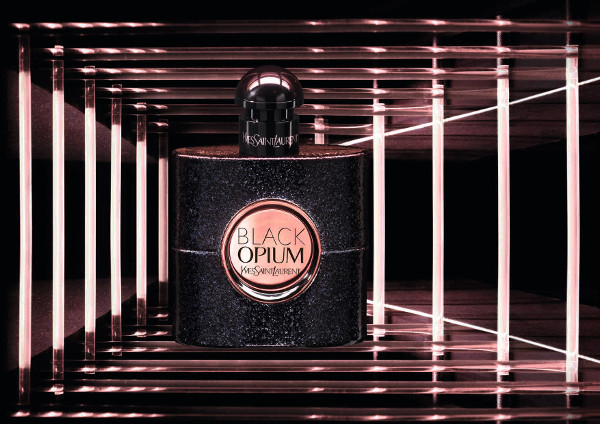 Created by perfumers Nathalie Lorson, Marie Salamagne, Honorine Blanc and Olivier Cresp, BLACK OPIUM plays on the intense pay-off that happens when darkness meets sweet luminescence.
As addictive as that first shot of caffeine, with electrifying white flowers to tie it all together, this new generation oriental gourmand is a radical move away from the structure of the classic perfume, and instead is inspired by the artistic movement of the "chiaroscuro", where the emphasis is on the contrast and tension between light and dark.
Playing on the incongruity between the bitterness of the coffee bean accord, an ingredient never used before in such a high quantity in a feminine fragrance and radiant white flowers, BLACK OPIUM gives a sensation of light-headedness, bordering on ecstasy.
First there is the wake-up call. The coffee bean note hits you hard, jolting the senses. Next, it becomes softer and more feminine with the white flowers of jasmine sambac and absolu of fleur d'oranger to finish incredibly addictive and emboldened by the ambrosial appeal of vanilla and the woody notes of cedar and patchouli, giving a roundness, depth, and mysterious elegance.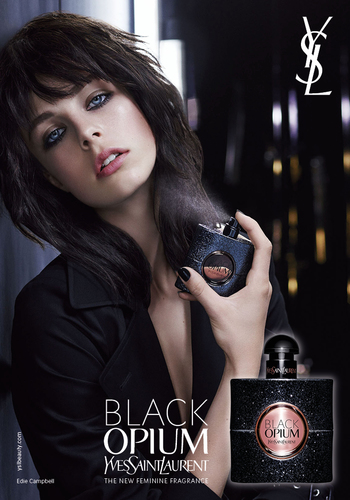 With her jet-black cropped hair, her rock-star attitude, and enigmatic beauty, Edie CAMPBELL is the ambassadress for BLACK OPIUM. The London-born model is an international cover-girl, winner of the Model of the Year 2013, and regularly walks the catwalks of fashion's first four cities.