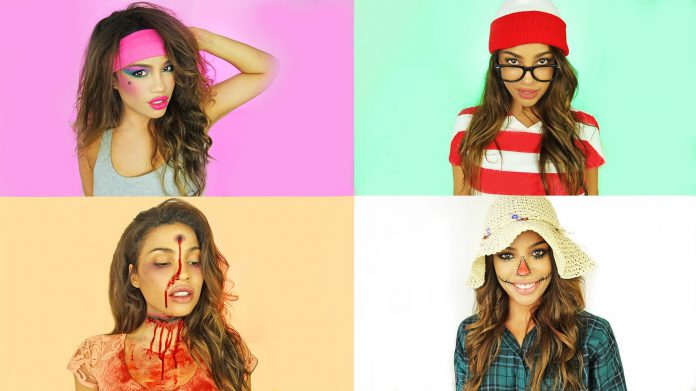 Halloween is 6 days away and if you're like us, who don't have much time left to go hunting for costumes, we resorted to the Youtube gurus for some guidance in these hard times. We've scoured for some easy Halloween Makeup and Costume tutorials that we hope will inspire you to get into the Halloween spirit and have some fun before we hit the end of the year!
Halloween Makeup Tutorials
Sarocha takes us through 4 Halloween looks, a blood-lust vampire, deer, spiderwebs and a creepy rag doll.
Chrisspy took it down a notch to help us a bit with this easy skull makeup that requires just some brown, black and pink eyeshadows and eyeliner to outline the look.
Need more Halloween ideas? Here are 4 styles of the Comic Book Makeup that you can try out. Time to go back to our comic books this Halloween.
For the Snapchat queen, why not give yourself a Snapchat filter makeover? Puking rainbows for the win.
Halloween Costume Ideas
Here are some costumes ideas that you can DIY or put together easily and you won't have to spend a lot of cash for it.
Don't have a clue on what to wear, why not take inspiration from 100 of these looks? You're bound to find something in your closet to pull one of these looks off. Like Holy Cow.
Andrea's creative inteprations on how to simplify those complicated costumes is amazing, who would've thought of using a simple red and white beanie with a similar stripe top and some thick square frames to pull off as Waldo?
Give people Squad Goals when you walk into the party with these squad costumes. We are loving the cards inspired costumes!
What is your Halloween idea for this year?
Read also: Chrisspy's Pikachu Makeup Tutorial will make you go Pika!
– Cover image: youtube.com/andreaschoice