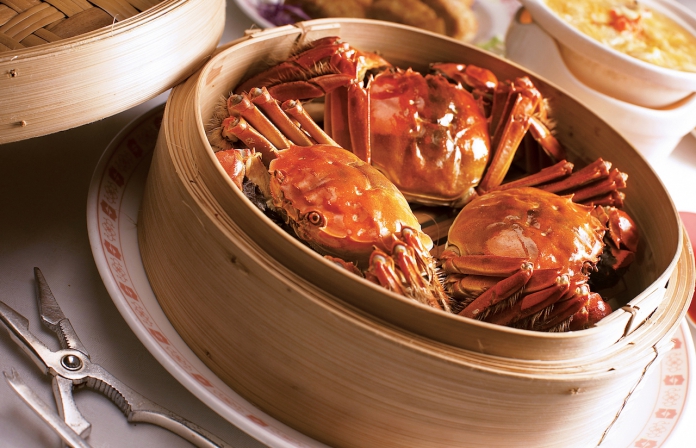 Shang Palace at the Shangri-La Hotel Kuala Lumpur is presenting the Shanghai Hairy Crab Promotion until 26 November.
At Shang Palace, Steamed Whole Hairy Crab Traditional Style is the best way to eat it, delighting in the rich, eggy roe and sweet flesh. It is served with black vinegar dip with shredded ginger. The crab is cut up at tableside, so that the diner can easily extract the meat from every part of it. Steamed Hairy Crab with Egg White and Hua Tiao Wine or with Glutinous Rice and Garlic Sauce is another way to enjoy it.
This hairy crab roe comes in various delectable hairy crab dishes prepared by Shang Palace Chinese Executive Chef Tan Kim Weng. Among these are Braised Shredded Abalone with Hairy Crab Roe and Wok-fried Egg White with Truffle, Lobster Meat and Hairy Crab Roe. A hot, sweet ginger tea is served at the end of the hairy crab meal to restore the yang balance to the body, as the crab is considered a yin or cooling food.
For reservations or more information, call (03) 2074 3904 or email restaurantreservations.slkl@shangri-la.com or visit our site at  shangri-la-specials.com.
Read also: Eat-All-You-Can IZAKAYA Specials at Zipangu, Shangri-la Hotel KL | RM199 Nett Per Pax